Are you looking for the best sensory toys for kids? Are you trying to find travel toys for the car that will not only engage your child's attention but that will help to release bound energy? Then you NEED these 10 sensory items!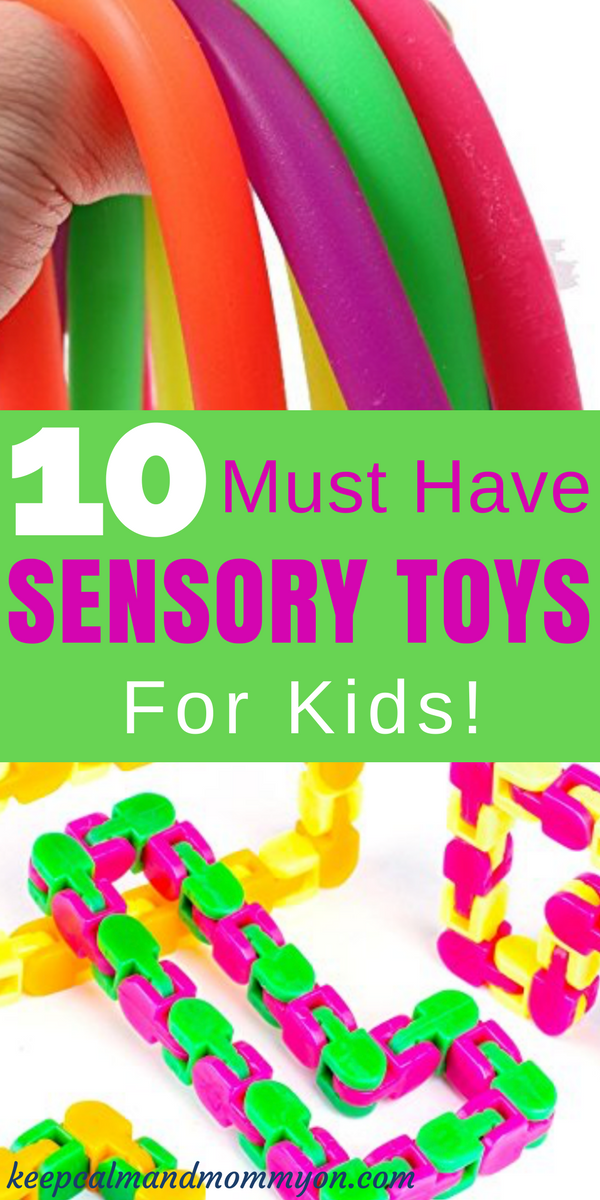 This site contains affiliate links. If you make a purchase using one of these links, I may earn a commission. Please visit my disclaimer page for more information about cookies collected and our privacy policy.
10 Must Have Sensory Toys For Kids!
Sensory toys are excellent for helping children to focus their attention, relieve stress, and to release bound energy!
Sensory toys are toys that stimulate one of the five senses: sight, sound, touch, smell & taste.
These 10 sensory items will help to stimulate your chid's senses!
All children will benefit from sensory items, but I find them especially helpful for kids that have sensory processing disorder.
Sensory Processing Disorder
My oldest son was diagnosed with Sensory Processing Disorder and Tourette Syndrome when he was about eight years old.
Certain sounds, the feel of certain materials etc. really bother him.
Travel Toys
So, I created a sensory toy bag for him to carry with him in the car and to places that we go! Most of the items on this list are items that are included in his bag.
And they make such a difference!
Whenever we are in an environment that has sounds that bother him he can pull an item out of the bag to play and fiddle with.
By using these sensory items he is able to focus his attention so that surrounding noises do not bother him as much.
Sensory Items
Now these sensory items are not only great for those with Sensory Processing Disorder, but for all children!
My other three children all like to play with these toys as well. They not only like to play with them alone, but all four of them like to play with sensory toys together as a group!
These sensory items will help all children to focus and to relieve stress and anxiety as well as to develop fine motor skills ,etc.
Sensory Toys
This fuzzy sensory toy is a favorite amongst all of my children!
They love the way it twists and turns, the fuzzy feeling of the material and the bright colors!
The fuzzy tangle sensory toy is great for kids ages three and up!
It's definitely a must have for your sensory toy bag!
Sensory Toys For Toddlers
Wacky Tracks Snap and Click Fidget
These snap and click fidget sensory toys are great for kids of all ages!
For ages 2 months and up, these sensory toys are perfect not only for older children, but for toddlers as well!
Snap and click the links into different positions to build shapes and chains.
These would make a great addition to a sensory bag!
Travel Toys For Toddlers

These textured balls are also great sensory toys for toddlers! Recommended for ages 6 months and up.
These BPA free balls have six different textures to encourage sensory exploration while stimulating the sense of touch!
Pull and Stretch Squeeze Balls
These pull and stretch balls are great for stress relieving and hand strengthening. A great sensory item to help develop fine motor skills.
These are best suited for ages 3 and up.
Add these fun colorful balls to your sensory bag!
Now while this is not technically a toy, it is a great sensory item for older kids!
This massager is the perfect size to hold in your hands and the vibration is something that really helps!
My son carries this in his sensory bag and really likes it! The vibrating feel as well as the rubber coating on half the ball are great sensory stimulators!
These sensory toys are lots of fun!
All four of my kids love these! To be honest, I though they were kind of soothing and fun to play with too;)
Definitely add these to your sensory bag!
They will not only stimulate the senses but keep your children entertained while traveling!
This is another item that my son has in his sensory bag. It is excellent for older kids, and adults:)
The squeezable beads kind of crunch when you squeeze it, making it an excellent way to relieve stress and extra energy.
When my son is confronted with noises that bother him, such as zippers, turning pages etc., he squeezes and plays with this stress ball.
It really helps to keep from being overwhelmed by outside sounds and senses.
How cool are these liquid motion toys?!
These are something that I would like to add to my sons sensory bag.
I think he would really enjoy them.
The relaxing bubble motion looks very soothing and calming!
These stretch strings can stretch to 9 feet!
They are not toxic and great for bending, stretching and squeezing without losing their shape or being damaged.
Aren't these awesome?!
Great for relieving stress, anxiety and restlessness!

My kids love the squishy eye popping frog!
They think it's hilarious when it's eyes pop out!
Great for relieving stress, and encouraging focus.
Fun for all ages really;)
Sensory Bags
Don't forget a bag to carry all of your sensory travel toys in!
My son is very picky about the fabrics that he touches. He does NOT like the polyester material used for most bags. The feel and the sound that the fabric makes is hard for him.
He prefers the soft feel of flannel or fleece.
These cotton totes look great!
I love the bright colors! Perfect for carrying your sensory toys in!
Cotton Tie-dyed Drawstring Totes
These cotton tie-dyed totes look pretty cool too!
I love the colors! I think these would definitely be a hit with my kids.
And they come in colors that each of them would love!
And that is the 10 sensory toys that you need to have plus the sensory bag to carry them in!
Do you have any of these sensory toys?
Which ones are your favorites?
Do you have any additional sensory toys to add to the list?
Leave me a comment below and let me know! I'm always on the look out for new sensory items to add to our sensory bag!