This blog contains affiliate links. If you make a purchase using one of these links, I may earn a commission. Please visit my disclaimer page for more information about cookies collected and our privacy policy.
Do you love to read to your toddler? These are the top 14 must-have toddler books! You and your child will love reading these together:)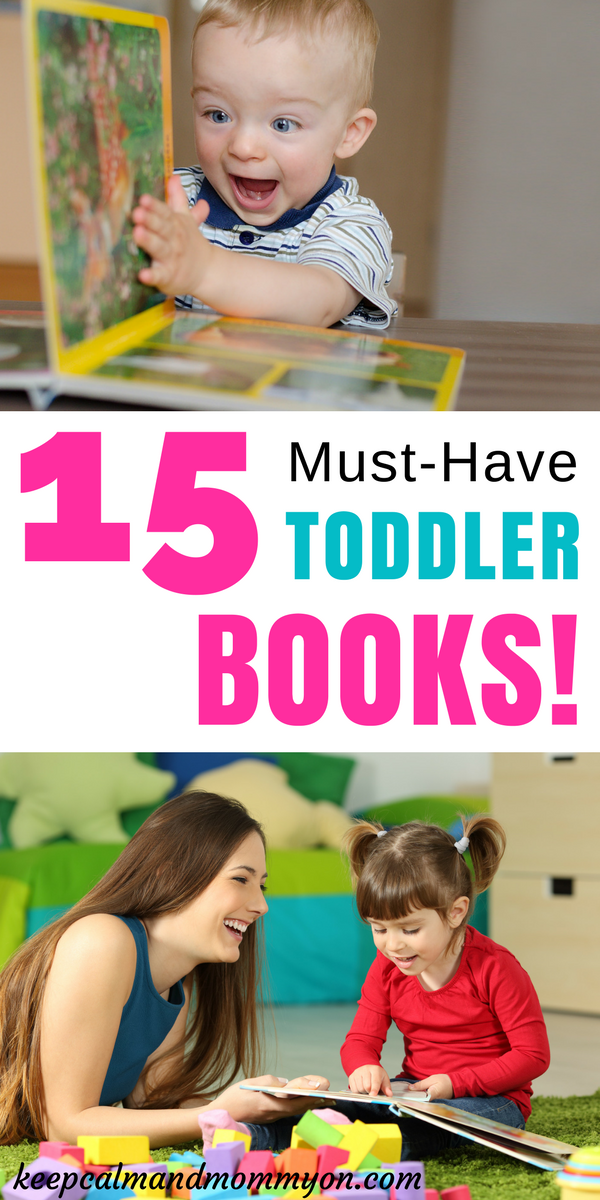 15 Must-Have Toddler Books!
Reading has always been a passion of mine! As a child you could always find me with a book in hand:)
My love for reading is definitely something that I want to share with my own children.
What is the best way to encourage your child to have a lifelong love for books?
Read to them!
Start reading to them as early as possible!
This will help to instill a love for reading and for books.
Favorite Toddler Books!
These are books that my children have all loved reading as toddlers! Definitely classics!
In fact, some of these books are books that my mother read to me as a child:)
And I hope that one day my kids are reading them to their children!
You will absolutely love cuddling up with your child and reading these books together!
Best Books For Toddlers
Sandra Boynton books are so much fun to read!
As a parent, you can really get into these animals sounds and keep your child totally entertained;)
Come on, let me here you moo! 😉
Your toddler will love this book!
"Beep beep beep," said Blue.
I absolutely LOVE Little Blue Truck!
I actually suggest this one when my kids are trying to decide on a book:)
It's one of our favorites!
Not only is it super cute, but it teaches a great lesson on helping others!
You and your kids will love Little Blue Truck!
This is a great cuddle up and read book:)
I Love You To The Moon and Back
This is one of our favorite sayings in my house:)
I say it to the kids, and the kids say it to me.
They love to be silly and say funny things instead of moon as well sometimes.  "I love you to Pluto and back", is the one that I heard my youngest child say to my oldest today . lol
This is a great book to remind your child of how much you love them!
Board Books For Toddlers
This book is based on the Raffi song!
We love to listen to Raffi, he has the best kids songs! We especially love his Christmas CD!
So when I read this book, I can't just read it, I have to sing:)
It is the cutest little book!
The Little Mouse, the Red Ripe Strawberry, and the Big Hungry Bear
Ok, I know I keep saying this, but this is definitely one of my favorites! (I can't help it, I love all of these books:)
This is a book that my mom used to read to me as a child.
And because my mom used to read it to me in a certain voice, I tend to read it in the same voice. So when my husband reads it to the kids, I can't help but think that he's doing it wrong;) lol
But seriously, if you don't already have it, get this book! It is a classic!
All Eric Carle books are good! But The Grouchy Ladybug is one of the best!
Let's face it, we are all grouchy ladybugs sometimes:) This book helps us show our little ones how not to be a grouch lady bug!
I know my toddler wakes up sometimes a grouchy ladybug;)
The Belly Button Book is another fun one to read:)
My daughter really likes this one. If you're not familiar with books by Sandra Boynton, she makes some really cute kids books.
They are a little silly and lots of fun!
"I love you like frogs love flies! I love you like pigs love pies!"
I Love You, Good Night is a great bedtime book!
When we read this book my kids always try to come up with their own silly sayings to say I love you:)
It's lots of fun and a great book to read while cuddling up with your toddler!
Another great bedtime book!
This is actually a picture book, so it doesn't have any words.
But that's one of the things I love about it! The pictures tell the story, so you can tell the story in your own words.
Also, this is a great book for toddlers to read to you! Let them tell the story in their own words as they look at the pictures!
What a great learning experience!
This book is about all the times in life when we are quiet.
Whether it's in class, or quietly watching the snow fall, there are lots of times to be quiet!
I love that this book points out to kids the beauty of quietly enjoying certain things in life!
It really is a good book!
This book is another classic!
Follow along as this family goes on an adventure together! Exploring all the sounds and feels of different types of weather and environments.
My kids have all loved reading this book!
"Guess how much I love you," says Little Nutbrown Hare.
This is another great book to read at bedtime!
And also another book that will end with you and your child comparing your love for one another:)
This is a book that I love reading with my children and reminds me to express to them often how much I love them!
Another classic book by Eric Carle!
This is a book that my mom also read to me as a child.
It's a wonderful kids book and one that your book collection should not be without!
Brown Bear, Brown Bear, What Do You See?
This is once again a classic by Eric Carle!
But what can I say, They are awesome books!
A great book for teaching colors as well as a great book for your child to read to you!
I'm ending the list with my absolute favorite!
Goodnight moon is a classic goodnight book to read to your toddler.
Not only is it super cute, but your child can also try to spot the little mouse on each page. See if they can spot each one!
You can also get this adorable stuffed bunny that looks just like the little bunny in his PJs in the book! Isn't it cute?!
Best Board Books!
And those are the best toddler books!
Do you already read some of these books to your child?
Which ones are your favorites?
Do you have any books to add to the list?
Leave me a comment and let me know! I'm always on the lookout for new books to add to our collection!