Do you need a great DIY gift idea for your child to make? Or are you looking for kids craft storage ideas? Then you need to check out this DIY pencil holder craft for kids!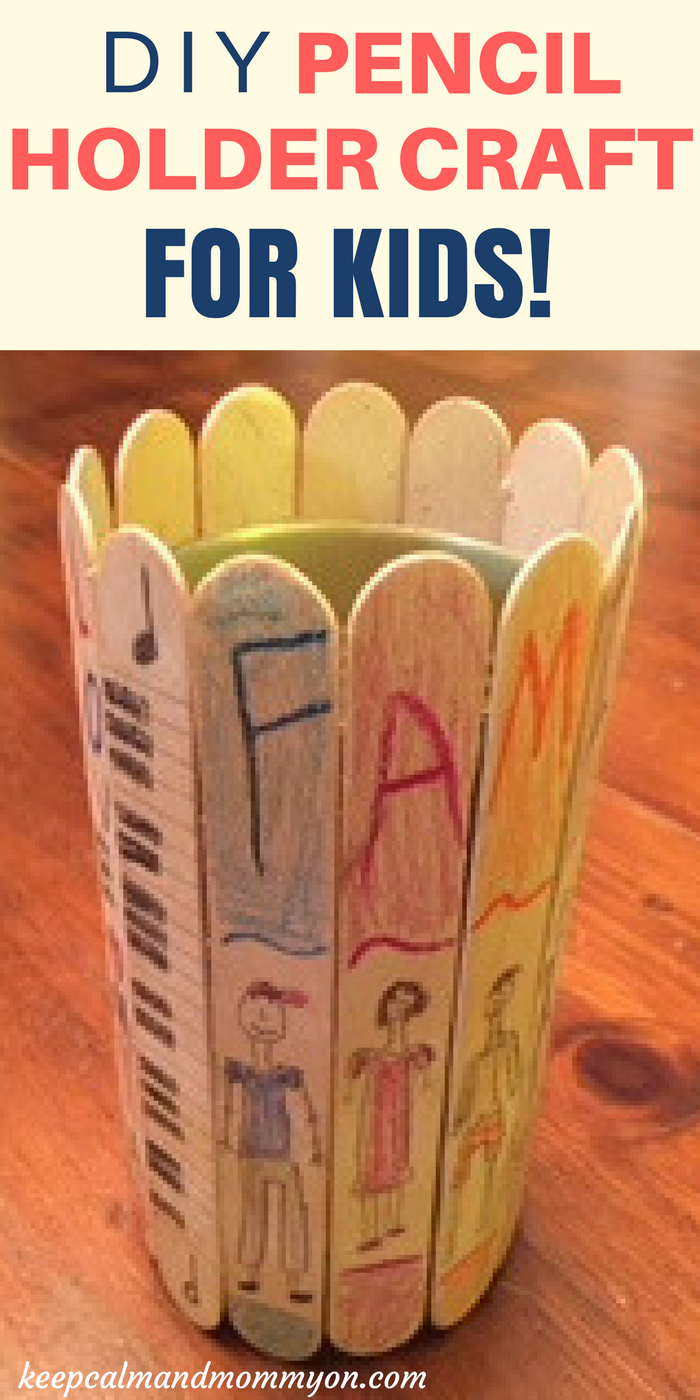 This site contains affiliate links. If you make a purchase using one of these links, I may earn a commission. Please visit my disclaimer page for more information about cookies collected and our privacy policy.
DIY Pencil Holder Craft For Kids!
Crafts are such great learning experiences for kids!
It helps them to focus, increase concentration, work on their fine motor skills, plus its a great way to spend time together as a family:)
My daughter made this super cute pencil holder for her Daddy for his birthday.
She's so excited to give it to him and I know that he will love it:) What better gift for a dad than a handmade gift that he can treasure forever?!
DIY Father's Day Gifts
This would also make a great Father's Day gift in addition to a birthday gift!
I know that my husband will love to see this pencil holder every day on his desk to remind him of his daughter:)
DIY Mothers Day Gifts
And don't forget Mothers Day!
I would love to have one of these sitting next to my computer! Every time I sit down to share a project or craft with you it would be the first thing that I see:)
Wouldn't you love to have one of these from your child?
It would also make a great gift for a grandparent as well!
So many possibilities:)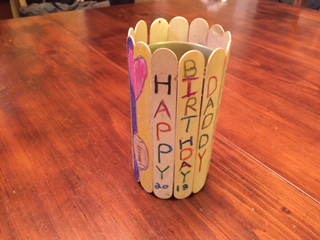 Kids Craft Storage
Or maybe you are looking for a great kids craft storage idea to help keep things organized!
This is a fun and cute way to keep your kids colored pencils and markers organized!
And what better way to teach kids organization than by having them make their own homemade pencil holder?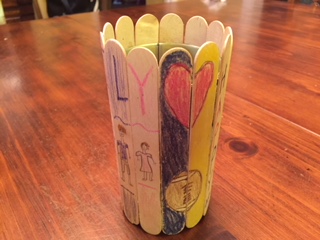 Cute Pencil Holder
Whatever your need, gift or organization, this pencil holder makes a great craft for kids!
It's a way for them to express their creativity as well as a cute way to store pencils, pens and markers.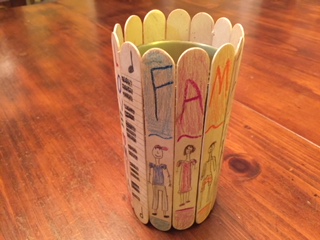 Colored Pencil Holder
Very few items are required to make this colored pencil holder.
What you will need:
One 15oz.- 290z. Can (You can reuse a vegetable or tomato sauce can. But do not use a can that has a pull tab as it will leave a sharp edge. Use a can that has to be opened with a can opener. Also be sure that your can is not taller than your craft sticks.)
Jumbo Craft Sticks (aka jumbo popsicle sticks)
Hot Glue Gun (or craft glue)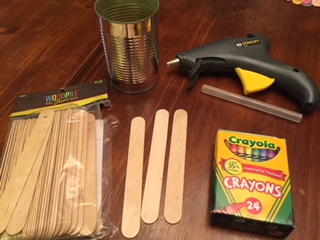 Popsicle Stick Crafts For Kids
This popsicle stick craft pencil holder is very easy to make!
First let your child draw designs and pictures on the popsicle sticks.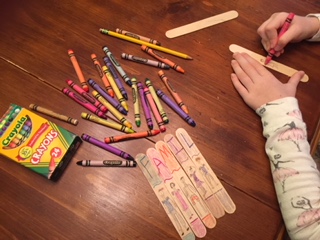 Each popsicle stick can be it's own design, or you can draw one design that covers multiple sticks.
My daughter wrote the word FAMILY on hers with one letter on each stick.
Then she drew different things that my husband likes, such as basketballs and footballs, music notes and piano keys, etc.
Just be creative and make it yours! And don't forget to have your child autograph their artwork:)
Once all the popsicle sticks are colored it's time to glue them to the can.
This is the part that is your job!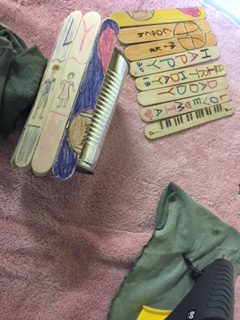 I recommend using hot glue to attach your sticks to the can, which is definitely something that kids should not do as it could burn them (it gets really hot!). So this is something that you will have to do.
You can try craft glue, but I can't guarantee how well they will stay on the can. With hot glue you can rest assured that the sticks will not budge!
You want both ends of the popsicle sticks to go past the can.
My daughter's pencil holder was made with a 15oz. can and the popsicle sticks hung over the bottom of the can by about 2 cm.
You want more popsicle stick past the top of the can than the bottom.
But make sure that each popsicle stick is lined up evenly with the one before it. Otherwise your pencil holder will not stand up straight!
And that's all there is to it!
Once your can is dry it's ready to put pencils, pens, and markers in.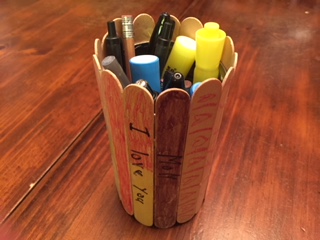 Isn't this a cute pencil holder craft?!
Who will your child make this DIY pencil holder for?
Is it for their own pens and pencils? Is it a gift?
Leave me a comment below and let me know how your pencil holder turns out!
Happy crafting!
If you would like to try other popsicle stick crafts then check out: