Do your kids love to play with perler beads? Are you looking for new and fun ways to use your perler beads? Then you have to try these perler bead ideas and make perler bead magnets!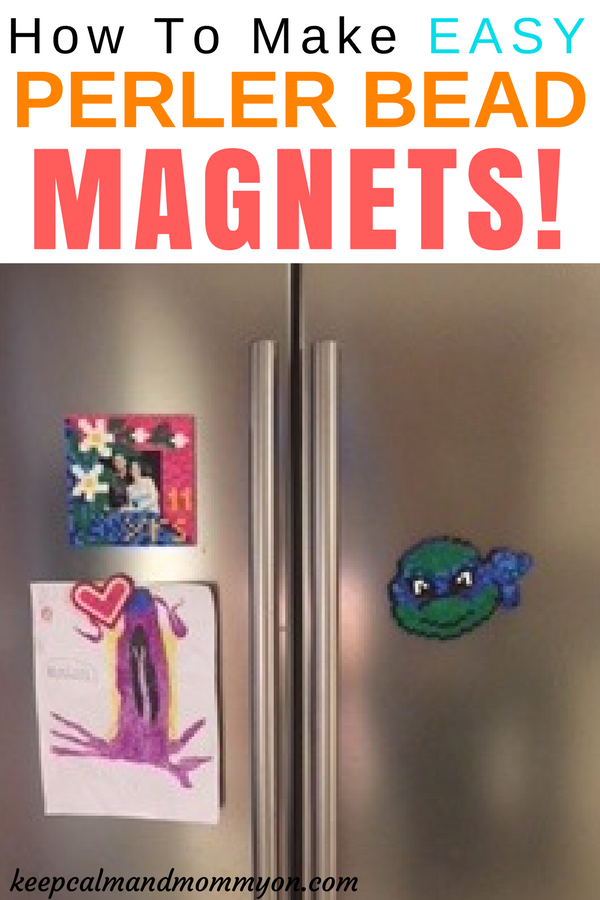 This site contains affiliate links. If you make a purchase using one of these links, I may earn a commission. Please visit my disclaimer page for more information about cookies collected and our privacy policy.
Perler Bead Ideas – Perler Bead Magnets!
I grew up making perler bead designs. So I love it that my kids are really into making things using perler beads too!
It's like a flash back to the past:) Who knew that perler beads are still considered super cool?!
Cute Perler Bead Ideas
We are always on the lookout for cute perler bead ideas!
My mom keeps tons of perler bead ideas and perler bead pegboards at her house. The kids love to make perler bead creations with her when they go there!
The kids will easily spend an entire afternoon making cool perler bead patterns!
I was excited when they came up with this super cute perler bead idea to make perler bead magnets!
What To Do With Perler Bead Creations
I mean, what are you supposed to do with all of these perler bead creations?!
We literally have bags full of awesome perler bead designs!
We now have a solution!
Make perler bead magnets!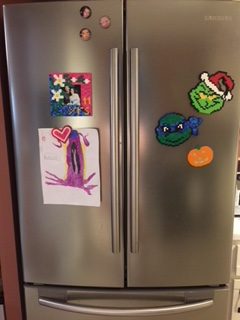 Perler Beads Ideas
Perler bead magnets are not only useful, but are a great way to display your child's perler bead designs!
We use perler beads on the refrigerator to hold all of the kid's drawings and pictures.
And we also display them during the holidays.
For example, at Halloween time we bring out all the halloween perler bead magnets and stick them up.
And then for Christmas we bring out all of the Chrismtas Perler Beads.
At Easter we have all of these cute easter perler beads!
We hang them not only on our refrigerator but on the inside of the door that leads into our garage.
Yep, we discovered that our ordinary looking wood door is magnetic!
During a holiday this is my favorite place to display perler bead magnets!
Each year the kids add to our perler bead magnet holiday collection and our display continues to grow.
The kids are so proud to see their artwork displayed:)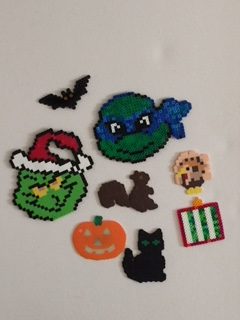 Can you think of any other creative places to stick your magnetic perler beads?
If so leave me a comment below and let me know!
I am always on the lookout for new perler bead ideas!
Perler Bead Ideas Easy To Make
What makes these perler bead magnets even cooler is that they are soooo easy to make!
What you will need:
Perler Bead Designs
To begin with you need to have already completed perler bead designs.
Start by flipping the perler bead design over to the back side.
Peel off the paper on the backside of a magnet square and position it on the back of your perler bead design.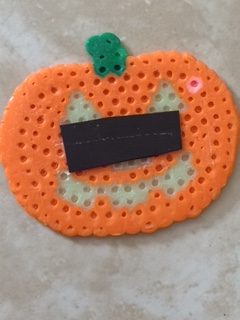 For small perler beads one square might be enough. But for larger perler bead designs you will need three or four.
Just position them so that they are evenly spread out. You want the pieces of magnet to be able to support the perler beads.
Apply pressure to the magnet to be sure that the adhesive is sticking to the perler beads properly.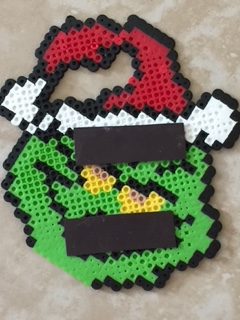 Most of the time the adhesive on the back of the magnet is enough to keep the magnet attached to the perler beads. But every once in a while we have a magnet that keeps popping off.
In that case you will need to apply a little bit of craft glue to the back of the magnet and then stick it to the perler bead design.
Let it dry completely before trying to hang it up on the fridge.
The perler beads that tend to not work well with the magnet adhesive are either really large perler beads (make sure that you have enough magnets attached to hold the weight), or perler beads that are not completely flat.
If the perler bead is warped at all it will have a hard time sticking to the magnet and the fridge!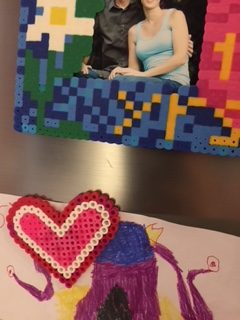 Perler Bead Creations
And that's it!
Are these perler bead ideas easy or what?!
I hope that you and your child enjoy making perler bead magnets as much as my kids do!
And I hope that you enjoy your display of perler bead magnets as well:)
Have you ever made perler bead magnets before?
What kind of perler bead creations will you turn into magnets?!
Leave me a comment below, I would love to hear how your perler bead magnets turn out!
If you would like to see more perler bead ideas, check out: