Are you feeling stressed due to the clutter and chaos? Are you wanting to become more organized? Release your inner supermom and start organizing your home today! Here are 7 closet organizer ideas to help you get your life on track!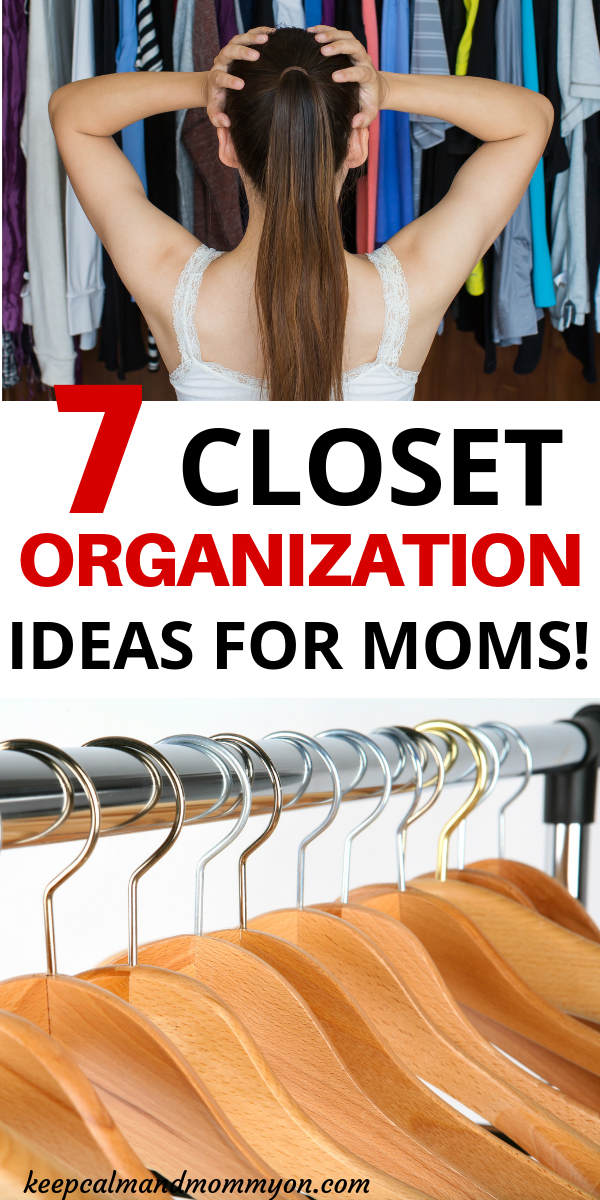 This site contains affiliate links. If you make a purchase using one of these links, I may earn a commission. Please visit my disclaimer page for more information about cookies collected and our privacy policy.
7 Closet Organizer Ideas For Moms
Clutter and chaos are one of the top reasons for stress and mom guilt. Squash the guilt and get organized today! These 7 closet organizer ideas are sure to help get you going on the right track. You'll find everything from shoe organizer ideas, to purse organizer ideas!

This is a great organizer to keep dust and bugs out of your clothing items that you don't use regularly. Store bulky winter sweaters and other items in the top of your closet using these nifty cases. The cool thing about them is that the front is clear, allowing you to see exactly what's inside without taking it down!

I love this space saving hanger idea! What a great idea for pants! Hang up to five pants on one hanger to create more room in your closet.

Photo Credit: www.amazon.com

Don't you hate it when you stack items in the top of your closet and they keep falling over? Super annoying, and not very organized! Use these clip on separators to keep your items in their own stack and neatly organized in the top of your closet.

Photo Credit: www.amazon.com

A closet just can't be organized without a shoe organizer! This one has lots and lots of spaces to store all those beautiful shoes:) I mean, come on, you know there can never be enough shoes, so you might as well have a good place to store them;)

This organizational item is similar to the pants hangers above but for tops. Great for strap dresses, tank tops, or bathing suits. Save space and keep things organized together.

These look really cool! I am always so frustrated when organizing my shoes because I want to keep them close together, but I hate to stack them on top of each other for fear of getting them dirty or scuffing them. This is the answer to that problem! keep your shoes organized and save space with these creative stackers!

Photo Credit: www.amazon.com

I love purses! It's a weakness for me (like shoes;). But the problem is finding a place to store them. It's easy to just throw them in the bottom of the closet. Unfortunately that makes for a very unorganized mess and the purses get damaged very easily that way. The solution is this awesome hanging purse organizer! Each purse has it's own cloth holder to keep them separated, organized, and off the ground!

And those are 7 closet organizer ideas for moms!
Whether you are looking for:
Purse Organizer Ideas
or
Closet Shoe Organizer Ideas
there is something on this list for you!
Also, if you would like to find more organizational ideas to make your life less stressful then check out 7 Kids Room Organization Ideas!