Are you looking for a fun fall craft for kids? This acorn tissue paper craft is a fun, yet simple craft to keep your child entertained and to strengthen fine motor skills!
This site contains affiliate links. If you make a purchase using one of these links, I may earn a commission. Please visit my disclaimer page for more information about cookies collected and our privacy policy.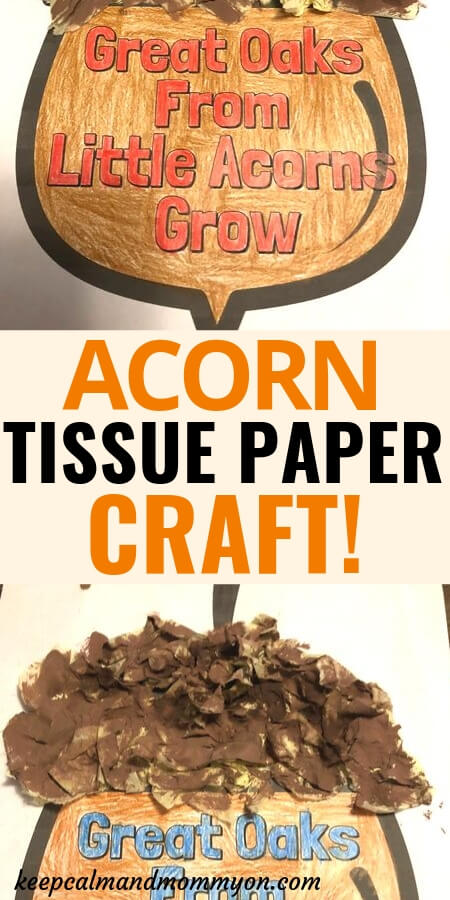 Acorn Tissue Paper Craft
We love fall at our house. And not just because we live in the south and summer is like the surface of the sun here;)
We also love fall for all of the fun and adorable crafts and activities that we can do!
The kids had a blast painting acorns, playing in the acorn sensory bin, and making acorn candy! They also really enjoyed this acorn tissue paper craft. Isn't it cute?!
Now, if you don't want to use tissue paper, or if you don't have any, this can also be a cute fall coloring page.
Acorn Activities
This craft is an excellent rainy day activity. My kids love to paint, and they love to glue. So this was a win!
To make this activity you want to either draw or print an acorn shape. I made this one and added the cute saying: "Great Oaks From Little Acorns Grow". I thought it was really cute and a great way to teach children that they can be and do anything they want to! The sky's the limit:)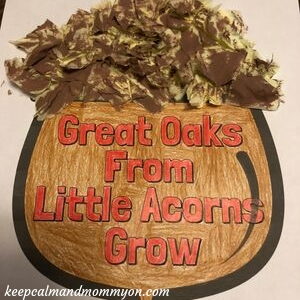 Acorn Activities for Preschoolers
One of the things that I love about this craft is that it is excellent for strengthening fine motor skills!
Fine motor skills are the small movements that we use daily without even realizing it.
Everything from buttoning a shirt to tying shoes requires fine motor skills.
In school children are expected to complete tasks that require fine motor skills as well. Whether its holding a pencil, using scissors, or handling small items, fine motor skills are important!
So how do we develop fine motor skills in children?
Crafts like this are definitely helpful!
Everything from coloring, painting, and gluing make this craft a great fine motor skills activity!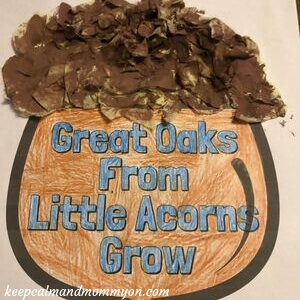 Acorn Tissue Paper Craft
Once you have your acorn coloring page it's time to get started.
Let your little one either paint or color the acorn. We colored ours so that we didn't have to wait for it to dry, but you can do either one.
Next you are going to let your child rip tissue paper into small pieces. We made small strips that were about an inch wide and two inches long.
You can use whatever color tissue paper you'd like. If you don't want to paint, then brown tissue paper would work great as it's the color of acorns. We only had yellow on hand, so we used that. They kids didn't seem to care and wanted to paint it anyways.
Once the strips of tissue paper are ready it's time to start glueing them on. We used glue sticks, but regular Elmers glue will work too.
You're going to just glue the tissue paper to the cap of the acorn, not the entire thing. As you can see from the pictures.
You also want to crumple the tissue paper before adding it to the acorn, that way it makes the acorn textured. You can see exactly how to do that in the above video.
Place each piece of tissue paper closely together so that there are no gaps and the entire acorn cap is covered.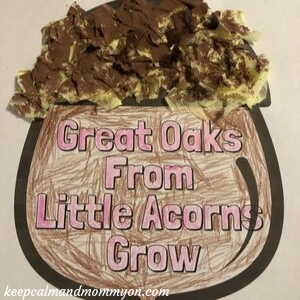 Acorn Family Activities
Once you have covered the top of the acorn with tissue paper it's time to paint! We used brown paint so that it was the color of the acorn. But, if your child wants a different colored acorn then why not? 🙂
Using watercolor paint is definitely the way to go! Easy to clean up and safe for kids! My youngest caked a lot of paint on hers. I had to remind her a few times that she didn't need too much paint or it would never dry;)
Once they were done painting we sat them aside to dry.
And now we have cute fall crafts to display this season!
Do you love to make fall crafts with your child? I hope you enjoy this simple acorn tissue paper craft as much as we did!
Happy Fall:)