Are you looking for a great sensory bin idea for easter? This easter sensory bin for toddlers is easy, simple, and mess free! Plus colorful and lots of fun for little hands:)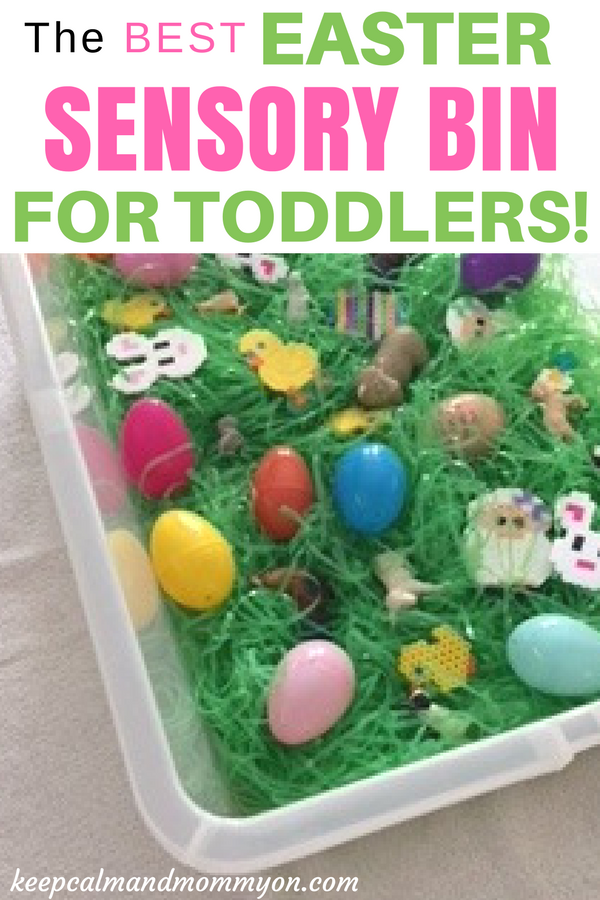 This site contains affiliate links. If you make a purchase using one of these links, I may earn a commission. Please visit my disclaimer page for more information about cookies collected and our privacy policy.
Easter Sensory Bin!
Sensory bins are not only a wonderful way to entertain your child, but a great way to incorporate sensory stimulation!
Sensory bins engage at least one, if not several, of the five senses: sight, sound, touch, smell or taste.
This sensory bin incorporates sight, sound and touch!
Sensory Bin Ideas
This easter sensory bin allows kids to run their hands through crunchy easter grass, play with smooth easter eggs, and feel the textures of play animals and perler bead animals.
It is also full of bright colors which will help hold your child's attention.
Sensory Bins For Toddlers
My two younger children loved this easter sensory bin!
They spent quite a while running their hands through the grass, burying and then searching for the eggs and animals, and incorporating imaginative play by making the animals talk to one another!
They loved it!
Not only is it great for toddlers but my six year old had fun with this as well!
What a great way for siblings to learn sharing and imaginative play!
I love to watch my kids play together:)
How to make the easter sensory bin.
First you need a bin to put your easter items in.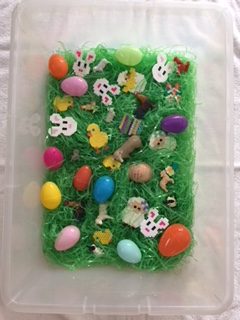 I use a clear plastic tub that is about 20 inches long, 14 inches wide, and 6 inches deep.
It doesn't have to be exactly that size. Just make sure that it is large enough for them to play in without knocking out the contents, and not too deep that they can't reach in to play well.
Also, if you have multiple children playing with the bin you want to make sure that it is big enough to accommodate everyone.
Next, gather your easter toys!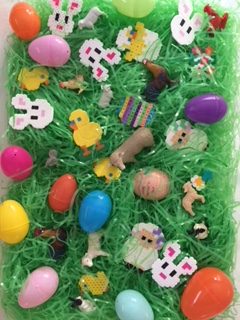 You don't have to use exactly the same items that I did. Any easter toys will work!
The only item that you really need to use for the experience that I did, is the easter grass.
Easter grass is the part that makes this sensory bin fun!
You can however use any color easter grass that you would like. I had green on hand so that's what I used:)
Sensory Toys
Then I added easter toys!
I used:
Easter Perler Bead Animals
Mini Easter Animals (such as chickens, sheep, rabbits, etc.)
Simply add the easter toys to the easter grass and that's it!
Then comes the fun part, sensory play!
I hope you and your kids enjoy the easter sensory bin as much as we did!
What kind of easter toys will you add to your easter sensory bin?
Let me know, leave me a comment below!
If you would like to read about more sensory bin ideas, then check out: