Are you looking for a great sensory bin idea for kids? The Antarctica sensory bin is not only lots of fun, but educational as well! It's full of different textures and also includes a cold element just like the Antarctica!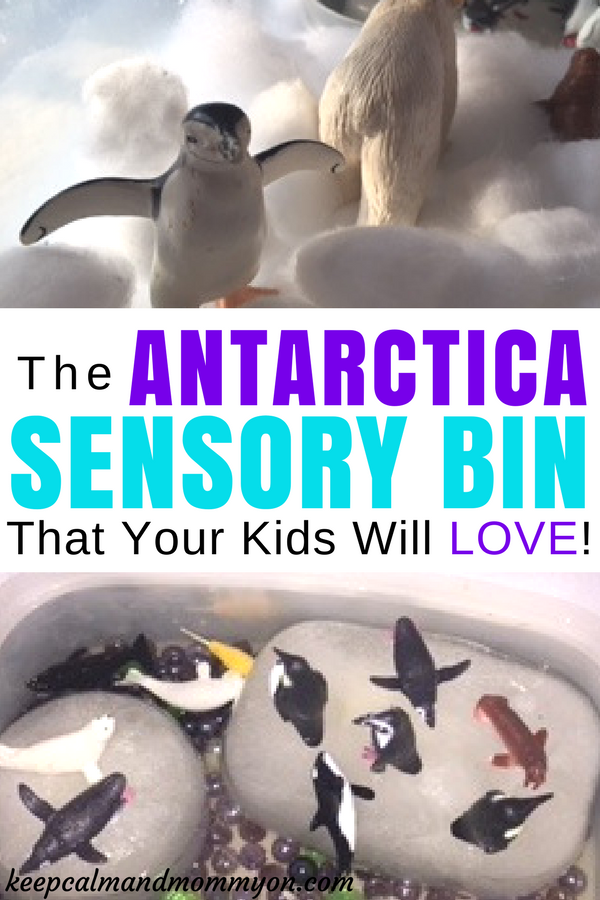 This site contains affiliate links. If you make a purchase using one of these links, I may earn a commission. Please visit my disclaimer page for more information about cookies collected and our privacy policy.
Antarctica Sensory Bin!
Do your kids like to play with sensory bins?
Sensory bins are not only a wonderful way to entertain your child, but a great way to incorporate sensory stimulation!
Sensory bins engage at least one, if not several, of the five senses: sight, sound, touch, smell or taste.
This sensory bin incorporates sight, sound and touch!
Hear the splash of arctic animals at play, feel the cold icy water, feel the smooth water stones and the fluffy snow!
Sensory Bin Ideas
My kids love sensory bins!
They had so much fun with the easter sensory bin and the Fish Tank Sensory Bin that I made, that I decided to make another one!
We recently went to SeaWorld.
The kids had a blast! They loved the rides, but they especially loved all of the animals!
The animal shows were amazing!
We saw penguins, killer whales, a beluga whale, walruses, and seals!
So I decided to incorporate our SeaWorld adventure into a sensory bin!
We now have a piece of the antarctic in our home:)
The kids loved it!
I will say that after a while their fingers got a little cold from playing in the waters of the antarctic. So they went back and forth between playing in the frozen waters to playing in the fluffy snow.
This would make a perfect summer sensory bin for outside!
What better way to enjoy the heat of summer than by playing in the cool waters of the antarctic!
If you don't want to use real ice:
If you would rather not use real ice, or if you feel that the real ice is too cold, then use these fake ice cubes in your arctic water!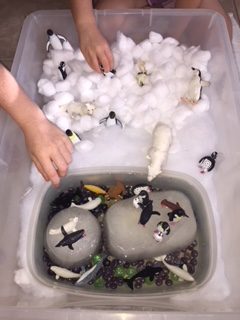 Sensory Bins For Toddlers and Preschoolers
This sensory bin has something for both toddlers and older children.
My four year old loved this as much as my six year old. And I know that toddlers will as well.
What little kid doesn't love to play in water?! Or with animals?!
Of course, because this sensory bin does contain water, adult supervision is required.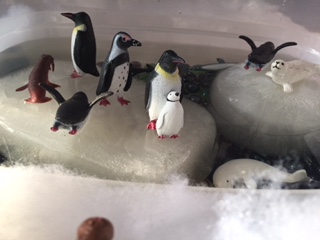 How to Make the Antarctica Sensory Bin
First you need a bin to create your Arctic scene in.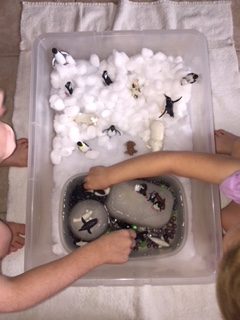 I use a clear plastic tub that is about 20 inches long, 14 inches wide, and 6 inches deep.
It doesn't have to be exactly that size. Just make sure that it is large enough for them to play in without knocking out the contents, and not too deep that they can't reach in to play well.
Also, if you have multiple children playing with the bin you want to make sure that it is big enough to accommodate everyone.
Next gather all of your Antarctica items!
You don't have to use exactly the same toys and items that I used.
I tried to use mainly items that we already had on hand. The only thing I actually purchased for this project that we didn't already have on hand was a bag of cotton balls.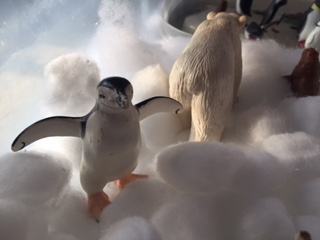 Sensory Items
These are the items that I added to our Antarctica sensory bin:
Ice Blocks (see below)
Water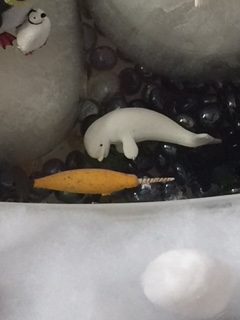 How to Assemble Your Antarctica Sensory Bin:
Before assembly:
This step is only necessary if you are using real ice in your sensory bin to create a more authentic arctic ocean.
As I mentioned above, if you are looking for an option that is not cold, try these fake ice cubes instead!
Several hours or the day before you make your sensory bin, freeze water in small plastic containers.
I did both a rectangular and a round shape.
Just make sure they are small enough to fit in the smaller plastic tub that I mention below.
When you're ready to assemble:
Start by placing the smaller plastic tub inside your larger plastic tub.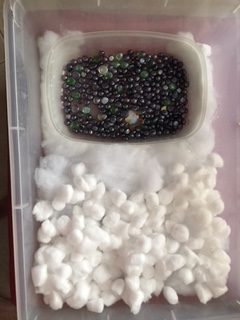 Add enough glass gems to cover the bottom of the small plastic container.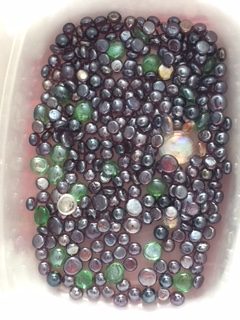 Next add the pull-apart fake snow to the large tub. Position it around the small tub.
I added enough fake snow to come to the top of the small plastic tub.
This makes it look like the snow is coming to the edge of the water.
After adding your snow, sprinkle cotton balls on top for more snow. This gives a couple of different textures to the snow.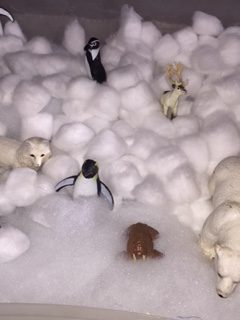 At this point I had the kids start adding their animals to the snow while I added some water to the smaller bin.
I added a couple of ice cubes as well.
Make sure you only add a small amount of water before the next step. You don't want the water to overflow!
Next pull your ice blocks out of the freezer.
Run the containers under water for a couple of seconds to help the ice to come out easier.
Add your ice blocks to the small tub.
Add more water if needed.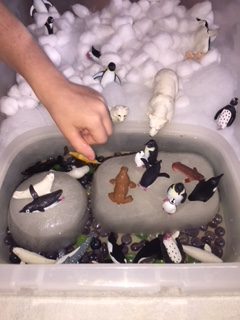 The only thing that's left to do is to add all of your arctic sea life to the water tub!
Now your Antarctica sensory bin is ready for imaginative play!
We played with our bin indoors on a towel. But like I mentioned above, it would make a great summer time outdoor activity!
I hope you and your family enjoy the Antarctica Sensory Bin as much as we did!
What items will you add to your Antarctica Sensory Bin?
Let me know by leaving me a comment below!
If you would like to find more fun sensory bin ideas then check out: