Decorating Easter eggs is so much fun for kids. But sometimes the usual way gets a little boring and you need to get creative! Why not try glitter easter eggs?! They're easy to make and look awesome!
This site contains affiliate links. If you make a purchase using one of these links, I may earn a commission. Please visit my disclaimer page for more information about cookies collected and our privacy policy.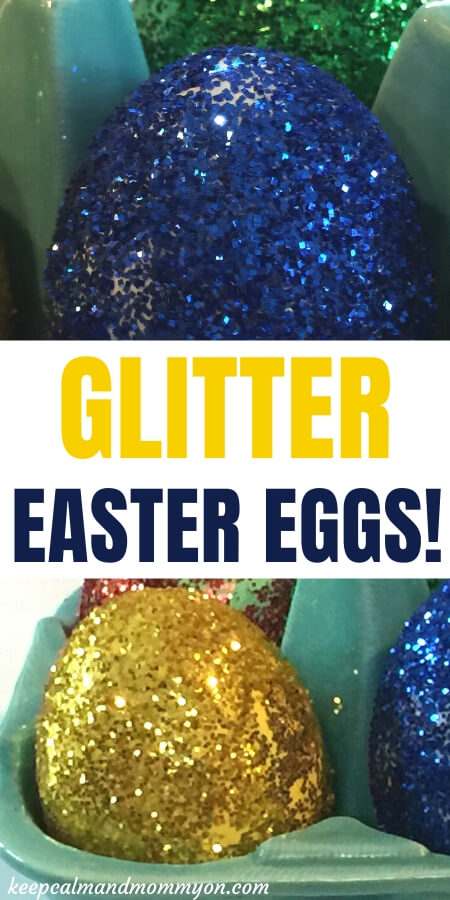 Glitter Easter Eggs
When my kids were really little we didn't put a lot of effort into decorating easter eggs. We just did the usual dunk and dye method.
But as the kids have gotten older they get tired of the usual. They want to be creative and make their eggs special and unique.
So we experimented with some different methods of decorating our eggs. We made Ninja Turtle Easter Eggs, Ballerina Easter Eggs, Blown Eggs, and these super sparkly Glitter Easter Eggs!
Aren't they so pretty? My girls are all about the sparkle, so they loved making these:)
And the awesome part is that they are actually very easy to make!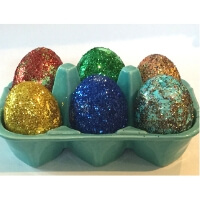 DIY Glitter Easter Eggs
To start this is going to sound like we're making the usual boring eggs, but don't worry, we aren't;)
First you need to gather all of your supplies. To make these special glitter Easter eggs you will need:
Eggs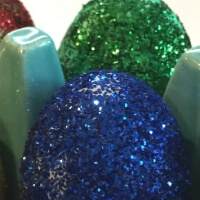 How to Glitter Easter Eggs
Ok, let's get started!
First you need to dye an egg. You can either color a hard boiled egg, or if you want to keep your egg use a blown egg.
Choosing the color you want to dye your egg depends on the color of glitter you want to use. The glitter probably won't color every speck of egg, so you need to have the dye under the glitter so that the white egg doesn't show through.
You can choose to dye your egg the same color as the glitter that you use, or you can choose to color it a totally different color so that it stands out from the glitter. We did both, as you can see in the pictures.
Just know that if you want your egg to look like it's completely covered in glitter it's best to use the same color dye as glitter.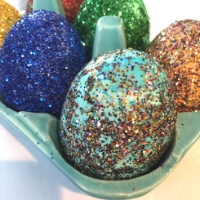 Glitter Easter Eggs Instructions
Once your egg has reached the shade of color that you like remove it from the dye and place it on a paper plate or paper bowl.
Immediately pour glitter over the egg, rotating the egg to coat all sides. As glitter falls onto the plate you can rub the egg around in it to make sure that it is completely coated with glitter.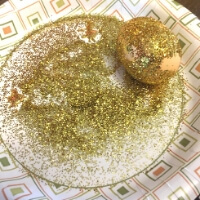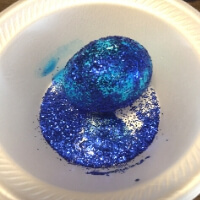 Now let the egg sit until it is completely dry.
As it dries the glitter will dry in the dye, thus sticking to the egg.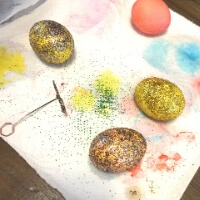 How to Add Glitter to Easter Eggs
And that's all there is to it! Isn't that easy? And don't they look great?!
I hope you and your kids enjoy making these sparkly glitter easter eggs as much as we did!
Be sure to come back and leave me a comment below after you decorate your eggs, letting me know how you like them:)
If you would like to find more easter fun then be sure to check out these fun and educational easter crafts and activities!
Happy Easter!