Are you looking for creative ways decorate easter eggs? Would you like to know how to make ninja turtle easter eggs? These are super cute, easy, and fun to make!
This site contains affiliate links. If you make a purchase using one of these links, I may earn a commission. Please visit my disclaimer page for more information about cookies collected and our privacy policy.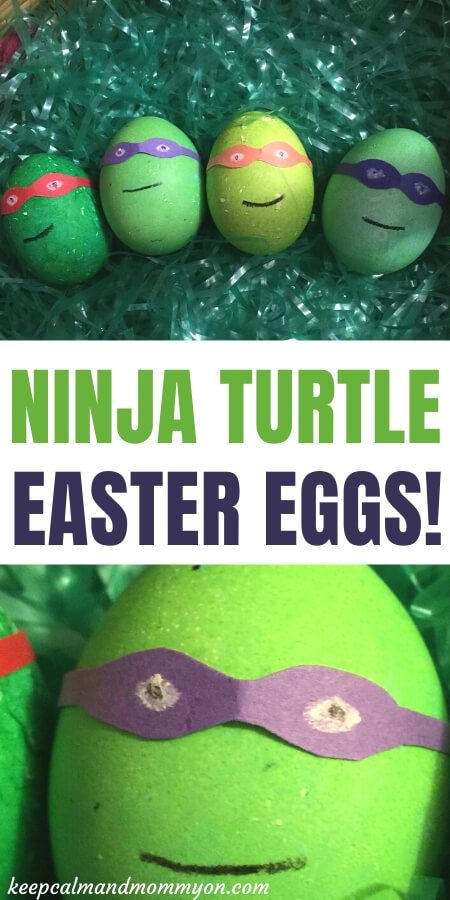 How to Make Ninja Turtle Easter Eggs
Having four kids makes decorating easter eggs a big production! we decorate a LOT of eggs!
The kids love making traditional eggs, but as they have gotten older they love to get creative and make special eggs.
One of my boys is obsessed with the Ninja Turtles! We probably have almost every ninja turtle action figure ever created. Before having kids I had no idea I would know so much about Ninja Turtles lol.
So when Easter rolls around, of course we have to make Ninja Turtle easter eggs!
What would this holiday be without the turtles am I right?! After all, if we are going to have Ninja Turtle Christmas wrapping paper then we have to have Ninja Turtle easter eggs;)
If you have a Ninja Turtle fan in your home then you have got to try this easter egg idea. It's really very easy to do! Let me show you how.
Ninja Turtle Easter Eggs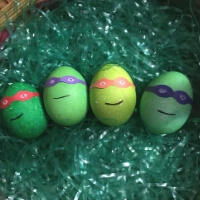 To make Ninja Turtle easter eggs you will need:
Hard Boiled or Blown Eggs
Construction Paper (red, blue, orange, purple)
Tape or Photo Splits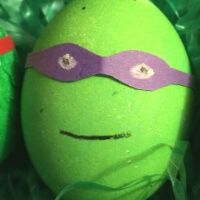 Ninja Turtle Easter Egg Ideas
The first step is to color your eggs green.
Leave your eggs in the dye until they have reached the desired shade of green.
Each Ninja Turtle is a different shade of green so we tried to dye our eggs accordingly. Apparently, according to my son, this is very important;)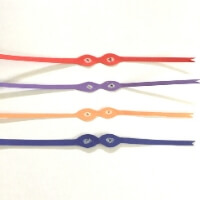 Once your eggs have been dyed and dried it's time to make them look like Ninja Turtles! Take your construction paper and cut out little masks for each turtle.
I used a ruler to draw my lines for the string part of the mask and then when I got to the middle of the mask I cut two circles instead of following the straight line. But however you choose to do it your mask should be one solid piece of construction paper.
I also cut the ends of the mask to look like the ends of a ribbon, cutting out a little V.
Once your masks are cut you need to add eyes to them. We used a white crayon to draw the whites of their eyes and then a black marker to put a black dot in the middle.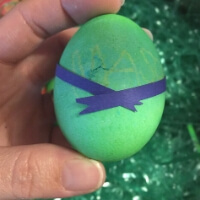 To attach the mask to the egg we used photo splits. You can also use small pieces of double sided tape as well. But I'm a scrapbooker so I had photo splits on hand:)
Place lots of tape on the mask so that it will stick well. I put pieces along the entire length of the mask.
To make it fit on the egg the strings of the mask should slightly angle down as they go around to the back and then cross over each other to look like it's tied.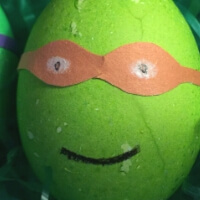 Ninja Turtle Eggs for Easter
The only thing left to do is to give your turtles a mouth. You can use a black crayon or a marker for this.
And now you have Ninja Turtle easter eggs!
Aren't they adorable? My son was so proud of these eggs:) I have to admit I was too;)
I hope your Ninja Turtle fan enjoys this easter egg design as much as we do!
Be sure to come back after making them and leave me a comment below! We'd love to hear how it goes:)
If you would like to find more fun easter ideas be sure to check out:
How to Make Paper Mache Easter Eggs
Easter Perler Bead Patterns and Ideas
10 Must Try Easter Crafts for Kids
Easter Sensory Bin for Toddlers
How to Make Your Own Easter Egg Hunt Map
Happy Easter!