Do you have a halloween party coming up? Are you wanting to learn how to make halloween cakes? This halloween cake was a big hit at my halloween party and I know it will be at yours as well!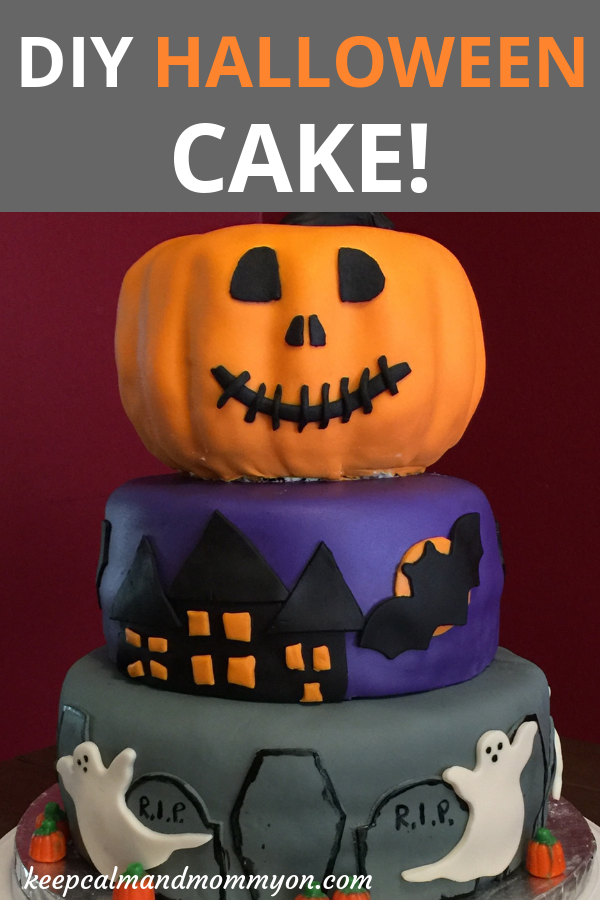 This site contains affiliate links. If you make a purchase using one of these links, I may earn a commission. Please visit my disclaimer page for more information about cookies collected and our privacy policy.
Halloween Cakes
Every year we host a halloween bonfire at our home. We all have a lot of fun playing games, roasting marshmallows, and eating yummy halloween goodies!
I have lots of fun before the party getting the halloween goodies ready;) I love creating cute and festive halloween treats for all of our guest!
This halloween cake was the focal point of my dessert table! It's three tiers tall and makes a great centerpiece when surrounded by platters of pumpkin spice buckeye eyeballs, spider cookies, pumpkin oranges and more!
I also made each tier a different flavor. One tier was chocolate cake, one a vanilla cake, and the top pumpkin tier was the Best Pumpkin Cake With Cream Cheese Frosting ever!
To make my halloween cake I scoured the internet and Pinterest looking for ideas. I found multiple cake pictures that I liked, sat down, and sketched out what I wanted my cake to look like. Taking my favorite parts from all of the cakes I saw and creating my own. Designing the cake was pretty fun:)
You can decide what size you want your cake to be. Mine was about 10-12 inches across for the bottom tier, 8-10 inches across for the middle tier, and the pumpkin mold listed below for the pumpkin on top.
Halloween Cake Ideas
To decorate this cake you will need:
Pumpkin Cake Mold (This is the exact same mold that I used)
Gray Fondant (make by adding a little black icing color to white fondant)
Orange Fondant (If you can't find orange fondant then add orange icing color to white fondant)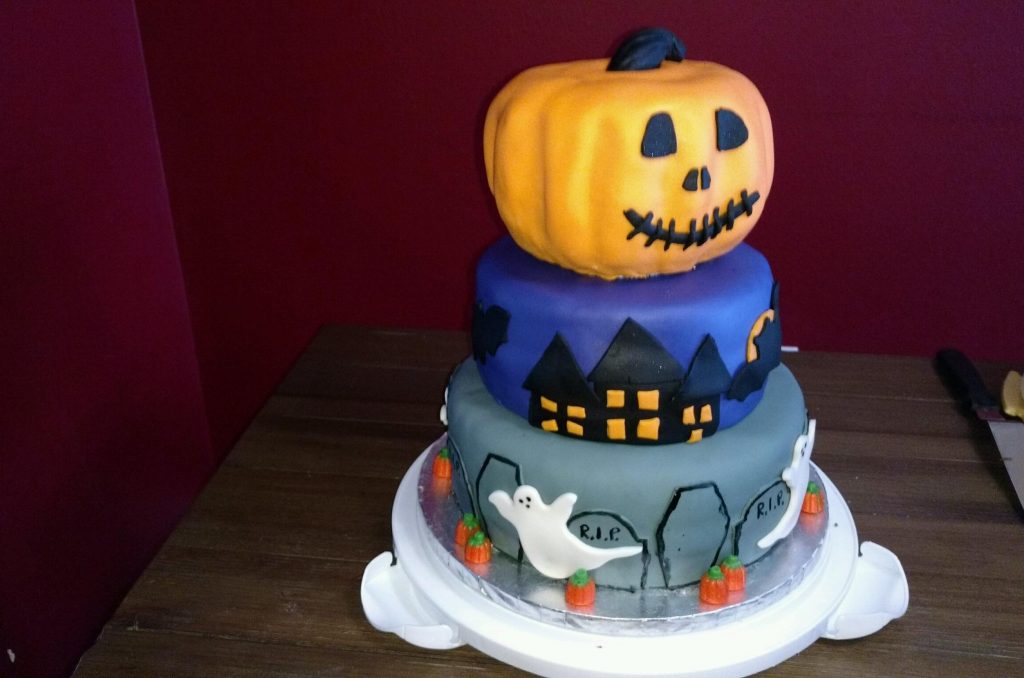 Halloween Cake
Start by placing each cake tier on a cake round cut to the same size as your cake so that you can't see the cardboard. I stacked two cake layers together to make one tier.
Next cover each tier in fondant. Insert four dowel rods cut to the height of the tier into the middle section of the cake.
Stack the two bottom tiers. I like to wait until shortly before presenting the cake to add the pumpkin tier.
Using your halloween cookie cutters cut out your tombstones, ghosts, and bats. I just used a ruler and a pizza cutter to cut out the haunted houses and the pumpkin face.
You can glue your fondant decorations to the side of your cake using a cake decorating brush and the clear imitation vanilla.
Once all of the decorations are in place I like to use the cake decorator brush and clear imitation vanilla to clean off the cake. It's a great way to get all of the white smudges from powdered sugar off to give your cake a more professional look.
And don't forget to put the face and a fondant stem on your pumpkin:)
Halloween Cakes
After all of the decorations are in place use a cake decorator brush and the black icing coloring to paint eyes on the ghosts and the tombstones.
I also placed some candy corn pumpkins around the bottom of the cake because I didn't have the time to make fondant pumpkins. Plus everyone likes to eat candy corn;)
The final thing your cake needs is to place the pumpkin cake on top!
Now you have an amazing halloween cake that will steal the show at your halloween party! Trust me, your guests will be impressed:)
Be sure to let me know how your halloween cake turns out! I can't wait to hear!