Are you looking for a fun craft to make with your kids? Are you looking for movie or Hollywood themed crafts? This popcorn craft is sure to be a hit with your kids!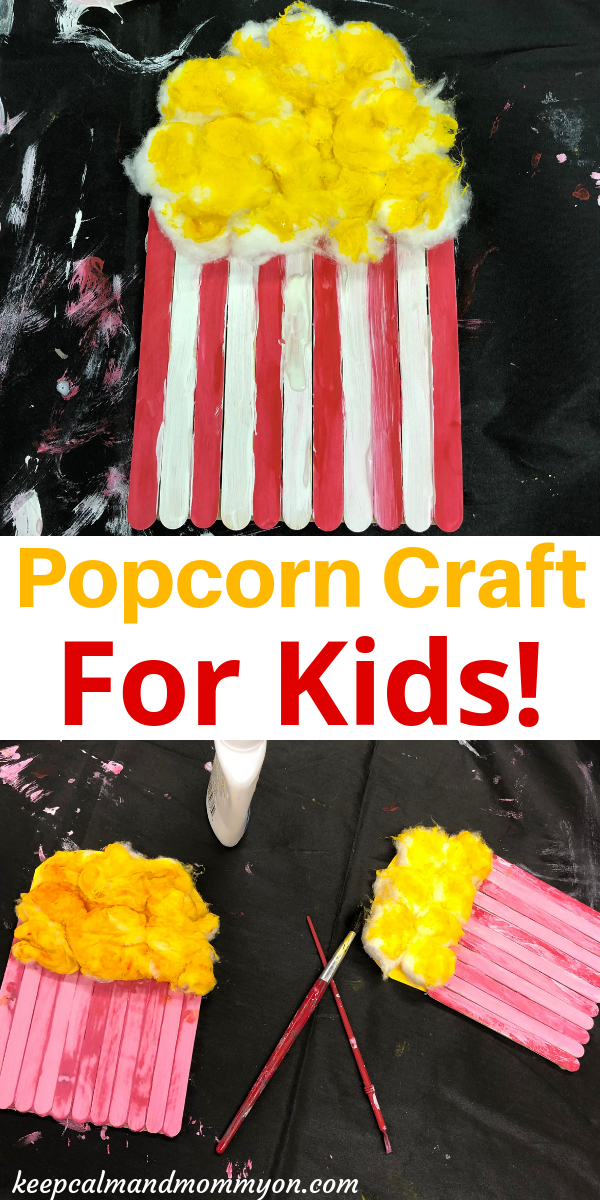 This site contains affiliate links. If you make a purchase using one of these links, I may earn a commission. Please visit my disclaimer page for more information about cookies collected and our privacy policy.
Popcorn Craft
We are still working through our third week of dance camp. It's been a really fun week for the kids. As I mentioned in my post Hollywood Walk of Fame Star Craft they've been dancing, singing, playing games, making crafts, etc. It's been a really full week!
I'm helping out this summer with camp, so it's been an adventure for me as well;)
This week's camp is all about Hollywood! One of the crafts that the instructor decided to make this week are these adorable popcorn crafts! Aren't they so cute?!
All of the kids had a blast making them! We were going to just do this craft with the younger kids, but the older kids that are around 12 or 13 loved the idea and wanted to make them too, so everyone did it! It really is a great craft for all ages.
To get started making your popcorn craft you need to gather your supplies. You will need popsicle sticks, red, white and yellow paint, paintbrushes, yellow cardstock, cotton balls, hot glue, and regular kids glue.
Popcorn Craft Ideas
Ok, now that you have all of your supplies it's time to get started! Well, it's time for you to get started. It's not quite time for the kids to start crafting.
Before the kids can start making their popcorn craft you are going to have to make some crafts first;) It's really easy prep though so don't worry. I made over twenty pretty quickly for camp so one or two will go really fast.
You need to make the popsicle stick portion of the craft. This is because it has to be assembled with hot glue, something that the kids can't do. The popsicle sticks will form the bucket portion of your popcorn craft.
Start by heating up your hot glue gun. Then lay out two popsicle sticks horizontally one above the other. Take a third popsicle stick and measure how far apart the two horizontal sticks should be. They should be one popsicle stick length apart. Put a dot of glue on the back of the third popsicle stick at the top and the bottom and then place it on the horizontal sticks starting at one end like this.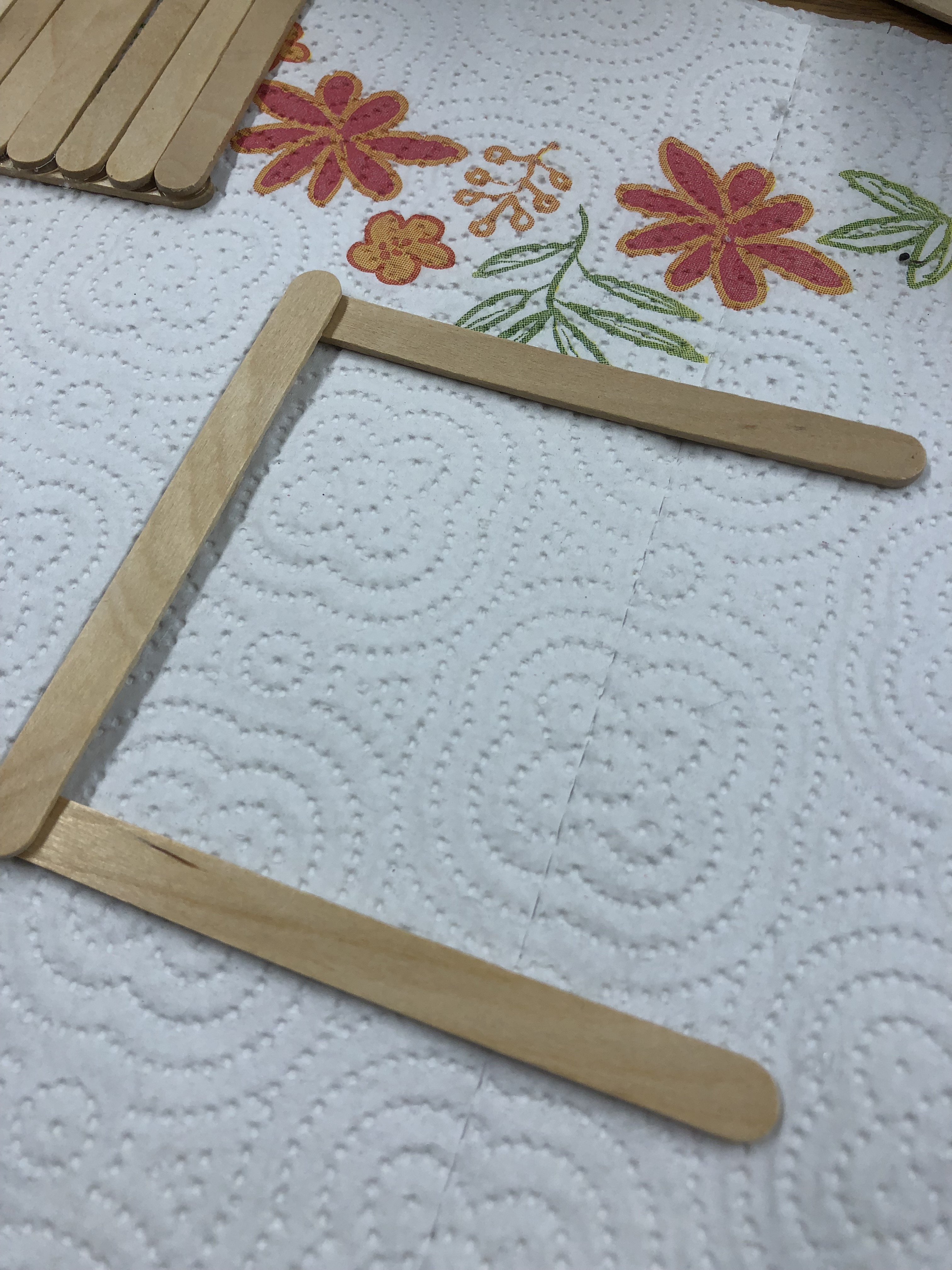 Popcorn Arts and Crafts
Next glue another popsicle stick alongside the third vertical popsicle stick. Continue to add popsicle sticks until you have added them to the entire length of the horizontal sticks. It should look like this when you are finished.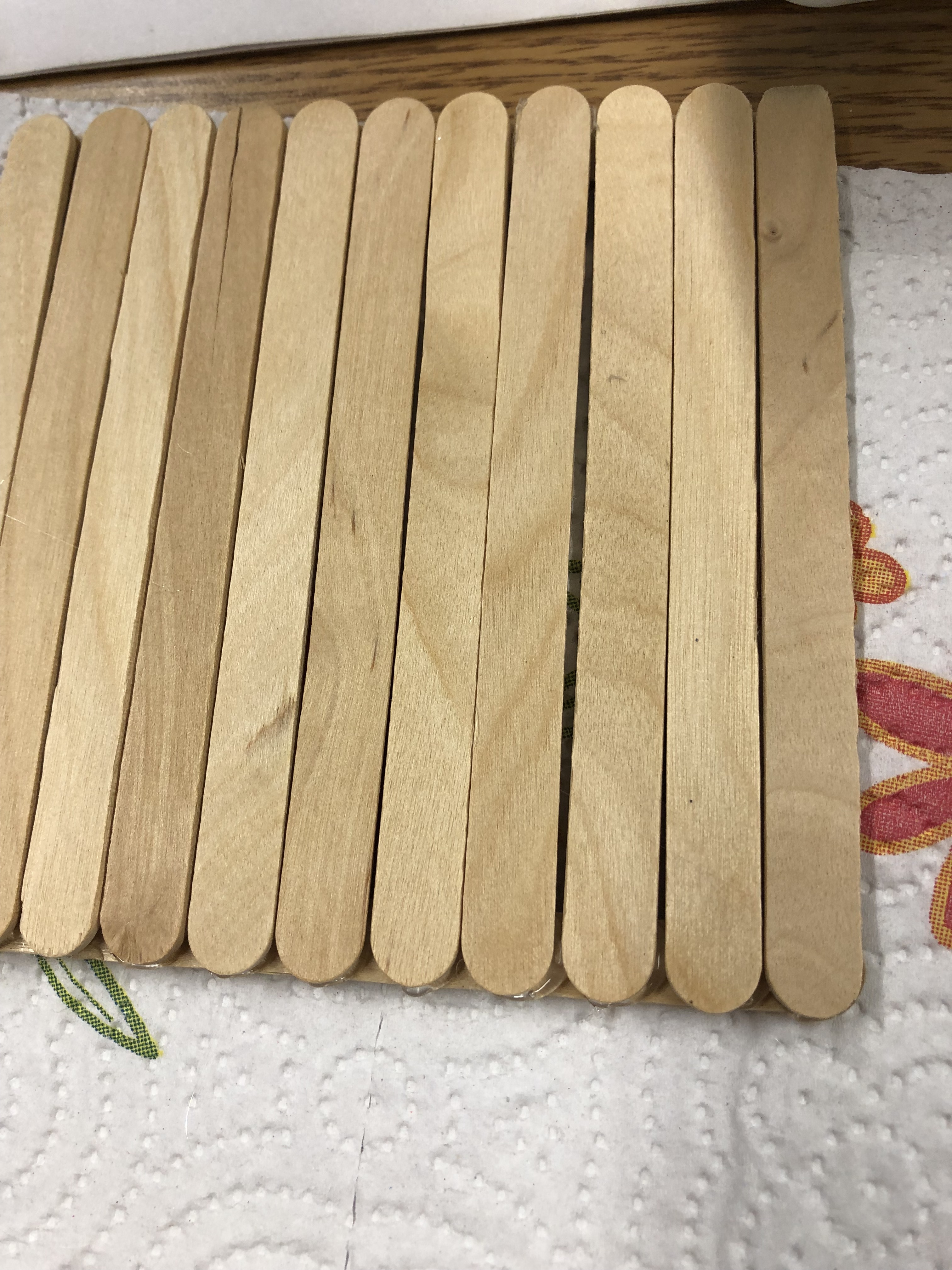 Set it aside until it dries. It should dry very quickly.
Also you can choose whether you want to use small popsicle sticks or jumbo sticks. The jumbo sticks seem to work better for younger kids as it gives them more room to paint on and they don't have to be as precise.
Now it's time to let the kids paint their popcorn bucket. You will need red and white paint.
Alternate painting the popsicle sticks red and white. We instructed the kids to not mix the colors together so that they could paint the pattern. Unfortunately they didn't all follow directions (shocking I know;) insert eye roll) and they ended up with light red or slightly pink buckets. Which, honestly still look really cute!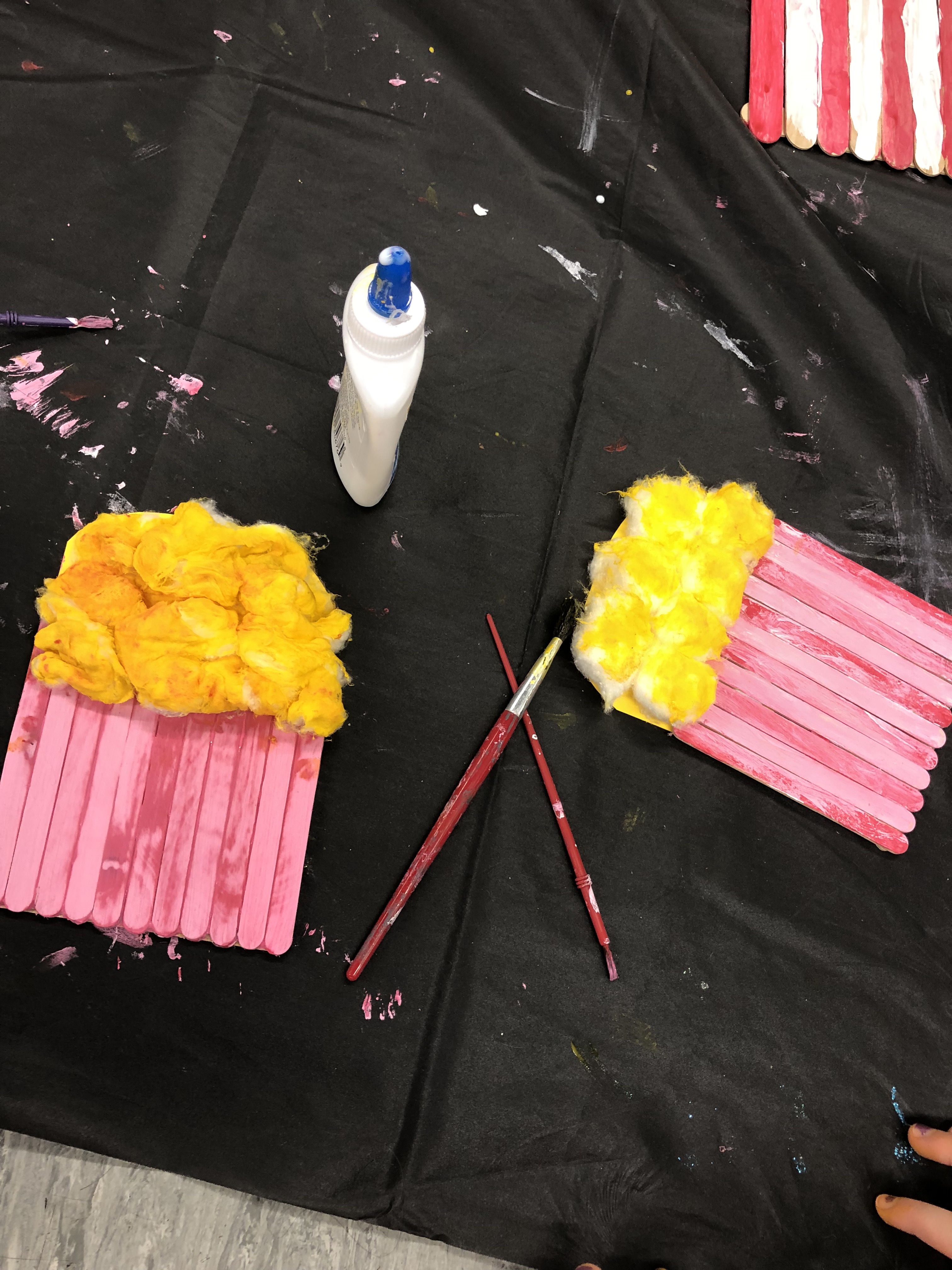 Once they have finished painting the buckets, it's time to set it aside to dry and to start on the next step.
Cut out a half circle of yellow card stock that is the same width as your popcorn bucket. It should look something like this: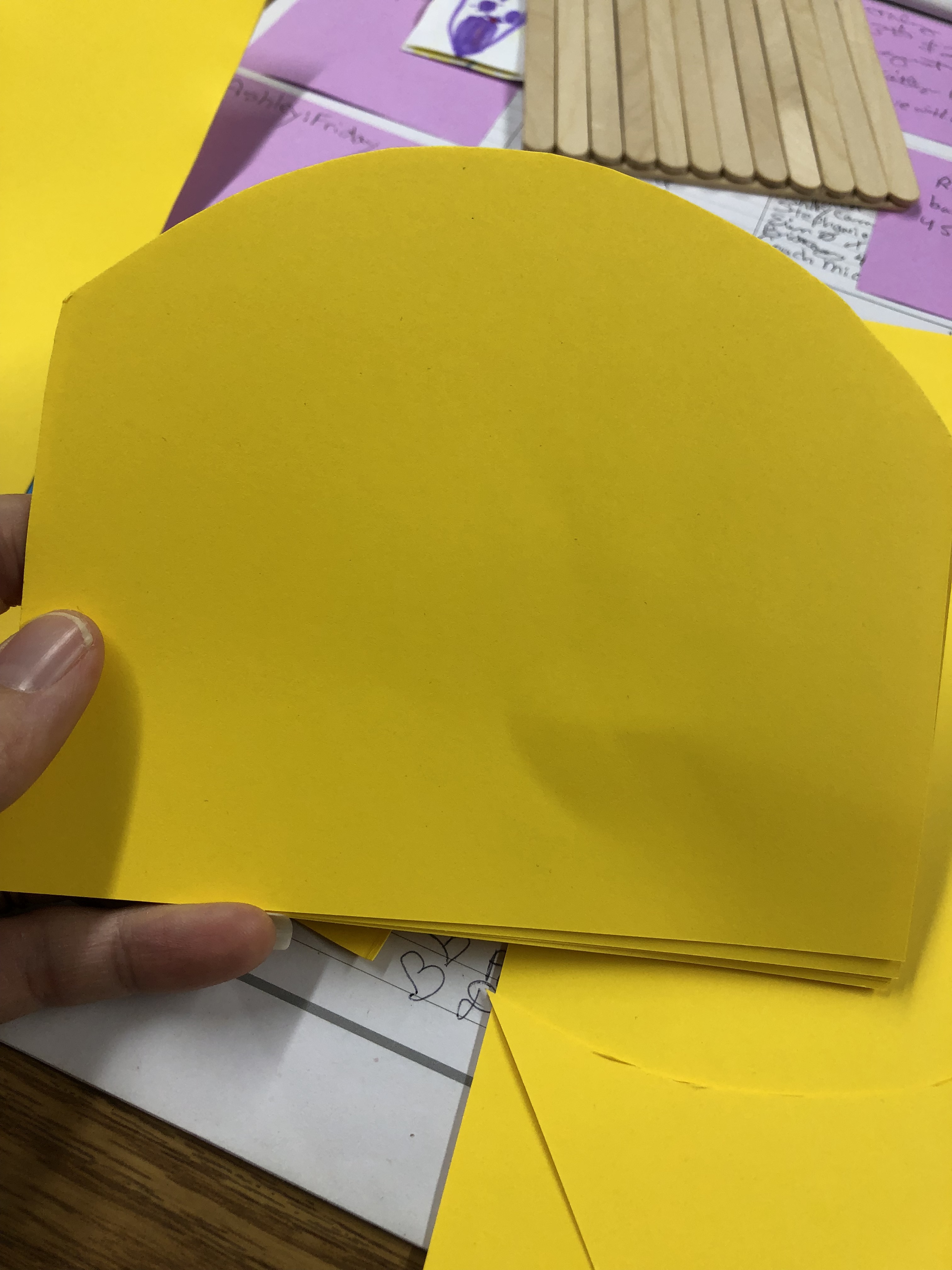 Let them paint and glue cotton balls to the yellow card stock leaving a blank strip along the bottom that can be glued to the popsicle bucket.
Paint the cotton balls yellow. You can either paint them before or after adding them to the cardstock. It's easier to paint them after adding them, however we had some girls rub the cotton ball in paint before glueing them on the yellow paper.
You can also slightly pull the cotton balls apart to cover more area on the paper as well.
Popcorn Crafts For Kids
Once the cotton balls are all added to the yellow cardstock you can apply glue to the bottom strip of cardstock that is still exposed. Place your popcorn bucket on top of the glue so that the cardstock is glued to the back of the top of your bucket. Now set it aside and let it dry!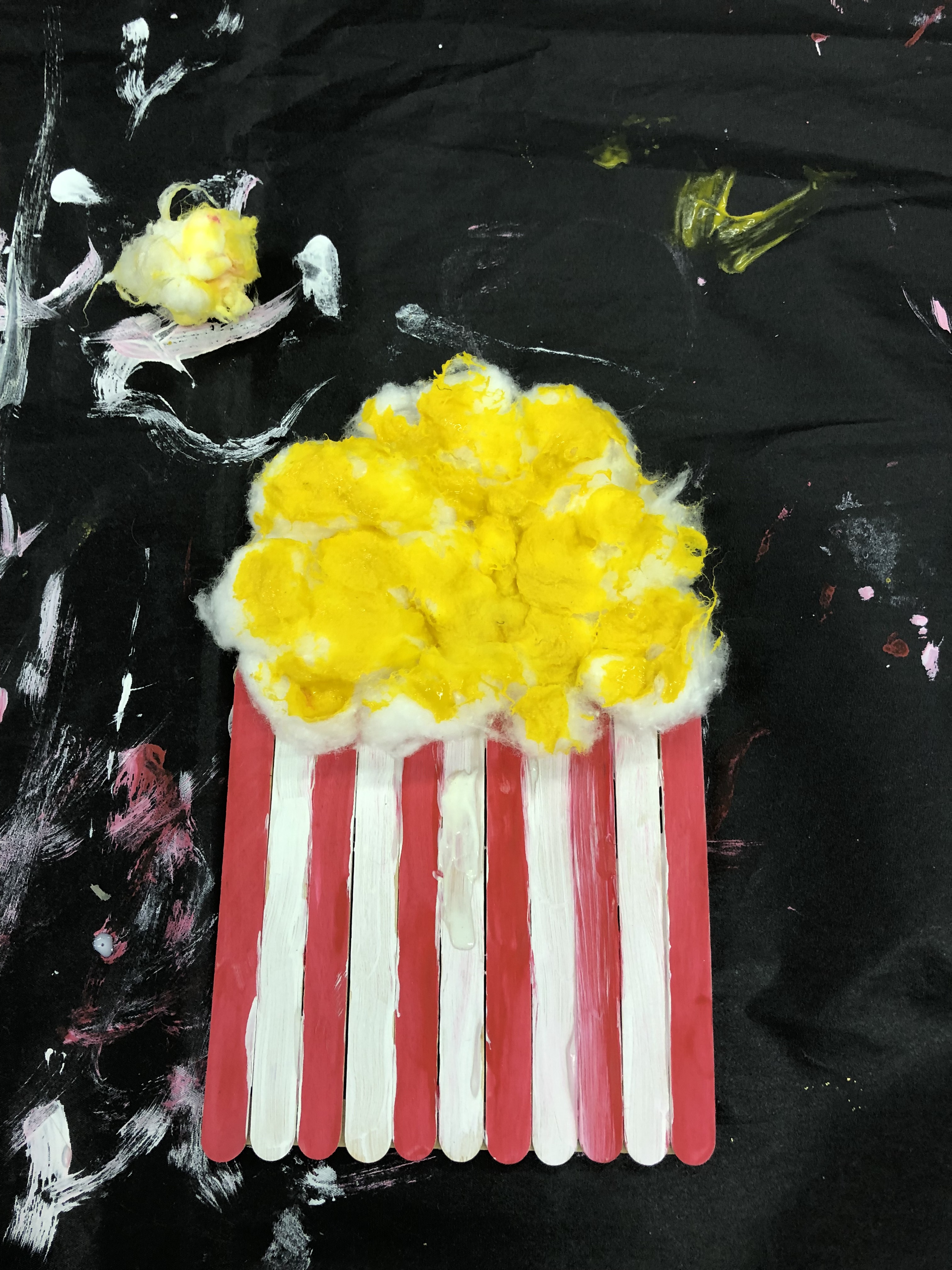 Isn't that super cute?!
Once it's dry you can also write popcorn on your bucket in black. You can use paint or a black marker or sharpie to write it. And that's it! You now have a super cute popcorn craft for kids!
And be sure to come back and leave me a comment letting me know how much your kids enjoyed making their popcorn craft!
Do you enjoy making crafts with your kids? Would you like to find more fun crafts to make? If so then be sure to check out more fun crafts for kids here!