Are you looking for a great finger painting idea for toddlers? These under the sea finger painting ideas are lots of fun and something easy for toddlers to do! Your little one will be so proud of their finger painting artwork!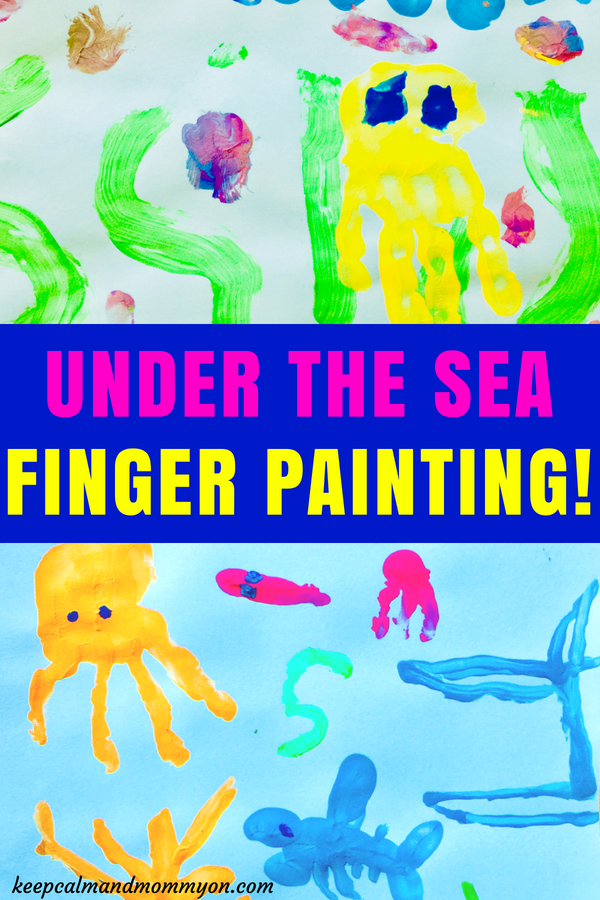 This site contains affiliate links. If you make a purchase using one of these links, I may earn a commission. Please visit my disclaimer page for more information about cookies collected and our privacy policy.
Under the Sea Finger Painting Ideas!
Finger painting is so much fun for kids!
My son and daughter had a blast making these under the sea finger painting ideas!
Finger painting is a great way for kids to express creativity and to use their imaginations! Simply give them a piece of paper and some finger paints and let them go!
Finger Painting Ideas
Kid's are fascinated with the ocean and ocean creatures! At least mine are:)
They absolutely loved the Deep Sea Sensory Bin that we made as well as the Fish Tank Sensory Bin.
My son was very excited when I told him that not only did he get to play in paint, but that he got paint sea creatures as well:)
We used this crayola washable finger paint.
Trust me, this is the way to go!
As I mentioned in my post Flower Finger Painting For Toddlers, I dropped a bottle of the red paint on my rug because I picked it up thinking that the lid was on, and it wasn't! Yes, I'm the one that made the biggest mess, not the kids;)
I freaked out at first, but with a soapy wet rag, it came right out of my rug! Crayola washable finger paint is the only finger paint I will use from now on! It's awesome!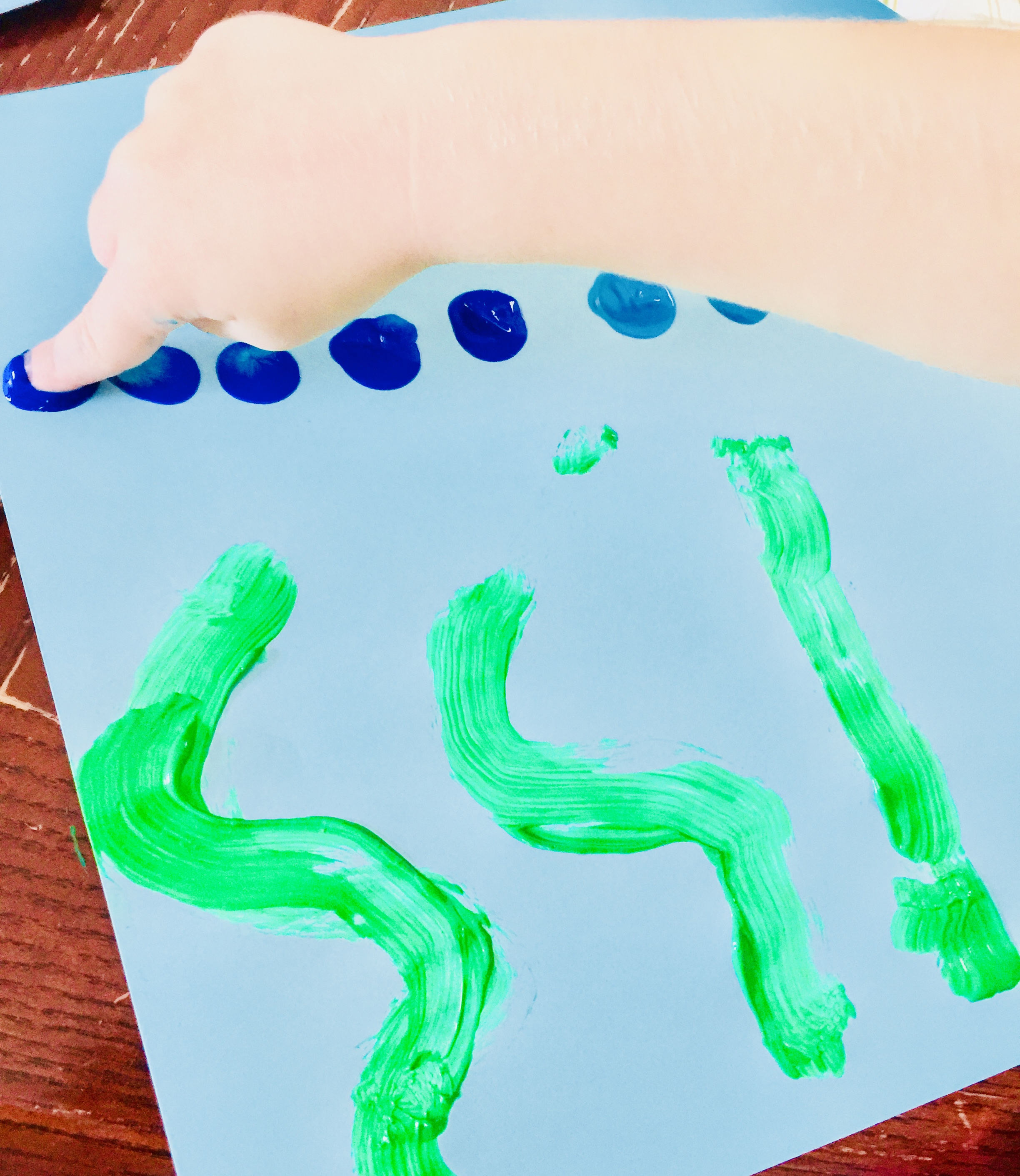 Under The Sea Crafts
These under the sea crafts are incredibly easy and laid back.
I simply give the kids the colors that they ask for and let their imaginations take over!
I love to see how different each of the kid's paintings turn out! They are all so unique that what they imagine and choose to paint is so different:) I love it!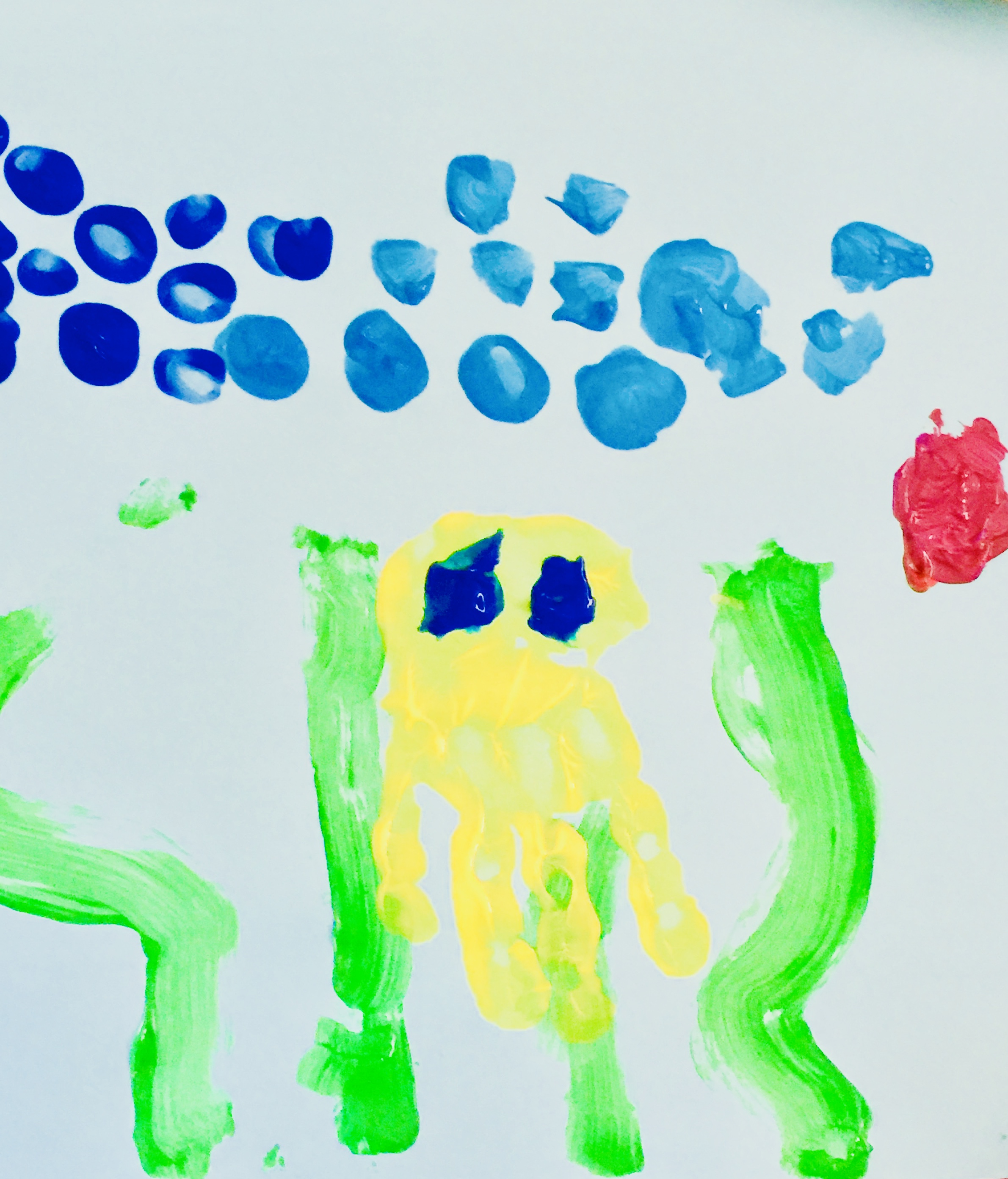 Under The Sea Painting
My daughter made lots of finger print shaped fish so that it looked like they were swimming in a school.
My son decided that he wanted a squid to swim among the seaweed in his painting. He also painted coral and a shark as well.
And they both added a handprint octopus to their paintings:)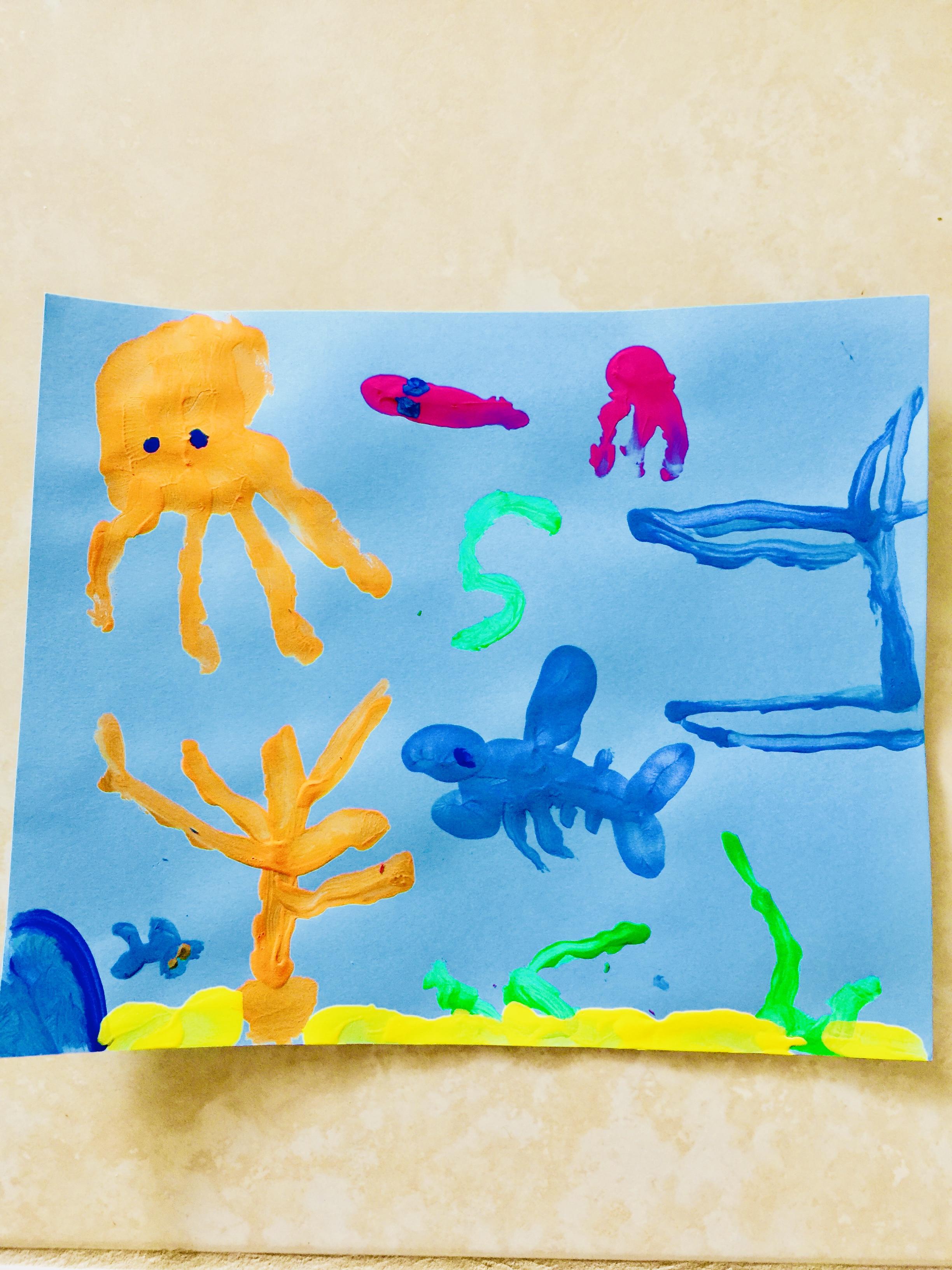 The handprint octopus is my favorite! They simple coat their entire palm and fingers in the paint color of their choice, and place it on the paper with their fingers pointing down.
The palm is the body of the octopus and the fingers are the tentacles. He didn't use his thumb though so that all of the tentacles dangled down.
And that was it!
Like I mentioned above, this is a no stress, laid back craft! So let your child paint whatever sea creatures they desire:)
The sky's the limit!! Let imaginations take charge!
Remember, as Everyday Chaos and Calm explains, there is a right and a wrong way to do crafts!
Fish, eels, coral, seaweed, what are your child's favorite sea creatures?
I hope you and your child enjoy finger painting under the sea as much as we did! Whatever your child chooses to paint I'm sure that it will be a wonderful piece of art, worthy of the fridge:)
Speaking of displaying art work, these magnets are a fun craft for your child to make to display their own art!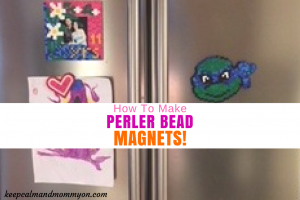 Happy finger painting!
If you would like to find additional painting craft ideas, then check out: