As a mom your bedroom is your peaceful place, am I right? Unless…it's very unorganized, then it becomes a place of stress and chaos. Take back your happy place so that you can recharge! Become the supermom you deserve to be by implementing these 9 bedroom organization ideas for moms!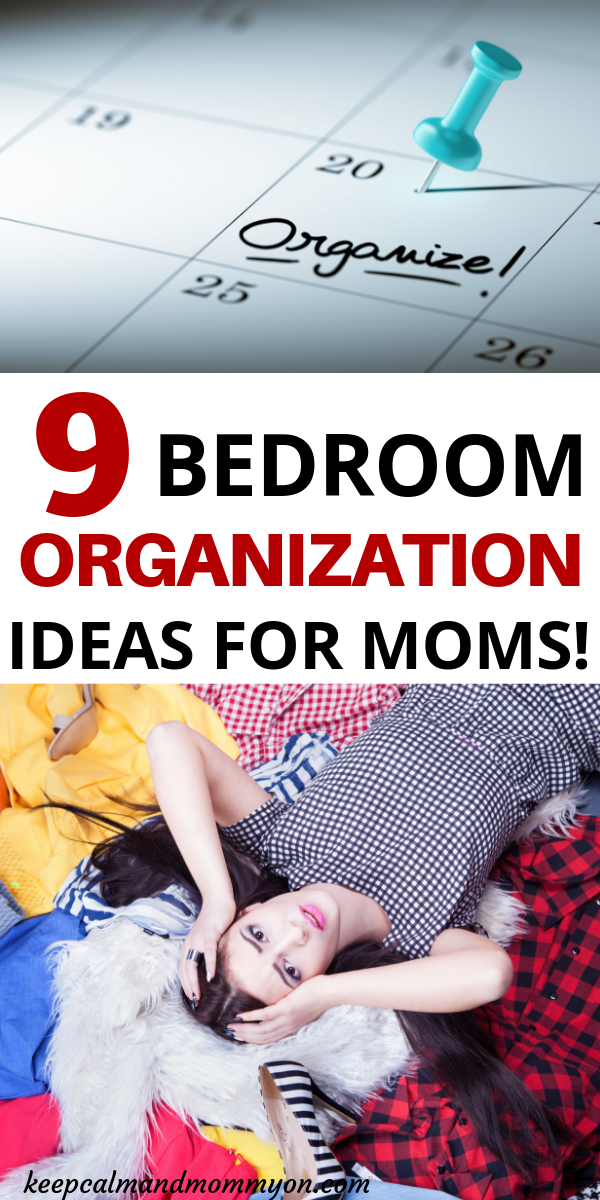 This site contains affiliate links. If you make a purchase using one of these links, I may earn a commission. Please visit my disclaimer page for more information about cookies collected and our privacy policy.
9 Bedroom Organization Ideas For Moms
Are you looking for some items to help make organizing your bedroom easier? Are you looking for a way to keep everything in it's proper place so that it's easy to find at a moments notice? These 9 items will make your life so much easier!

Photo Credit: www.amazon.com

I love this organizer! Your underwear drawer is one of the easiest drawers to become unorganized and chaotic. Keep everything in it's proper place and help your bras to retain their shape as well!

Photo Credit: www.amazon.com

If your closet space is lacking then use this over the door shoe organizer. A great way to utilize an unused space and to keep your shoes off the ground!

Looking for something to help keep your husband organized as well? This nightstand organizer is a great place for him to keep and store his things!

Makeup can easily become chaotic, messy and hard to find. This rotating organizer helps to keep everything in it's own place and makes everything easy to locate.

This behind the door cabinet takes up very little space, but can hold so much! Plus it has a long mirror on it, which is a must have in every mom's bedroom!

Jewelry is something else that can become extremely unorganized. It's easy to just throw jewelry on a dresser where it collects dust, chains become knotted, and earring get lost. This awesome jewelry organizer hangs on the wall or on the back of a door. It also has lots of space to keep all your jewelry safe and easy to locate!

Every bedroom, no matter how big, always seems to need extra storage doesn't it? These under the bed storage containers are perfect for storing those items that you don't use often.

Photo Credit: www.amazon.com

This clothes caddy is a great item to have in your bedroom to place clothes on that you're either going to wear again, or for laying out clothes for the next day!
It's so easy to throw clothes in a pile on chairs and other items, or worse...the floor! Use this caddy to keep them wrinkle free, organized, and off the floor!

Every bedroom needs a laundry hamper. And not just any hamper, a pretty one;) This bamboo hamper is pretty and functional. It also has a lid to keep your dirty clothes out of sight!

And those are 9 bedroom organization ideas for moms!
Whether you are looking for a:
Makeup Organizer
Hanging Shoe Organizer
Jewelry Organizer
or just less stress, this list is what you need!
Become the supermom you deserve to be, reduce stress and become more organized. This will allow you to have more time to be the mom you want to be!
Also, if you would like to find more organizational ideas to make your life less stressful then check out 7 Kids Room Organization Ideas and 7 Closet Organizer Ideas For Moms!