This raw apple cake recipe is sure to be one of your favorites! I make this delicious cake for my family every holiday season!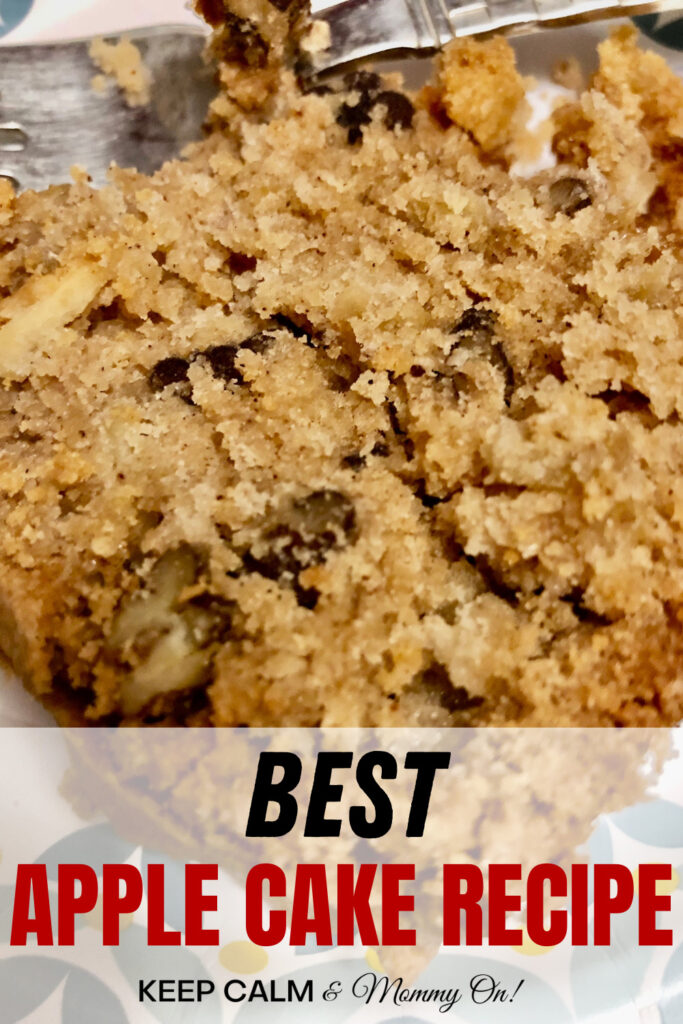 This site contains affiliate links. If you make a purchase using one of these links, I may earn a commission. Please visit my disclaimer page for more information about cookies collected and our privacy policy.
Favorite Cake Recipes
Do you have favorite recipes that you make at Thanksgiving or Christmas time? This time of year I usually sit down and compile a list of my family's favorite goodies that I plan to make over the holiday season.
So far this year we've made sweet potato pie, pumpkin cake, pumpkin donuts, pecan pie muffins, and pumpkin cookies. What would fall be without some pumpkin? 😉
While we do really love our pumpkin, we also love apples! And as we get closer to Christmas I start to think about this amazing cake!
This recipe is one that I was given years ago by an older lady that went to church with us. She has been making this old fashioned fresh apple cake for many years and graciously passed the recipe on to me. And today I'm going to share it with you:)
In my opinion it is the best apple cake I've ever had! I can't even imagine Christmas without it! I love sitting in my comfy chair at night next to my lit up Christmas tree enjoying a slice along with a cup of coffee:)
In addition to being delicious, the good news is that this cake is also very easy to make. The most time consuming part is chopping the apples, but even that doesn't take long.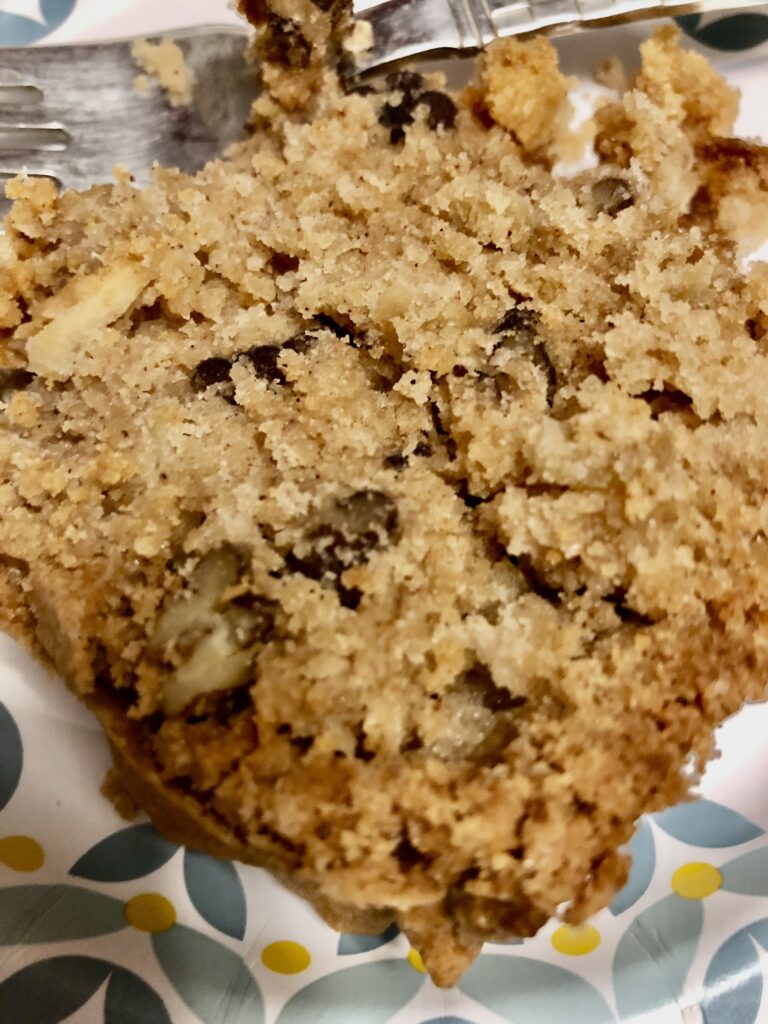 Easy Apple Cake Recipe
First let's get started by gathering our ingredients. You will need:
Large Eggs
Sugar
Oil (I use coconut oil)
All Purpose Flour
Baking Soda
Salt
Ground Cinnamon
Vanilla Extract
Pecans (chopped)
Apples (Diced)
What kind of apples should I use?
Which are the best apples?
When it comes to choosing the apples for your cake there really isn't just one particular kind to use. I have used several different kinds in the past with great results. It really just depends on what I have on hand at the time.
I have successfully used gala apples and honeycrisp apples. I think that pink lady apples would also be good to use. If you live near an apple orchard you can even go pick your own apples to use! This way you know they are fresh!
If you prefer tart apples instead of sweet apples you could even use granny smith apples.
Whichever you choose just make sure they are fresh apples that are nice and crisp and not mealy.
Prep Ingredients
Before assembling your cake you're going to start by dicing the apples and chopping the pecans.
You want to have these two steps complete before you start making your cake batter.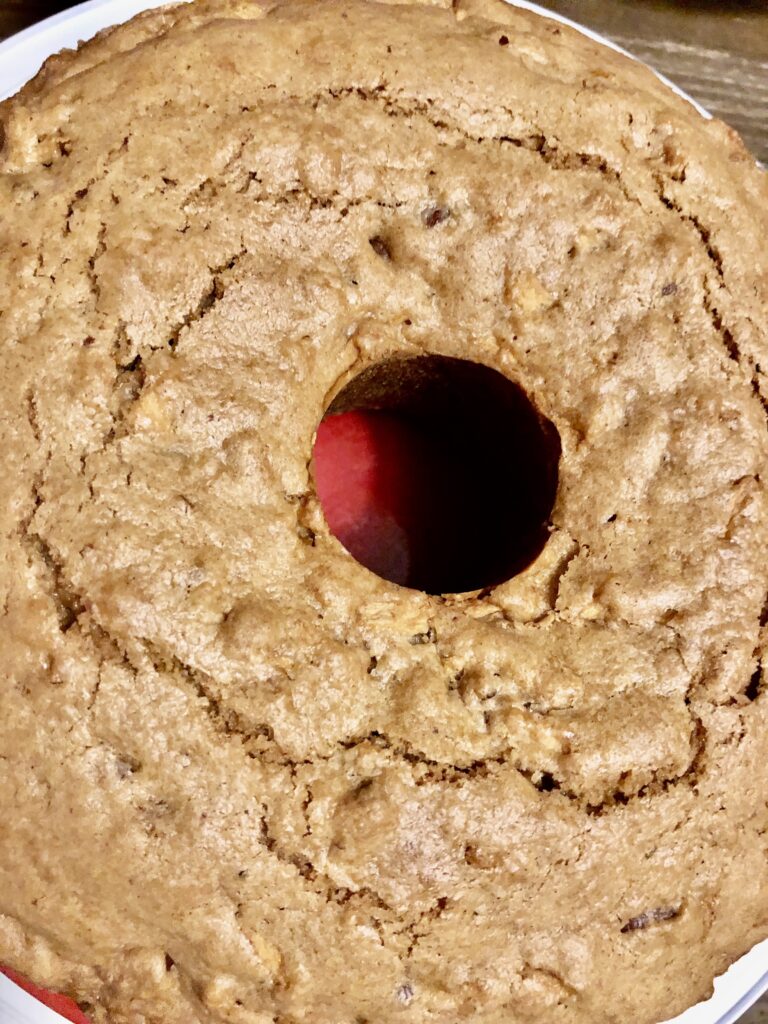 Cake Batter Instructions
You're going to start making your cake by combining your dry ingredients in a medium bowl.
Next combine sugar, oil, eggs and vanilla in a large mixing bowl with an electric mixer or in a stand mixer.
Add the flour mixture to the wet ingredients in the large bowl and mix well. Once well blended add in the chopped pecans and diced apple pieces. Mix well.
Pour mixture into a greased and floured prepared pan. I use this tube pan, also know as an angel food pan. You can also use a bundt pan as well if you'd like to create a pretty decorative looking cake.
Whichever cake pan you choose to use, I would make sure it is a pan that has a tube in the middle. Otherwise you might need to adjust your cooking time.
Once in the pan, bake your cake for the amount specified on the below recipe card, or until a cake tester inserted in the center of the cake comes out clean.
Cooling Your Raw Apple Cake
Once your cake is done baking place the pan on a wire rack until cool enough to handle.
Make sure cake is separated from the sides of the pan, remove by pulling out by the middle tube and inverting on a plate. Allow warm cake to completely cool to room temperature on a plate before storing.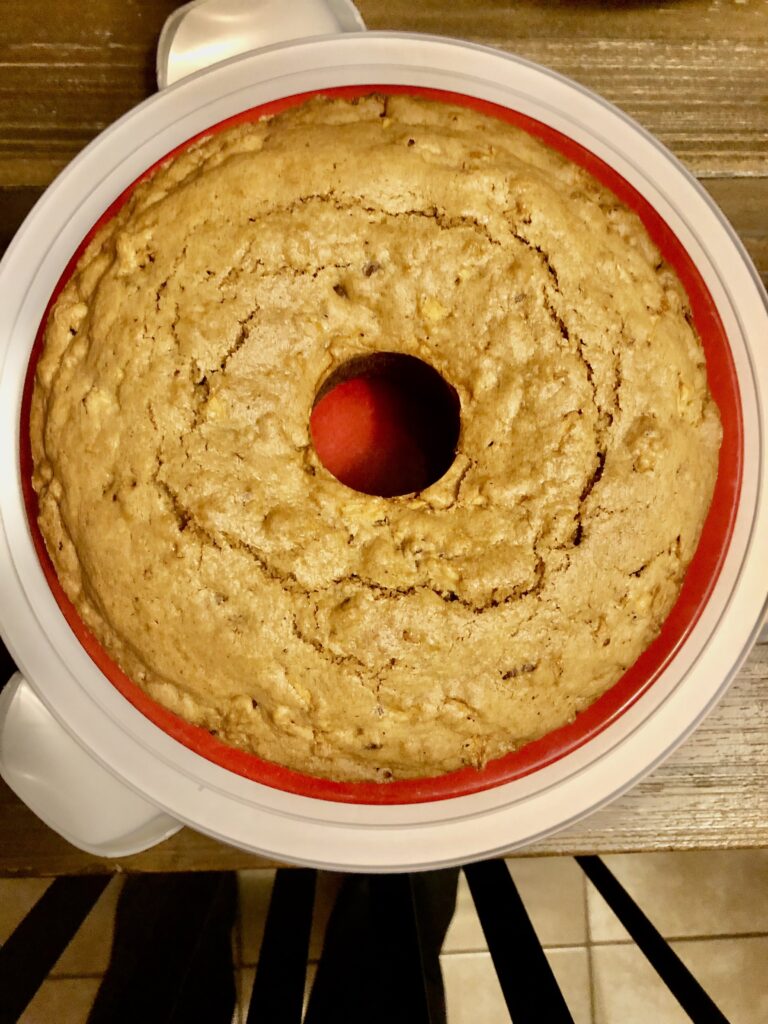 How to Store Your Raw Apple Cake
Store the cooled apple cake in an airtight container. The cake will last longer if you keep it in the fridge.
This type of cake tastes better as it sits. Don't get me wrong, its delicious right after its done! But it always seems like the next day it tastes even better!
This moist cake is sure to become a family favorite that will be requested many times over the years to come! It is definitely a holiday staple at my house:)
Apple season wouldn't be complete without this amazing cake full of warm spices and fall flavors!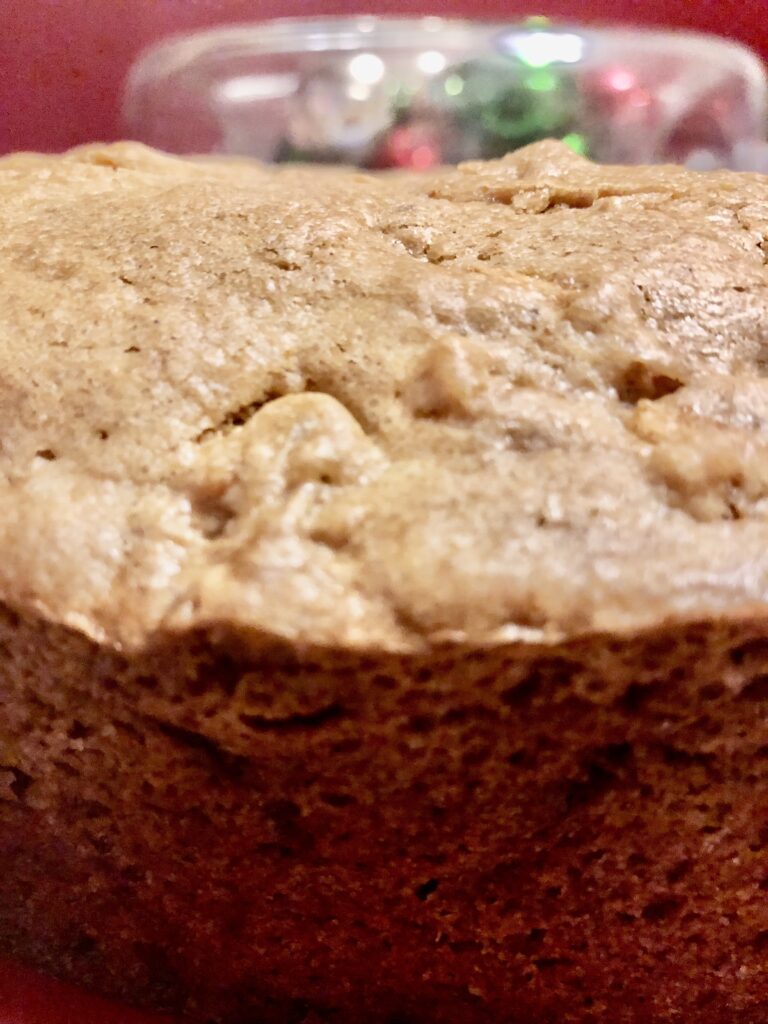 Best Raw Apple Cake Recipe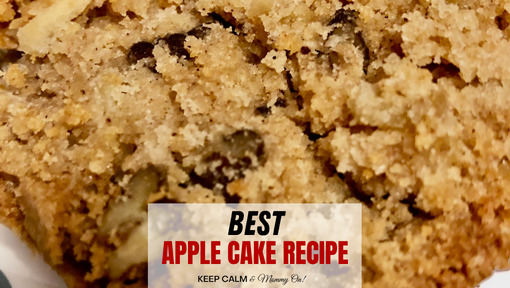 This raw apple cake recipe is sure to be one of your favorites! I make this delicious cake for my family every holiday season!
Cook Time
1 hour
20 minutes
Total Time
1 hour
45 minutes
Ingredients
2 Large Eggs, well beaten
2 Cups Sugar
1 1/4 Cup Coconut Oil
3 Cups All Purpose Flour
1 tsp. Baking Soda
1/2 tsp. Salt
1 tsp. Ground Cinnamon
2 tsp. Vanilla
1 Cup Pecans, chopped
3 Cups Apples, diced
Instructions
Preheat oven to 290 degrees.
Prepare tube pan by greasing and flouring.
Dice apples & chop pecans.
Combine dry ingredients in medium bowl.
Next combine sugar, oil, eggs and vanilla in a large mixing bowl with an electric mixer or in a stand mixer.
Add the flour mixture to the wet ingredients in the large bowl and mix well.
Once well blended add in the chopped pecans and diced apple pieces. Mix well.
Pour mixture into a greased and floured pan.
Bake for 1 hr. & 20 minutes.
Allow to cool slightly before removing from pan. 12
Nutrition Information:
Yield:
12
Serving Size:
1
Amount Per Serving:
Calories:

535
Total Fat:

30g
Saturated Fat:

20g
Trans Fat:

0g
Unsaturated Fat:

8g
Cholesterol:

31mg
Sodium:

215mg
Carbohydrates:

63g
Fiber:

2g
Sugar:

37g
Protein:

5g