Homemade sweet potato pie is my all time favorite pie recipe! And this version is, if I do say so myself;), the best sweet potato pie recipe out there!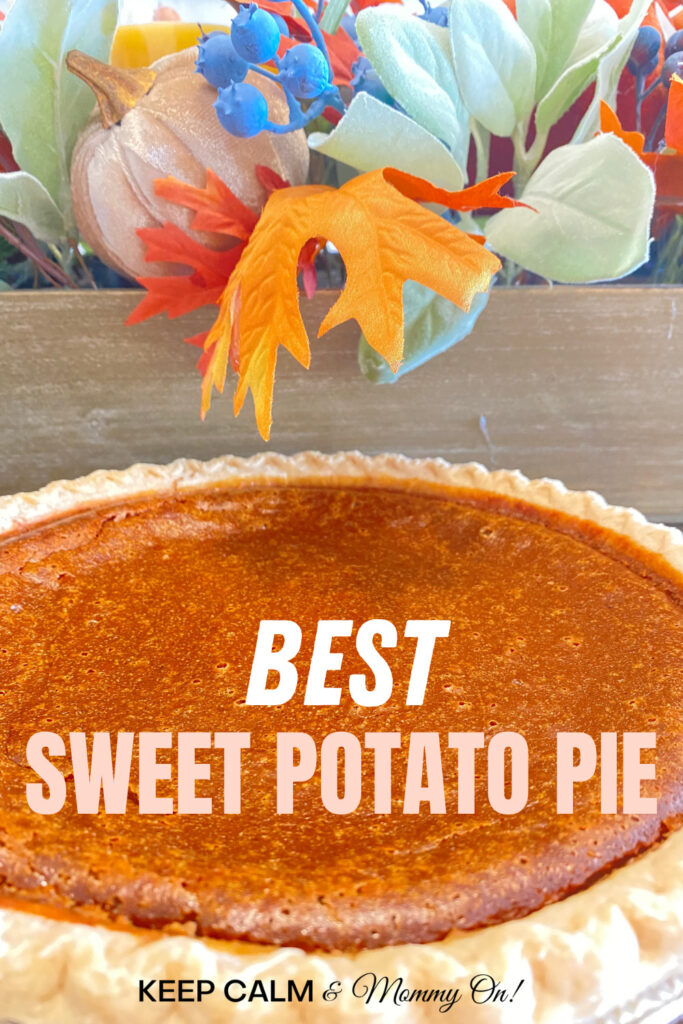 This site contains affiliate links. If you make a purchase using one of these links, I may earn a commission. Please visit my disclaimer page for more information about cookies collected and our privacy policy.
Sweet Potato Pie
Quite a few years ago a friend of mine introduced me to sweet potato pie and I was hooked. She gave me the recipe that she used and over the years I have edited and tweaked it here and there to make it my personal fav:) It's right up there with my favorite Pumpkin Cake recipe and my Apple Cake Recipe! I can't imagine fall or winter without any of them;)
Have you ever had sweet potato pie? I know everyone is familiar with pumpkin pie, but it doesn't seem like sweet potato pie is as commonly made.
Sweet Potato Pie History
This sweet, yummy goodness dates back to as early as the 1700s in Europe, but is truly considered a southern American tradition! While the pumpkin pie is more popular in the northern states, the sweet potato pie is a classic thanksgiving dessert in the southern United States!
What Does Sweet Potato Pie Taste Like?
Sweet potato pie tastes very similar to pumpkin pie. They are both made from starchy vegetables and seasoned with spices. However, there is a creaminess found in sweet potato pie that just can't be found in a pumpkin pie!
How Do You Make Sweet Potato Pie?
The good news, is that this super delicious pie is super easy to make!
First you want to gather together all of your ingredients.
Now, I know as a busy mom it's tempting to buy canned or frozen sweet potatoes, but STOP! Don't do it! Trust me when I say that fresh sweet potatoes are better! And good news, it's still really, really easy!
Don't worry, I'm a mom too, I'm all about making life less stressful and I wouldn't lead you astray;)
So, you want to start by baking your whole sweet potatoes in a 400 degree oven for about 45 minutes. Simply wash them, pierce them with a fork a few times, and put them in the oven!
Once they're done let them cool enough to handle then scoop the flesh out of the skin and puree it in the food processor until completely smooth. I love regular sweet potatoes, but we don't want any strings in our pie! So puree them until completely smooth and creamy!
If you have a baby this is an excellent time to bake a few extra potatoes and make your own Sweet Potato Baby Food!
While your sweet potato is pureeing gather the rest of your ingredients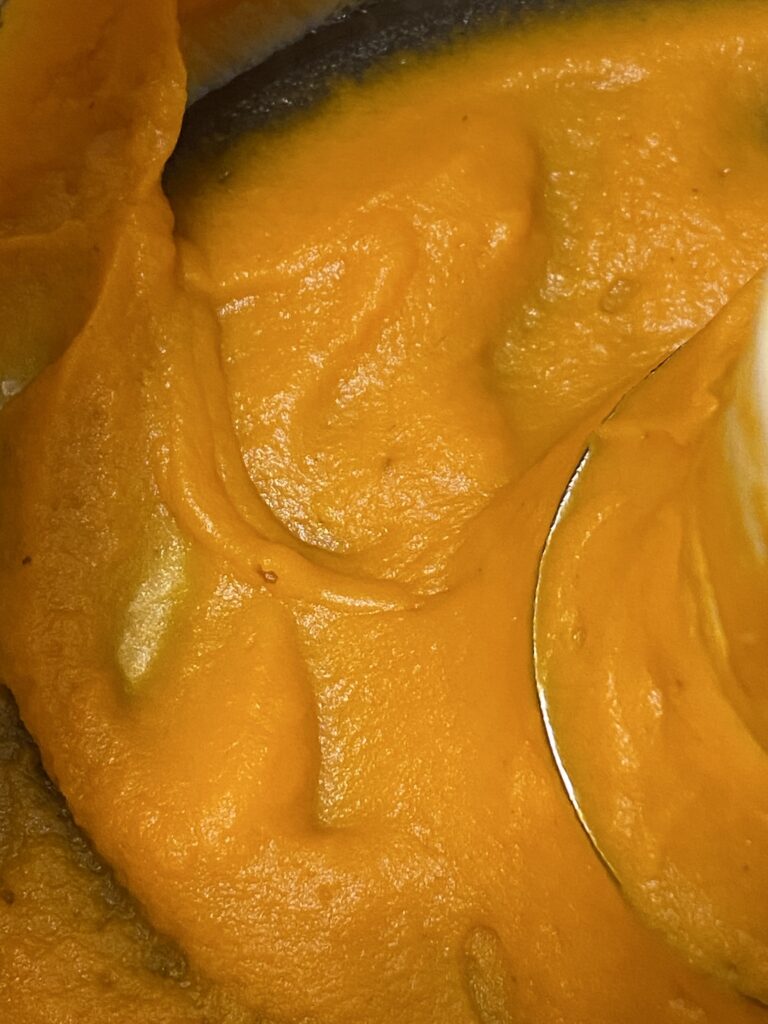 What's In a Sweet Potato Pie?
You will need (in addition to the fresh sweet potatoes):
Coconut Sugar
Large Eggs
Ground Cinnamon
Nutmeg
Pink Himalayan Salt
Salted Grass Fed Butter
Evaporated Milk
Vanilla Extract
Pie Crusts
Now, like I said, we're moms! We totally give you permission to use store-bought pie crusts instead of making them! Of course if you'd like to make your own, go for it:) But there is nothing wrong with a good quality organic store bought crust! I got the one in the pictures from Whole Foods. It was already in a pie pan and everything! Easy peasy and still super yummy!
Sweet Potato Pie Filling
The first step before making the filling is to heat the oven. Set your oven temperature to 350 degrees f.
Once you've got your ingredients it's time to put them all together to make what will be known henceforth as the best pie ever and what your family will refer to as your signature pie:)
Yes it's that good;)
Measure out your sweet potato puree (measurements can be found below on the recipe card) into a large bowl.
Beat in the remaining ingredients (yes this is a one bowl dish! Woohoo!) with a hand mixer or in the bowl of an electric mixer until completely combined.
Pour the mixture into the unbaked pie crusts.
Bake for 10 minutes at 350 degrees f, then reduce oven heat to 300 degrees f for 45-60 minutes or until the filling is set in center of the pies and no longer wobbly. The whole pie will slightly jiggle, but the middle shouldn't jiggle any more than the rest of the pie.
Also, I usually end up baking my pies for 60 minutes, but I start checking them at 45 minutes and every five minutes after that to make sure it doesn't burn.
I also like to place my pies on a large baking sheet to bake them, just because it's easier to get them into the over without spilling sweet potato pie filling!
Once done let your pies cool to room temperature on a wire rack and then cover and transfer to the fridge to chill completely. This pie is good once cooled, but for best results let it chill in the fridge till the next day, allowing it to get really cold all the way through!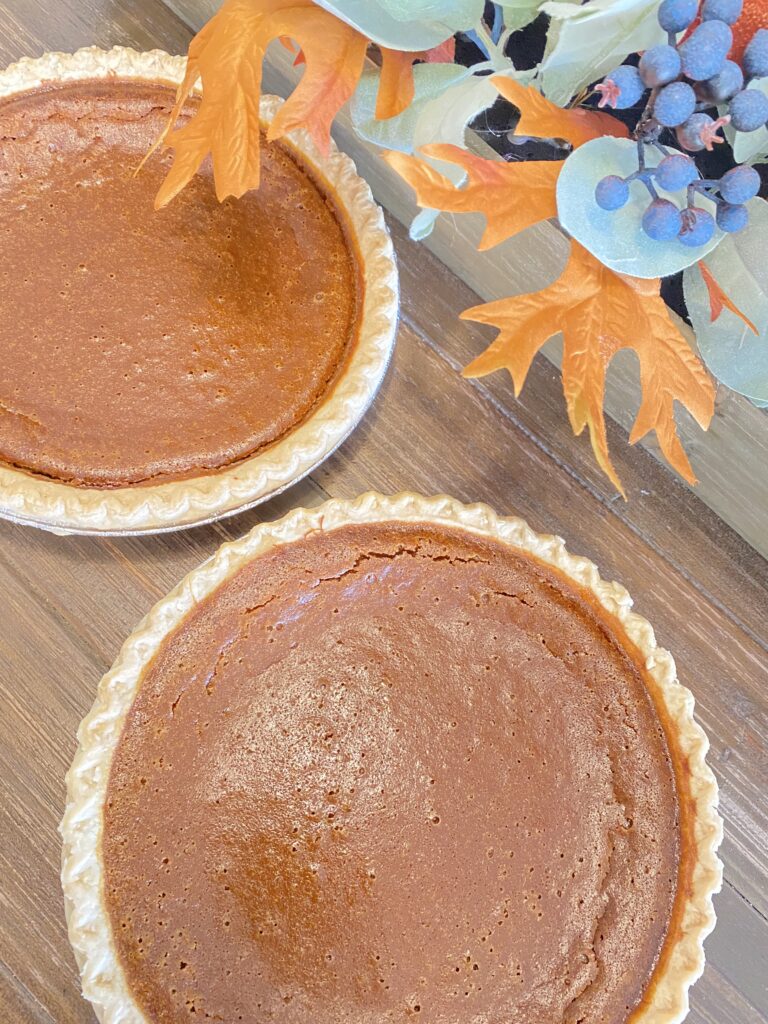 Serving Sweet Potato Pie
In my opinion sweet potato pie should be the focal point of every holiday meal:) I mean, what else do you need?! I know, I know, thanksgiving is supposed to be about turkey and stuffing, but once you serve this queen of the pie recipes, everyone will think of creamy sweet potato pie when they think of the holidays!
You can eat it plain, exactly the way it is, or serve it with whipped cream. I personally prefer it plain, but to each their own;)
How to Store Sweet Potato Pie
Once you've had your fill of this delicious dessert, how should you store your leftover pie?
Sweet potato pie must be stored in the fridge or it will go bad. As with any vegetable or food item that contains milk products and eggs, it needs to be kept cold. But it tastes better cold anyways so that works:)
The better you wrap it the longer it will last and it will be less likely to pick up odors from your fridge.
You can either wrap it really well with foil or plastic wrap or store it in an airtight container to keep it even better protected.
How to Freeze Sweet Potato Pie
The good news is that if you'd like to get a head start on your fall baking and get ahead of the holiday season you can even freeze your sweet potato pie! Or if you only plan on eating one, as this recipe makes two, freeze the second one!
I personally usually eat both pretty quickly, but it is an option;)
To freeze your pie wrap it in several layers of plastic wrap and then add a top layer of aluminum foil. You can freeze your pie this way for up to a month!
How to Thaw A Frozen Sweet Potato Pie
To thaw your frozen pie move it from the freezer to the fridge for about 10-12 hours before serving. Don't let it thaw on the counter as it might get soggy. And you don't want it to get warm, this is a pie best served cold.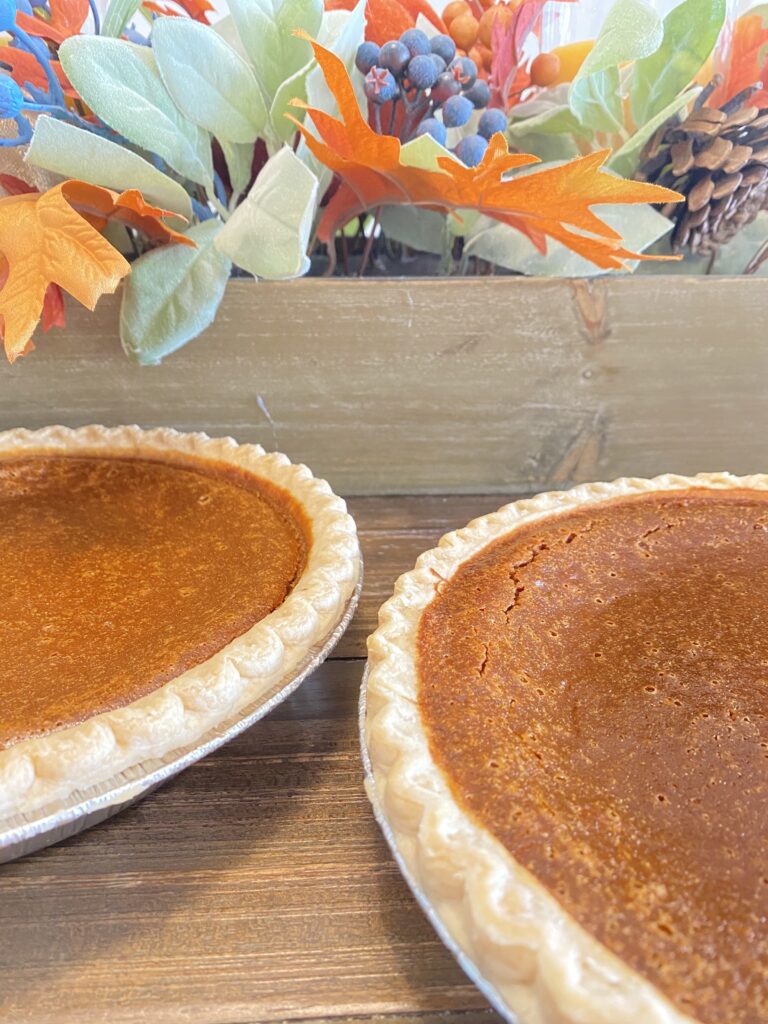 How Long Does Sweet Potato Pie Last?
The shelf life of sweet potato pie is not something that I usually have to worry about or consider, as it doesn't last very long at my house! I'd like to blame it on my family, but…yeah it's totally their fault;)
But, if you aren't going to eat your pie very quickly, then it should last in the fridge for about three days. After that it might start going bad or start growing something new! If you aren't going to eat it by it's expiration date then you can always freeze what's left:)
Southern Sweet Potato Pie Recipe
And that is how you make the most delicious of pies!
As a mom this is the perfect guilt free holiday dessert in my opinion! Not only do I make it with all organic natural ingredients and unrefined sugar (coconut sugar), but it's mostly sweet potato! That makes this pie a vegetable;)
So, after a long stressful day of being mommy, pull out the veggies (aka a slice of sweet potato pie or two;) and enjoy the flavors of fall!
I recommend enjoying this classic southern dessert after the kids go to bed, it tastes better with a good book or a movie:)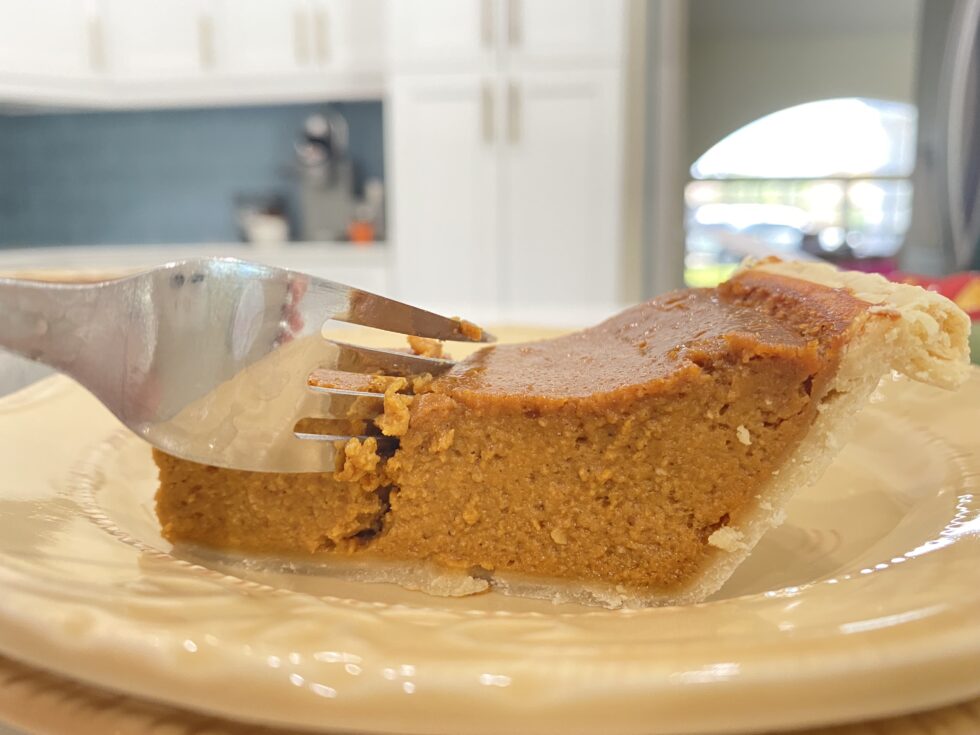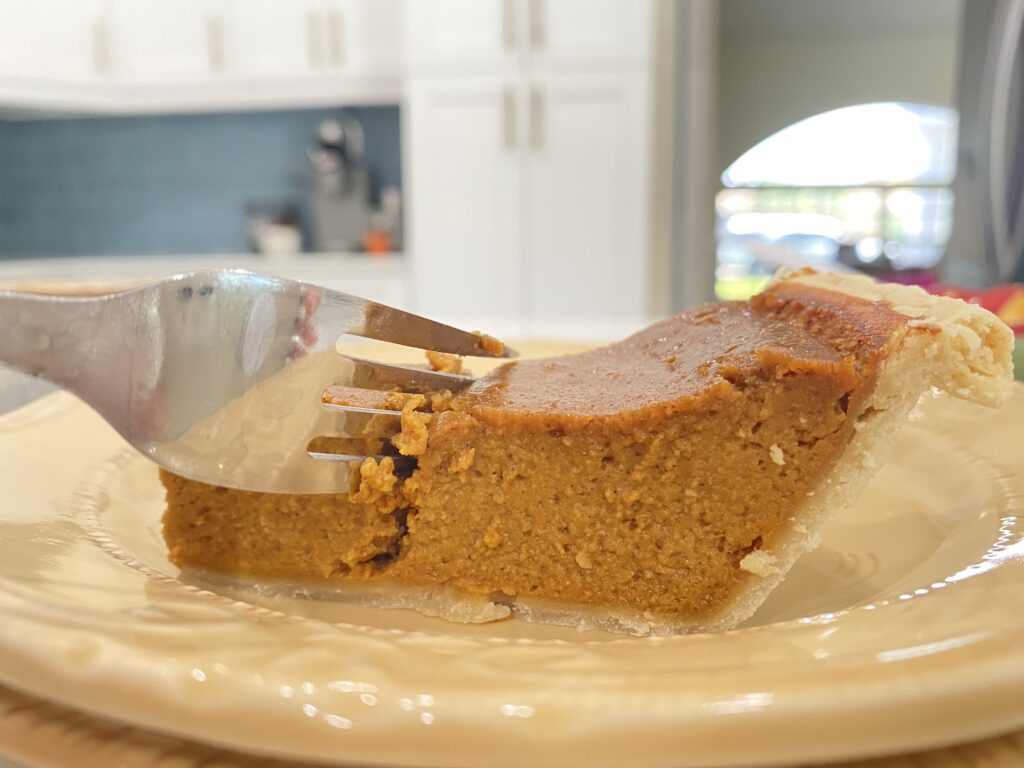 Yield: 2 Pies (16 servings)
Best Sweet Potato Pie Recipe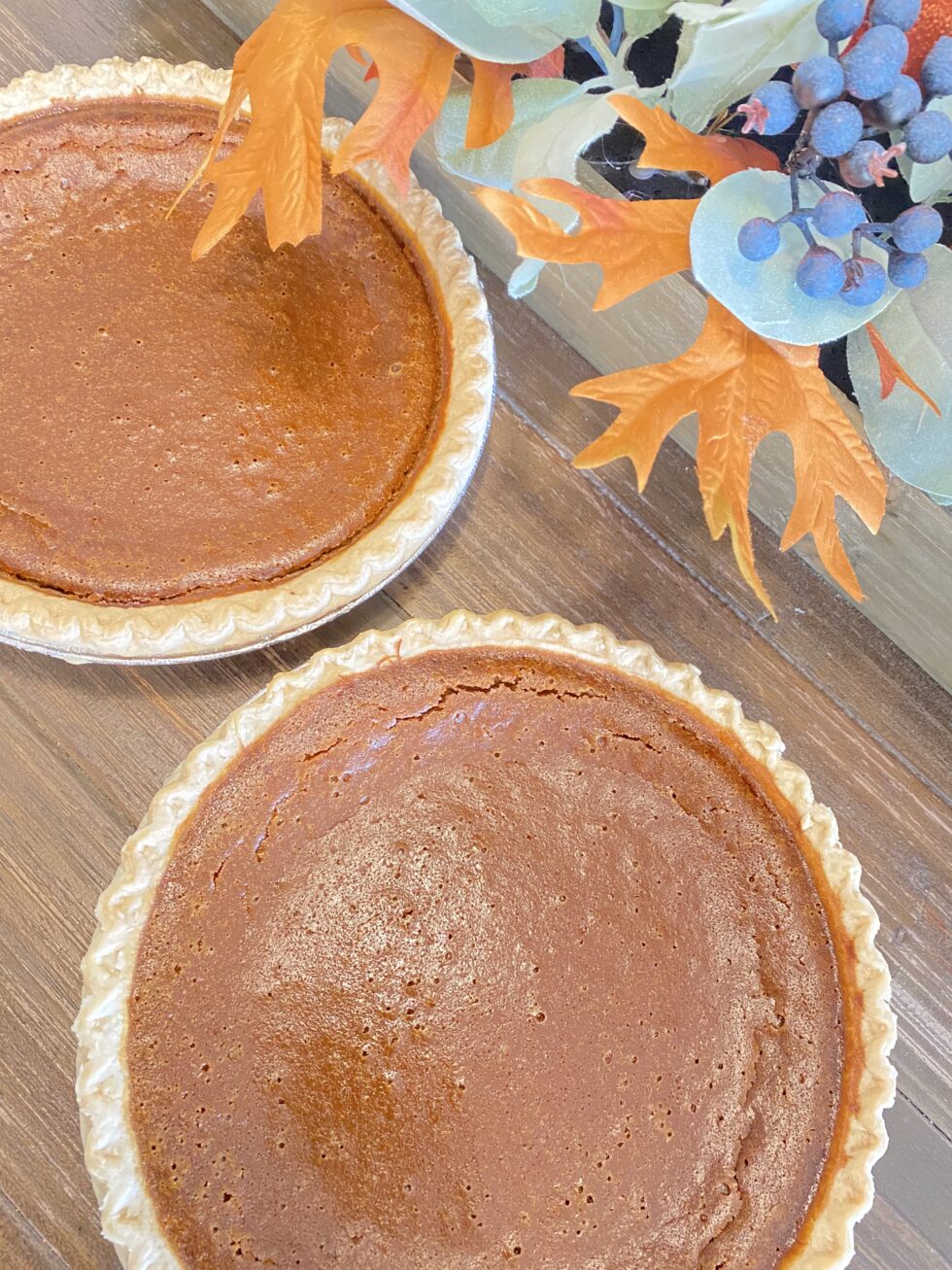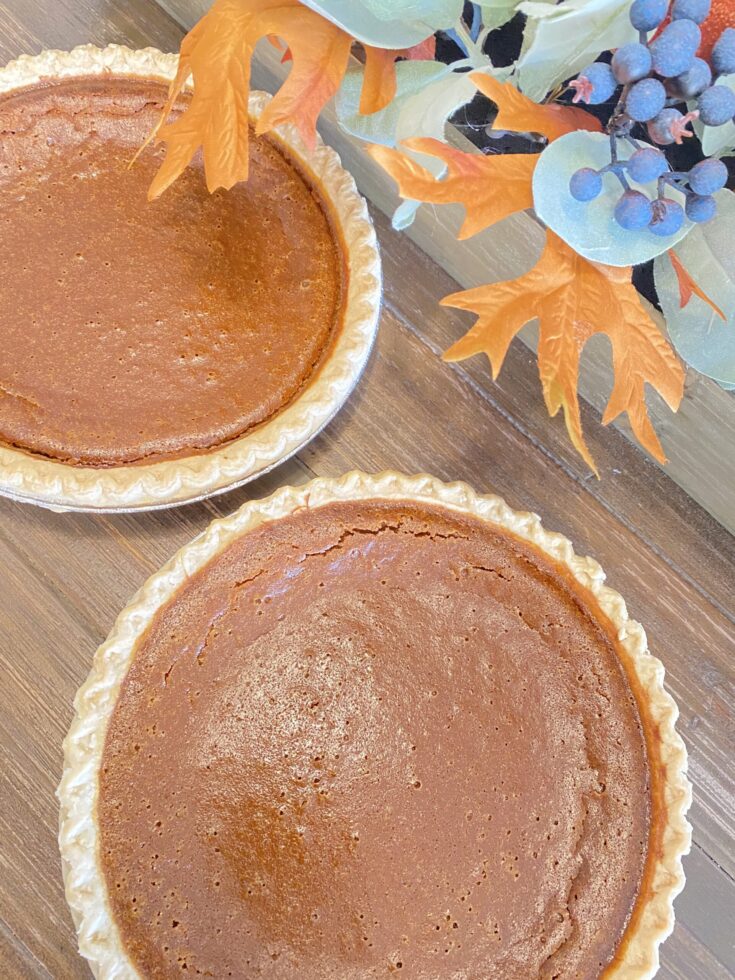 Homemade sweet potato pie is my all time favorite pie recipe! And this version is, if I do say so myself;), the best sweet potato pie recipe out there! It is smooth and creamy with just the right amount of fall spice.
Prep Time
1 hour
10 minutes
Total Time
2 hours
10 minutes
Ingredients
3 cups pureed cooked sweet potatoes
1 1/2 cups coconut sugar
6 large eggs
1 1/2 tsp. ground cinnamon
1/2 tsp. nutmeg
1/2 tsp. pink Himalayan salt
1 stick salted grass fed butter, softened
1 can (12 oz.) evaporated milk
1 1/2 tsp. vanilla extract
2 9 in. pie crusts
Instructions
To get 3 cups pureed sweet potatoes, bake about 4-5 large sweet potatoes at 400 degrees for about 45 minutes. Let cool, remove skins, then puree. Measure out 3 cups into a large mixing bowl.
Preheat oven to 350 degrees
Beat sugar, eggs, cinnamon, nutmeg, salt, butter, milk & vanilla into sweet potato puree until well blended.
Pour into prepared unbaked pie crusts. divide filling evenly between the two crusts.
Bake for 10 minutes, then reduce the oven heat to 300 degrees. Bake for 45-60 minutes more until the filling is set and no longer wobbly in the center. I usually bake for 45 minutes, and then check it every five minutes after that to make sure it doesn't burn.
Cool completely on wire racks and then transfer to the fridge until chilled all the way through (preferably overnight).
Nutrition Information:
Yield:
16
Serving Size:
1
Amount Per Serving:
Calories:

244
Total Fat:

8g
Saturated Fat:

3g
Trans Fat:

0g
Unsaturated Fat:

5g
Cholesterol:

73mg
Sodium:

192mg
Carbohydrates:

38g
Fiber:

2g
Sugar:

22g
Protein:

5g