Are you looking for some yummy Christmas pretzels to make? These yummy pretzel treats are super festive and super easy to make!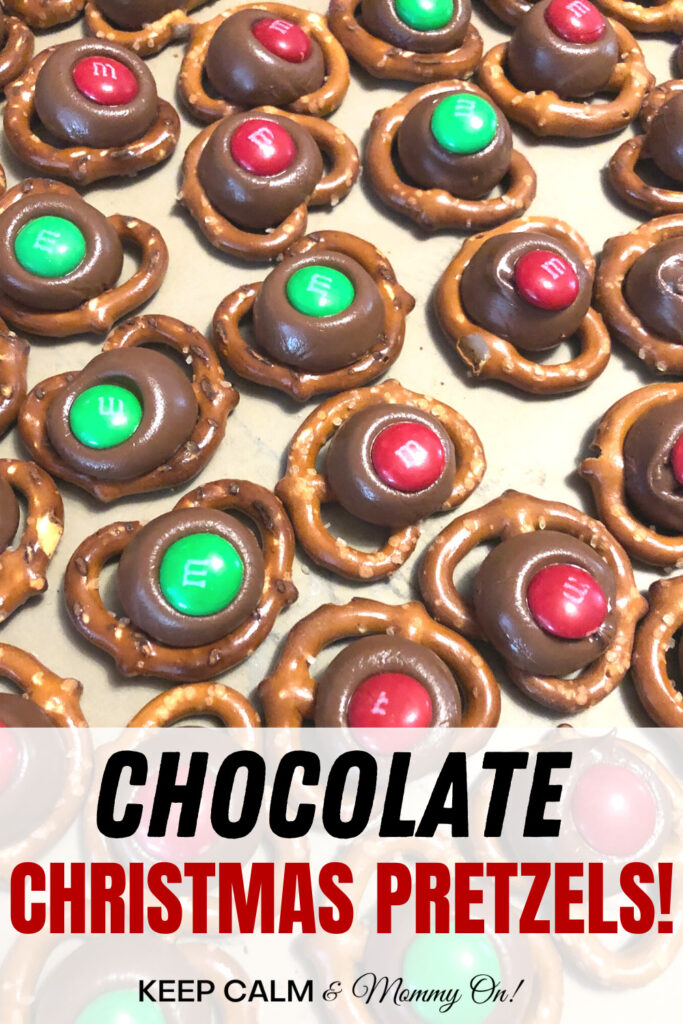 This site contains affiliate links. If you make a purchase using one of these links, I may earn a commission. Please visit my disclaimer page for more information about cookies collected and our privacy policy.
Christmas Pretzels
While we strive to be as healthy as possible, there are certain things we have to make at our house once the holidays come!
The kids look forward to these treats all year long!
At the beginning of the Christmas season I make a list of everyone's yummy dessert requests and each week I pick a couple off the list to make.
Some of our favorites are Cranberry Orange Cake, Apple Cake, Sour Cream Christmas Cookies, Gingerbread Men, and of course these yummy M&M chocolate pretzels!
Kids Christmas Treats
The thing that I love most about these Christmas pretzels is that I honestly don't even have to make them!
These are so easy to do that even a young child can make them. The only thing that will be required of you is to quickly pop them into the oven.
Easy Christmas Recipe For Kids
To get started you will need to gather your ingredients. You will need:
Now, while these are going to be full of sugar, I do try to make myself feel better by getting organic pretzels.
Also if you would like to get a healthier M&M version check out these natural M&M candies! They are super yummy and are not full of unhealthy dyes and ingredients. The only problem, is that they don't come in just Christmas colors. So you will either have to have colorful M&Ms or pick out the red and green ones.
How to Make Christmas Pretzels
To make this easy pretzel treat start by filling a baking sheet with a single layer of pretzels. They can be touching, that's ok.
Next place a Hershey Kiss on top of each pretzel.
Isn't this easy? Aren't these a great way to get the kids involved?!
Next you want to place the baking sheet into a preheated oven. I usually set my oven to about 200-250 degrees.
This is the only part that you really need to pay attention to. You're not going to leave them in the oven very long, only about five to ten minutes. I honestly usually don't even time mine. I just check them every minute or two until they are ready.
You want to leave them in just until the chocolate starts to get glossy and soft. But be careful! Don't leave them too long or the chocolate will burn or get hard and crumbly. Don't ask me how I know this 🤦‍♀️.
Once the chocolate is warm and soft remove them from the oven and then carefully press an M&M into the top of each kiss before the chocolate cools and hardens.
This is something that the kids will have to be careful with as they will be warm and the pan will be hot.
Allow them to completely cool and then transfer them to an airtight container for storage.
Now the only thing left to do is enjoy! Well, that and try not to eat them all in one sitting lol. They are addictive;)
If you would like to find some more tasty Christmas treats to make then be sure to try:
Sour Cream Christmas Cookies (excellent for decorating with kids!)