Do your kids love to play in water? Are you looking for some great water activities for kids! These 15 water play activities are easy, fun, educational, and will keep your child busy!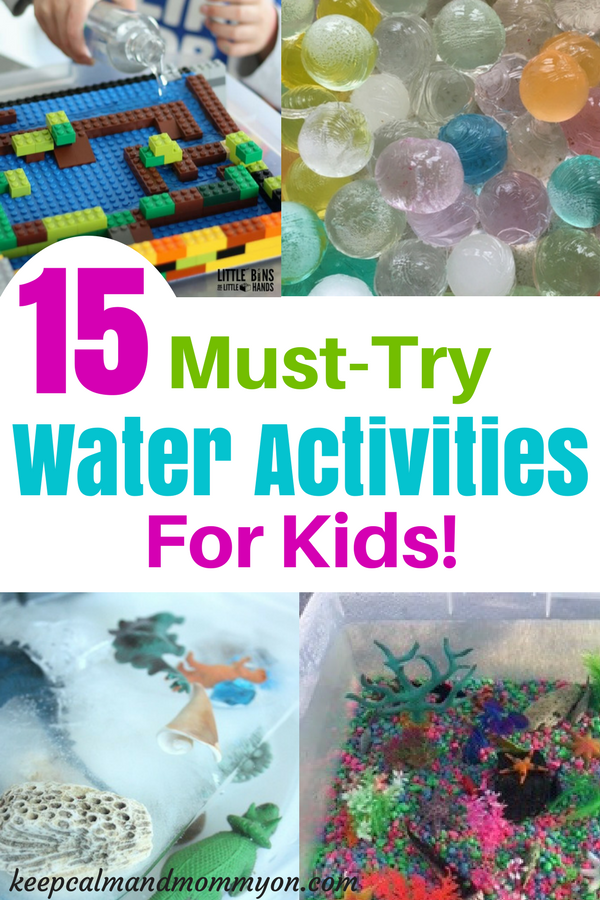 This site contains affiliate links. If you make a purchase using one of these links, I may earn a commission. Please visit my disclaimer page for more information about cookies collected and our privacy policy.
Water Play – 15 Water Activities For Kids!
My kids love to play in water!
I mean, what kid doesn't?!
They can entertain themselves for hours with something as simple as a bucket, a hose, and a scoop! lol
In fact, today they were playing outside with nothing more than a hose! What can I say, running around spraying each other is loads of fun;)
But why not kick it up a notch!
Why not make water play even more fun as well as educational!
Your kids won't even know they're learning;)
Here are 15 great and easy water activities for kids!
Water beads are so much fun!
This is a great activity for water play on a rainy day.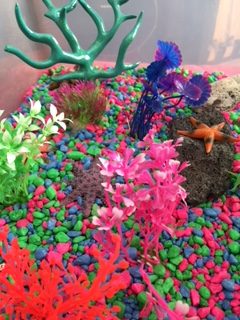 The Fish Tank Sensory Bin is a water play activity that I created for my kids.
They LOVED it!
Its full of bright colors, lots of different textures, and of course WATER!
They loved having a fish tank that they could actually put their hands in!
My son included not only fish but sharks so that he could have a predator, and my daughter wanted her mermaid to swim in the fish tank:)
They both had a blast!
Kids love to pretend to cook and bake!
My kids have a play kitchen that they love to pretend cook in.
They are always taking my order and making me lots of tasty treats:)
Pretend baking with water is definitely something they will love!
Check out how to make this water activity as fun as possible over at Mess for Less!
This looks like so much fun!
What a great idea for a hot summer day!
Kids will love to paint sidewalks and the driveway with this paint ice.
Find out how to make this fun water play activity at Frogs Snails and Puppy Dog Tails.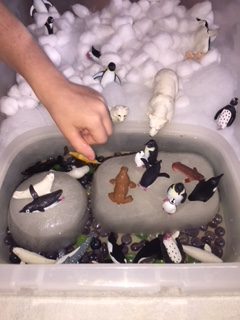 The Antarctica Sensory Bin is a great summer water play activity because it involves ice!
What better way to stay cool than by playing in the arctic?!
This activity can be played either indoors our outdoors.
It's not only loads of fun but a great way to teach your child about the animals that live in icy Antarctica!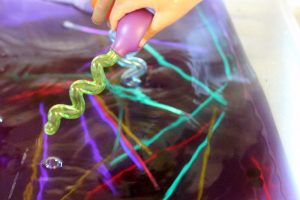 This activity is not only fun and wet, but it glows in the dark!
How cool is that?!
Find out how to make this super cool water play activity at Fun-A-Day!
Pool noodles are great for more than just floating in the pool!
Make this pool noodle water wall for kids of all ages!
A super neat and creative water activity for kids to do this summer!
Learn how to make this water play activity at Teaching Mama.
My kids, especially my boys, love dinosaurs!
They had a blast with my Dinosaur Dig Sensory Bin that does not include water, so I know that they will absolutely love this dino dig!
And what a great learning experience to learn how to melt water with salt!
Find out how to make and do this super cool Water Play Dino Dig at Happy Hooligans.
This water wall is similar to the pool noodle water wall but contains lots of items that you probably already have on hand.
This is sure to be a hit and loads of summer fun!
Find out how to make this water play water wall at Happy hooligans.
What a great way for kids to get to paint like a grown up!
Painting with water is a super easy yet super fun activity that will keep your kids entertained for hours!
Encourage imagination and creativity with this water play activity!
Find out the best way to let your kids paint with water at Happy Hooligans.
Legos are a big hit in my house!
But legos with water?! How creative!
This is a great educational and fun way to teach kids about water flow and how dams work!
Learn how to do this super fun water play activity at Little Bins For Little Hands.