Are you tired of functioning in a messy kitchen? Does dinner end up being a huge chore because you can't find anything in your kitchen cabinets? These 13 kitchen organization ideas are exactly what a busy mom needs!
This site contains affiliate links. If you make a purchase using one of these links, I may earn a commission. Please visit my disclaimer page for more information about cookies collected and our privacy policy.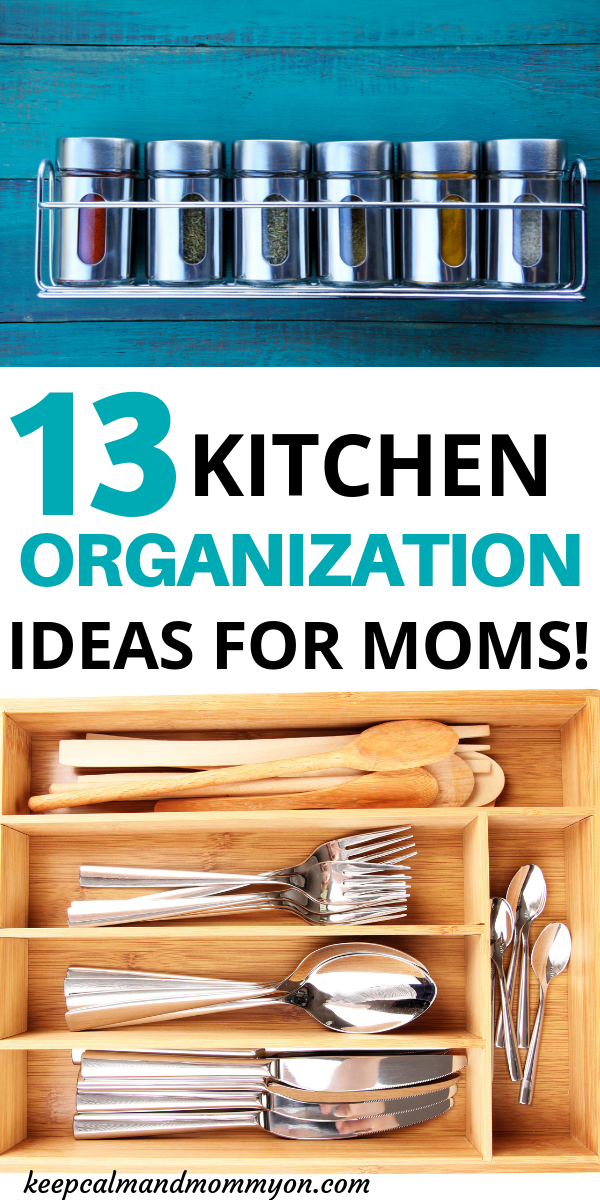 13 Kitchen Organization Ideas For Moms
The kitchen is the room that moms spend most of their time in. Somebody always needs a snack, or a drink, and then it's time for lunch or dinner. Does this sound like your home? Having an unorganized kitchen can make your day so much more stressful than it needs to be. Chaos and clutter are two of the biggest causes of mom guilt. But it doesn't have to be that way! You can have an organized, orderly kitchen that empowers you instead of making you feel defeated. Become the supermom you are meant to be!

Photo Credit: www.amazon.com

Do you have a cabinet full of loose plastic food storage lids? These lids are my nemesis;) But there is a solution! Stack them neatly and orderly using this lid organizer to make your cabinets look awesome!

Photo Credit: www.amazon.com

Do you use a lot of canned goods? Do they take up a lot of space in your pantry? Use this stackable rack to keep them all in place and easily accessible!

Photo Credit: www.amazon.com

Cutting boards, cookie sheets... they are so hard to store! This nifty hanging rack hangs right over your cabinet door giving you more storage space and holding your items up to keep them from falling everywhere!

Looking for a great way to store that pile of shopping bags? This is a great way to store them so that you can easily reuse them.

Photo Credit: www.amazon.com

These sliding tiered baskets are a great way to use all of the storage space in your cabinet or pantry. And makes accessing your items even easier!

Food storage should be organized too! These airtight food storage containers also have chalkboard labels so that you can write what's inside as well as expiration dates, etc.

Pots and pans take up so much space in cabinets don't they? This adjustable pot rack organizer makes storing pots and pans a dream! Imagine not having to take out half the pots and pans just to get to the one you need!

Photo Credit: www.amazon.com

Silverware should also have an organized home. This cutlery holder will make something as simple as grabbing a fork that much faster and easier!

The fridge can easily become the great abyss of expired foods and unknown items. These fridge and freezer storage bins will make organizing items so much easier. Plus, your family will be much more apt to put things back where they go if the items have an actual home!

If you have a large family or an active family, then you probably have a cabinet that is overflowing with water bottles. I visualize someone opening a cabinet and getting pelted with water bottles that end up burying them in a mound on the kitchen floor;) Keep them organized and from rolling about with this stackable water bottle stand.

Keep your kitchen sink clean and organized with this sponge holder. It will help to make things look neat, while keeping wet sponges from dripping all over.

Photo Credit: www.amazon.com

Plastic wrap, ziploc bags, they can take up so much room! Keep them organized and from taking up too much room with this storage rack.

This over the door storage for the pantry is a great way to add more space. Keep small items that you use regularly just inside the door for easy access!

That is 13 kitchen organization ideas for busy moms!
I know that these items will help to not only make your kitchen more organized but to reduce your stress and mom guilt as well. Get your kitchen organized so that you can have more time throughout the day to spend doing the things that are important to you!
Also, if you would like to find more organizational ideas to make your life less stressful then check out 7 Kids Room Organization Ideas, 9 Bedroom Organization Ideas For Moms and 7 Closet Organizer Ideas For Moms!