Are you looking for a great pumpkin decorating idea? Why not make halloween pumpkin painting a new tradition! Forget carving and messy goo, paint your pumpkins instead!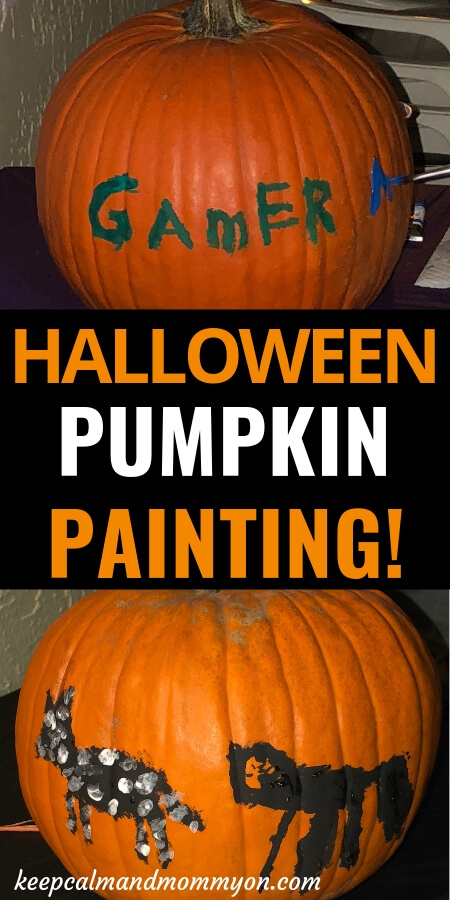 This site contains affiliate links. If you make a purchase using one of these links, I may earn a commission. Please visit my disclaimer page for more information about cookies collected and our privacy policy.
Halloween Pumpkin Painting
My kids look forward to halloween for months! It's what gets them through to Christmas;)
I personally do not get as excited about halloween. Why? Because of the dreaded pumpkin carving! There, I said it! I dread carving pumpkins!
It's messy, and it takes FOREVER! Especially with four children! Someone always ends up not wanting to scoop out their goo. And who do you think ends up doing it? That's right, mommy does it! I can't be the only mom that feels this way right? Please raise your hand and let me know I'm not alone!
Easy Pumpkin Painting Ideas
So to say I was thrilled when my kids decided to try an alternative to carving is an understatement! I actually enjoyed this pumpkin decorating experience! Sure, it was still a little messy, after all paint is involved. But I didn't have to scoop goo! Enough said! lol
Two of my kids actually stopped carving pumpkins a couple of years ago. First we started with Melted Crayon Pumpkins. They were a big success and lots of fun to make!
Then they decided to branch out from wax to paint.
Honestly, for young children, melted crayons or painting is the best route to take. They get to be way more involved in the pumpkins decorating process. When painting a pumpkin I can squirt paint on a plate, give them a brush, and let them go!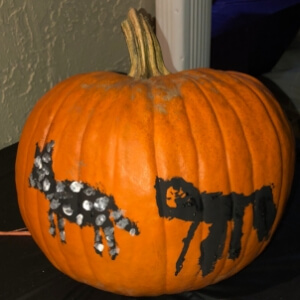 Pumpkin Painting Ideas For Kids
We did not look up painting ideas, instead my kids wanted their pumpkins to be unique. I told them that they could paint whatever they wanted and that's exactly what they did!
If you came to this post expecting to see a perfectly painted Pinterest pumpkin then you are probably disappointed. I love to let my children use their imaginations and paint their own designs themselves, exactly how they choose to. These pictures are not painted by an adult but by my child, which makes them that much more special to me:) And it is what will make your child's pumpkin special to you!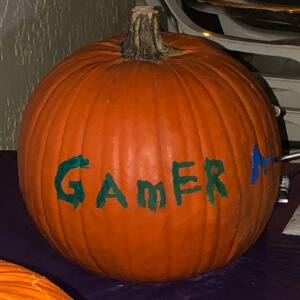 What Paint to Use on Pumpkins?
Honestly, I feel that any type of paint will work on the pumpkins. However, because this is a children's craft you want to make sure that you are using child friendly paint.
We just used regular washable kids paint on our pumpkins and it turned out really well.
One word of advice though is to use a decent paintbrush. Don't try to use one of those tiny kids watercolor brushes with the black plastic bristles. Those do not work well! Get a nice paint brush. If possible get multiple paint brushes so that you can have one for each color instead of having to wash out brushes in between colors. That makes it a lot easier!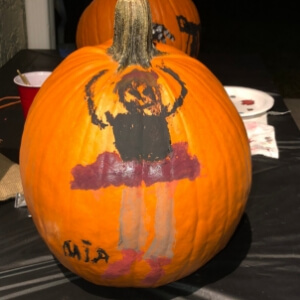 Kids Pumpkin Painting
Something else that makes cleanup a breeze is doing this craft outdoors. I know in some locations the weather won't allow, but if it does it makes it a lot better!
I also lay down disposable table cloths before we begin. That way when they are done we simply throw it all away. Voila, pumpkins painted and everything cleaned up! Now we can get on to other fun fall activities like bonfires and roasting marshmallows;)
Oh, and in case you are having a hard time figuring out what's on the pumpkins, one has the word gamer, one has a ballerina, and the other has puppies;)
Be sure to come back and leave me a comment below letting me know what your children decided to paint on their pumpkins!
I hope you enjoy painting pumpkins as much as we do (and yay for not scooping goop!:)! Happy Halloween!
Halloween Pumpkin Painting
Oh, and if you are looking for more halloween and fall fun be sure to check out:
How to make a Melted Crayon Pumpkin