Are you looking for some creative Easter egg designs? These ballerina Easter eggs are sure to be a hit with your little ballerina!
This site contains affiliate links. If you make a purchase using one of these links, I may earn a commission. Please visit my disclaimer page for more information about cookies collected and our privacy policy.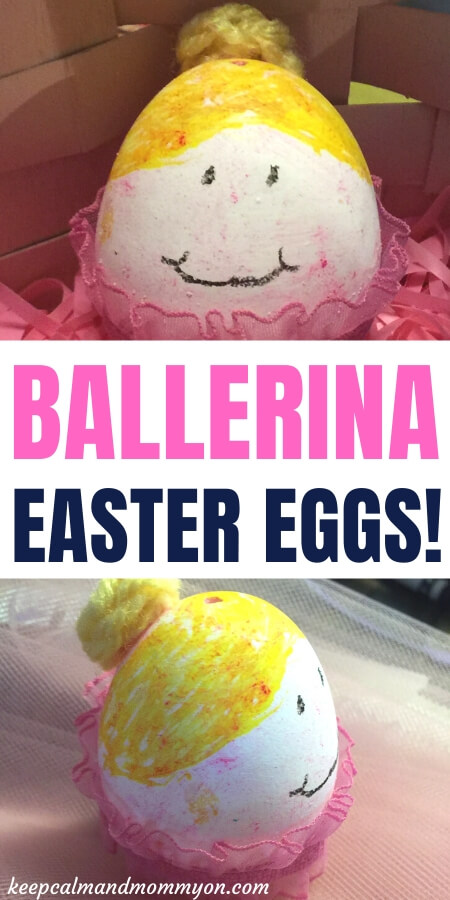 Easter Egg Ballerina
Easter is such a fun time for kids!
Decorating Easter eggs is something that my kids really look forward to and enjoy. We used to just do normal regular eggs. You know, dip, dye and dry.
Sure we experimented with different color combinations and multicolored eggs. But as the kids have gotten older they like to experiment with different designs. They like to get creative and do different things!
We have created lots of different designs, but some of our favorites are: Ninja Turtle Easter Eggs, Glitter Easter Eggs, Blown Easter Eggs, and of course these Ballerina Easter Eggs!
My daughter loves to dance! She says she wants to be a professional dancer when she grows up and we do our best to support that dream:) So of course she's going to make a dance themed Easter egg!
She decided on this adorable Ballerina Easter Egg.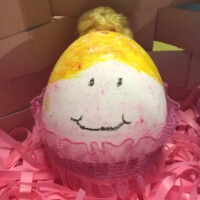 Ballerina Easter Eggs
She decided that she wanted to be able to keep this special egg, so we made blown Easter eggs instead of hard boiling them.
Now she's able to keep her ballerina Easter egg on display in her room. It's super cute!
Making these ballerina Easter eggs is not hard but it does require more time than the usual dunk and dye method of decorating eggs.
Before we begin however you are going to need to gather some supplies.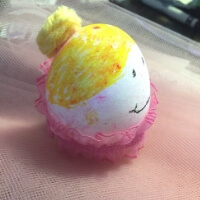 Ballet Easter Egg
You will need the following materials to make your ballerina Easter egg:
Eggs
Easter Egg Dye (optional)
Crayons (whatever color you want your ballerina's hair to be as well as black)
Yarn (whatever color you want your ballerina's hair to be)
Easter Egg Designs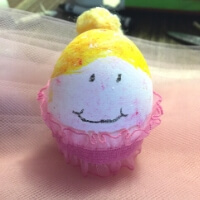 The first step in making these ballet Easter eggs is to dye your egg. This is an optional step.
My daughter chose to dye her egg a very light pink. But if you want to leave it white or dye it another color that is totally up to you.
Once the egg is dyed and dry it's time color your ballerina's hair. This can also be whatever color you choose. My daughter chose to make her ballerina blonde, so she used a yellow crayon.
Next your ballerina needs some eyes and a smile:) We just used a black crayon for this.
Now your egg is starting to come alive! However she's not a ballerina yet!
What makes a ballerina look like a ballerina? Two characteristics of a ballerina are the ballet bun, and a tutu!
Easter Egg Ideas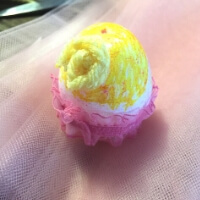 Let's start with the bun.
Every ballerina needs a bun!
To make the bun you need the yarn. We braided the yarn and then wrapped it into a bun.
After the braid is finished you should use the hot glue or craft glue to attach it to the top of your ballerina's head.
Once the bun is in place and the glue has dried it's time to attach the tutu.
Cut the tutu the length needed to reach completely around the egg and then, using the hot glue or craft glue, attach it to the lower part of the egg.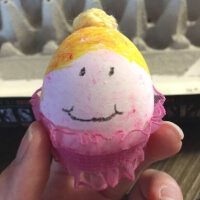 And that's all there is to it! Isn't that easy? Isn't it so cute?!
I hope you and your little dancer enjoy making these ballerina easter eggs as much as we did!
Be sure to come back and leave me a comment below after you decorate your eggs, letting me know how you like them:)
If you would like to find more easter fun then be sure to check out these fun and educational easter crafts and activities!
Happy Easter!