Are you looking for some creative easter egg ideas? Are your kids tired of the same old, same old, traditional easter eggs? Find out how to make emoji easter eggs!
This site contains affiliate links. If you make a purchase using one of these links, I may earn a commission. Please visit my disclaimer page for more information about cookies collected and our privacy policy.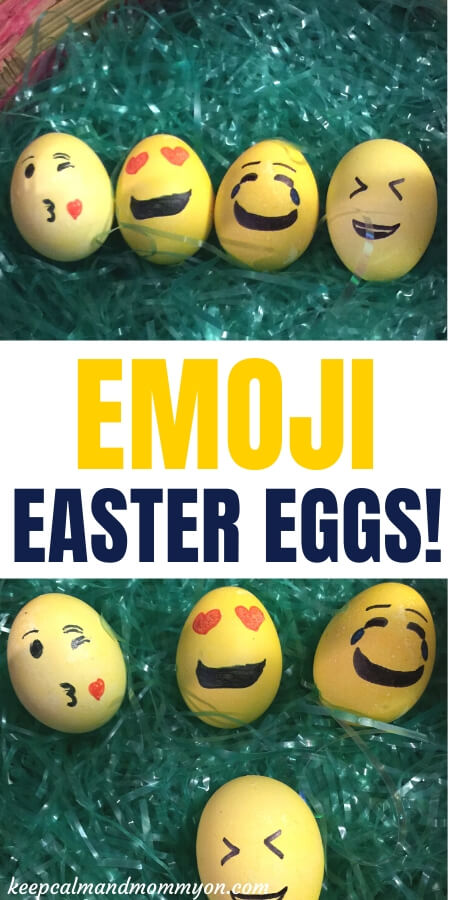 How to Make Emoji Easter Eggs
As I have mentioned in my other easter egg articles: How to Make Ninja Turtle Easter Eggs, How to Make Ballerina Easter Eggs, and How to Make Glitter Easter Eggs, my kids like to get creative:)
They get tired of the same old method of dip and dye easter eggs and try to make their eggs special and unique.
Emoji Easter eggs are also one of their creations!
And the awesome part is that they are really easy to make!
DIY Emoji Easter Eggs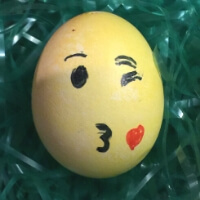 To make emoji easter eggs you will need:
Hard Boiled or Blown Eggs
Black, Red & Blue Crayons or Markers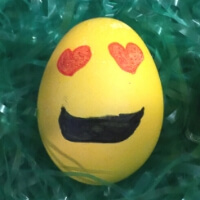 The first step is to color your eggs yellow.
Leave your eggs in the dye until they have reached the desired shade of yellow.
Once your eggs are completely dry it's time to make them look like emojis. As you can see we did four different emojis. You can copy ours or feel free to try your favorite emoji!
To make your faces you can use crayons, washable markers, or sharpies.
We used black for the eyes and mouth, red for kisses and heart eyes, and blue for tears on our crying out loud emoji.
Also you can choose to use hard boiled eggs or blown eggs. Blown eggs are great if you want to be able to keep your eggs!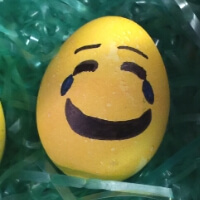 And now you have emoji easter eggs!
Aren't they adorable? My kids love making these eggs. They are really easy, yet look super cute.
I hope your emoji fan enjoys this easter egg design as much as we do!
Be sure to come back after making them and leave me a comment below! We'd love to hear how it goes:)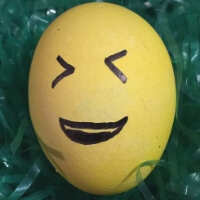 If you would like to find more fun easter ideas be sure to check out:
How to Make Paper Mache Easter Eggs
Easter Perler Bead Patterns and Ideas
10 Must Try Easter Crafts for Kids
Easter Sensory Bin for Toddlers
How to Make Your Own Easter Egg Hunt Map
Happy Easter!