Are you looking for a fun and easy Christmas craft for your child? This pinecone Christmas craft for preschoolers is the perfect idea!
This site contains affiliate links. If you make a purchase using one of these links, I may earn a commission. Please visit my disclaimer page for more information about cookies collected and our privacy policy.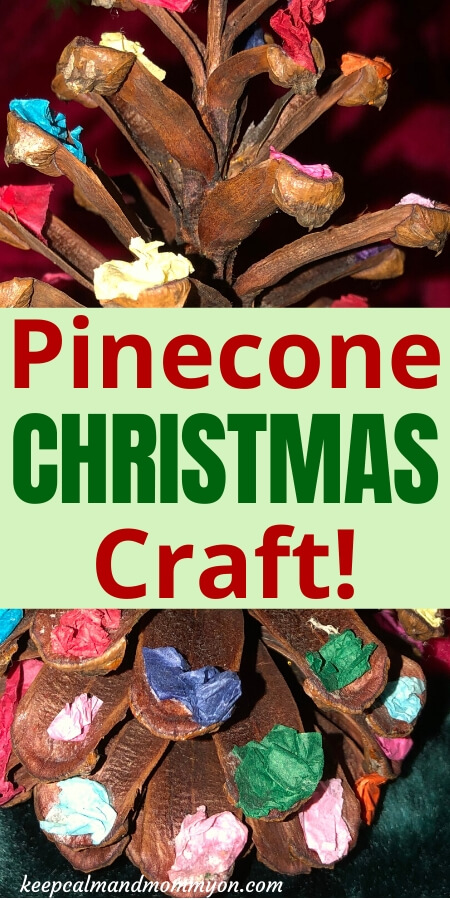 Pinecone Christmas Craft for Preschoolers!
Crafts are such a great way for kids to not only learn and to express themselves, but are excellent for strengthening fine motor skills and sensory stimulation!
My kids always love crafts, but there is something about Christmas crafts that are extra special:)
For example they love making perler beads, but Christmas Perler Beads were extra fun and exciting to make!
Christmas craft ideas using pinecones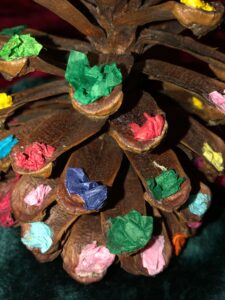 As a mom I know that this time of year is crazy! Literally I feel like I'm losing my mind some days we're so busy!
This year seems extra busy because on top of the holidays we've had a dance competition, a dance recital coming up, and my sister is getting married! That means that every day until the first of the year is packed full of activities!
But I really want to make time to do the usual fun holiday traditions and activities such as going to look at Christmas lights, making Christmas cookies, and of course…Christmas crafts!
This pinecone Christmas tree craft is not only adorable, but super easy to make! And to make it even better it's basically free to make!
A win, win, win!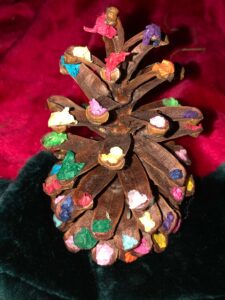 Benefits of Pinecone Christmas Tree Crafts
Ok, I know you're busy so let's get to the good stuff!
As I said this pinecone craft is super easy. All you need to make this is a pinecone that is dried and open, colored tissue paper, and glue.
That's it!
I love this craft because it doesn't require a lot of assistance. Which means….your child will be entertained and busy and you can get stuff done! Music to every moms ears am I right?!
I'm all about eliminating mom guilt while making life easier! This craft keeps kids off electronics, helps them develop, and frees up your time so you can get things done like laundry and dishes! Need I say any more?;)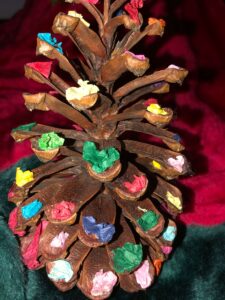 How to make a pinecone Christmas tree
To make this simple craft start by tearing off little bits of tissue paper. You can use whatever color tissue you want, but if you want it to be bright and colorful use lots of different colors.
We like colored lights on our Christmas tree, so to me the different colored tissue paper makes it look like our tree:)
Next wad the tissue pieces into loose balls.
Add a drop of glue to each tip of the pinecone. As you add the glue, add a tissue paper wad. Mix the colors up so that each color is next to a different color. (Or not if that's what your child desires;)
Once you have added tissue paper to each tip that's it! Sit it aside until the glue is completely dry and then find a great place to display your child's craft.
If they love making the pinecone Christmas tree, let them make more! How pretty would a bunch of these look displayed on fake snow?!
And that's all there is to it! Wasn't that fun and easy? I hope you and your child enjoy making these pinecone Christmas trees as much as we do!
If you would like to find more Christmas fun then be sure the check out:
31 Christmas Fine Motor Activities