Are you looking for a fun ninja turtle craft? These 15 ninja turtle perler beads are lots of fun and are great for helping your child develop fine motor skills!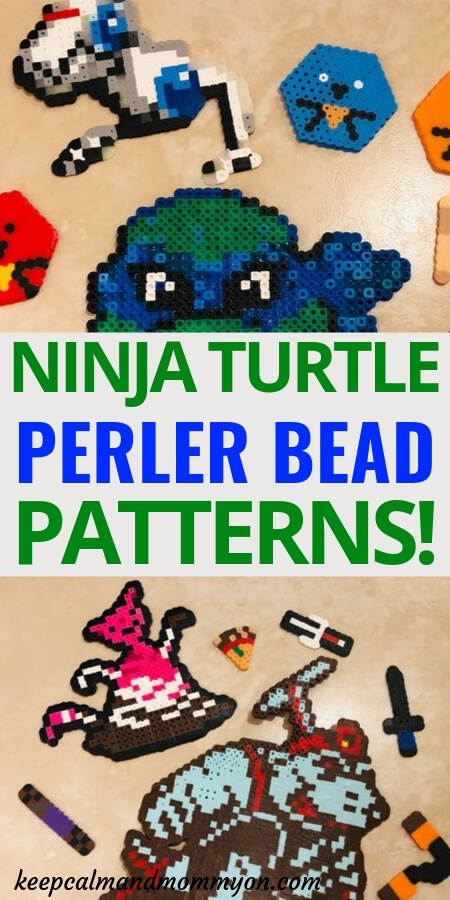 This site contains affiliate links. If you make a purchase using one of these links, I may earn a commission. Please visit my disclaimer page for more information about cookies collected and our privacy policy.
Ninja Turtle Perler Beads
My son is obsessed with the Ninja Turtles!
I told my husband that thirteen years ago I had no idea that I would know about almost every ninja turtle bad guy every created, or that I would live at the dance studio! 😉 But alas, I do know a lot about the ninja turtles and I do spend a LOT of time at dance! I wouldn't have it any other way though:)
Both of my boys have loved the ninja turtles. My youngest is the one that is currently obsessed. The funny thing though, is that while the kids don't have a lot of common interests, they all enjoy playing ninja turtles together! I love to watch them use their imaginations and to play and get along together:)
Perler beads are just another way for them to enjoy the ninja turtles!
Perler Beads
One of my favorite things about perler beads is that they are so good for developing fine motor skills! Having to pick up the small beads and place them in the right spots is an excellent way to have fun and to help your child develop all at the same time.
It's also a wonderful activity for helping to increase focus and concentration.
How to Make Perler Beads
If you've never made perler beads before you need to start by getting together everything you need.
You will need a peg board to design your perler beads on. And you will need the actual perler beads that are made specifically for this project.
Then use the perler bead pictures below to design your ninja turtle perler beads. You can see from the pics how many individual beads there are. Simply count the beads to know where to place them on the board.
Once you've placed all of your perler beads in place you need to iron them to fuse them together.
Perler beads can be made for any topic and any holiday! Some of the perler beads we have made are Pokemon Perler Beads, Minecraft Perler Beads, Perler Bead Magnets, Halloween Perler Beads, Autumn Perler Beads, Christmas Perler Beads, and Easter Perler Beads!
Now that you have everything gathered together that you need, let's get started making some ninja turtle perler beads!
Teenage Mutant Ninja Turtle Perler Bead Patterns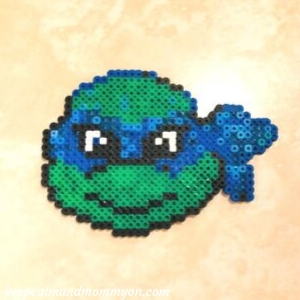 Leonardo is the blue ninja turtle and the leader of the group. While my son loves all the ninja turtles, Leo is his favorite:) This Leo perler bead design is fun to make!
We used this perler bead pattern to create Leo.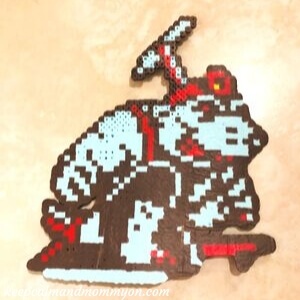 Dirtbag is another big perler bead project that your ninja turtle fan will love!
Dirtbag is a mutant mole (no I'm not making this stuff up;). My son thinks he's super cool and even though he's a more complicated pattern to make, he really wanted to have him!
You can see the pattern that we followed here.
Ninja Turtle Perler Bead Patterns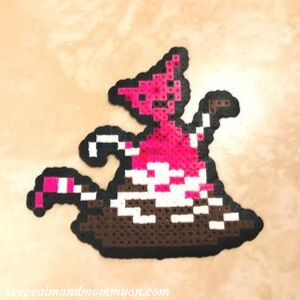 Ice Cream Kitty is another ninja turtle character that Mikey loves. He lives in the freezer and would make a great addition to the outside of your freezer by making him into a magnet;)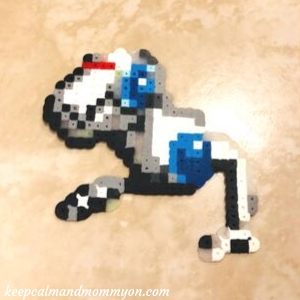 The mousers are robot enemies of the turtles. You can create just one, or an army!
TMNT Perler Bead Patterns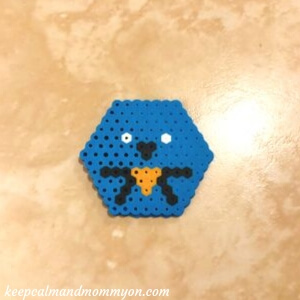 The dream beavers are villains from another dimension that can infiltrate dreams. In an episode of the TMNT they entered the turtle's dreams.
The blue beaver's name is Dave Beaver and he infiltrated Michaelangelo's dreams.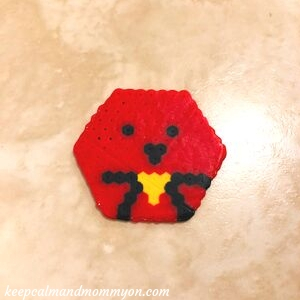 In TMNT, the red beaver is Dark Beaver. He is one of the worst beavers and entered Donatello's dreams.
Perler Bead Patterns Ninja Turtles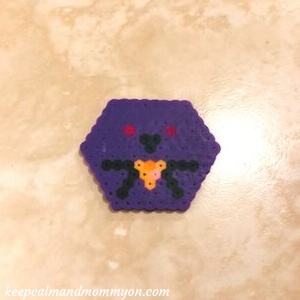 The purple beaver is called Dire Beaver. He infiltrated Leonardo's dreams.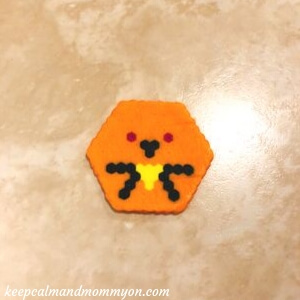 The final beaver is Dread Beaver. He entered Raphael's dreams. The dream beavers are all pretty easy designs to make. My son not only loved making them but plays with them as well, even though he has the actual dream beaver toys;)
Perler Beads Teenage Mutant Ninja Turtles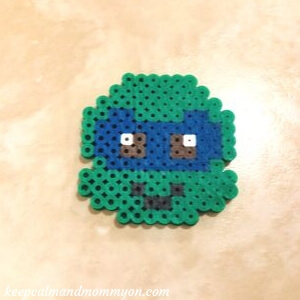 This little Leo is a great option to make if you want something small or if you don't want to spend as much time as the above Leo requires. And he's super cute:)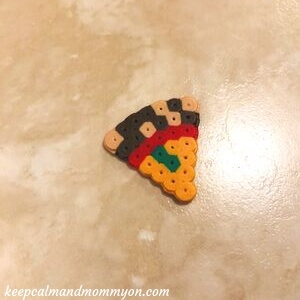 Ninja turtle perler beads would not be complete without pizza! I mean, what will the ninja turtles eat if you don't make at least one slice of pizza?! 😉
Ninja Turtle Perler Beads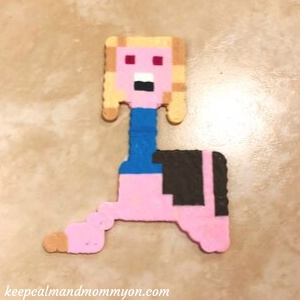 If you aren't familiar with this ninja turtle villain then it's going to look extremely strange to you. Actually, even if you know what it is it looks strange lol. This is mom thing!
Try not to be offended by the name, and beware that once your child is made familiar with this ninja turtle villain, you are bound to jokingly be called mom thing;)
This villain is definitely an interesting perler bead design!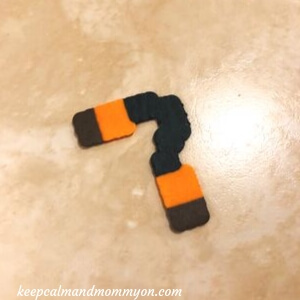 Ninja turtle perler beads are also not complete without the ninja turtle's weapons!
The nunchucks are the signature weapon of Mikey.
Teenage Mutant Ninja Turtle Perler Bead Patterns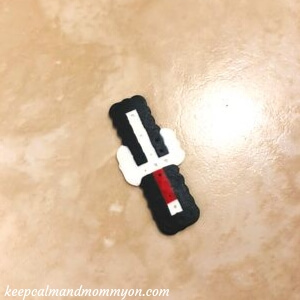 Raphael's weapon of choice is called a Sai. He carries a pair of them, so you might want to make two!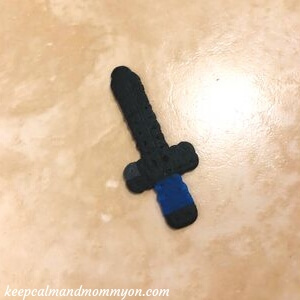 Leonardo carries a twin katana. (I can't believe I know these things lol)
TMNT Perler Bead Patterns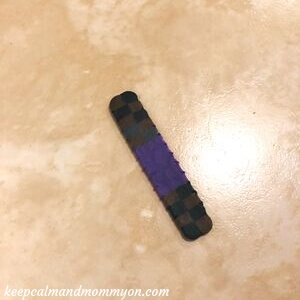 Donatello carries a Bo, which is kind of like a staff. Those are the weapons that you will need for each of the turtles!
And those are 15 ninja turtle perler beads that your little ninja turtle fans will love! I'm sure that we will be making more in the future, so I will add them here as we do;)
I hope you and your kids have as much fun creating them as we did! And I'm sure that in the process of creating them you will learn all kinds of interesting ninja turtle facts that you never knew you needed to know;)
Be sure to come back and leave me a comment letting me know which ones your kids decide to make!
If you would like to find some additional ninja turtle activities then be sure to check out: