Are you tired of your towels and linens being a jumbled mess? Are you looking for some great linen closet organization ideas? These are sure to help you to be more organized!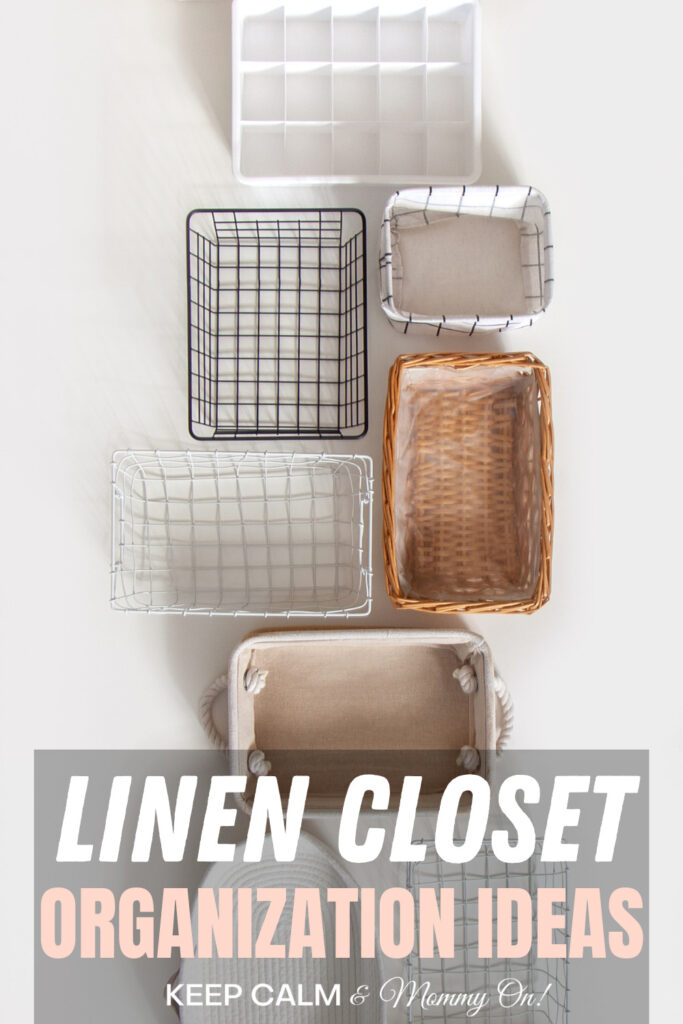 This site contains affiliate links. If you make a purchase using one of these links, I may earn a commission. Please visit my disclaimer page for more information about cookies collected and our privacy policy.
Linen Closet Organization Ideas
We've written multiple posts on organization (which you can find links to at the bottom of this page).
The reason for this is that when your home and life are more organized, you will be less stressed which makes for a happier, healthier you!
And at Keep Calm and Mommy On that is our goal! As moms our goal is to help ourselves and other moms to be the moms that we all want to be.
Organized Home
I don't know about you but when I'm stressed it leads to less productivity, more mom guilt, and sometimes feeling depressed. And I know from experience that one of the leading causes of mom stress is a chaotic, unorganized home.
But sometimes even the thought of organizing can be stressful. Especially when you're just starting out. So to help you tackle organizing your home more easily, we have divided the job up into small manageable sections.
You don't have to organize everything at once!
Start small. Start with one drawer, one closet, one room, and branch out from there. Before you know it your home will be a tranquil happy place where you can let your creative juices flow to conquer everything you desire as a mom and as a woman!
Today we're going to focus on the linen closet.
Linen Closet Organization Ideas
Here are some of the items we have found that will help keep your towels and sheets where they belong. Nobody wants to open a closet and have towels fall out on them!
We've listed multiple items so that you can find the tools that fit your home and style.
Small Closet
I hope these items help to motivate you to tackle the dreaded linen closet! Remember, it's just a small closet, you can do this! Just take it one step at a time:)
And once it's done you'll be glad you did it!
Let's get started today and get more organized.
Home Organization
Once you've conquered the linen closet it's time to move on to other areas of your home. Here are some ideas to inspire and help you through the process:
7 Kids Room Organization Ideas