Are you looking for some handprint Easter crafts for toddlers and preschoolers? This Easter handprint art bundle for toddlers is lots of fun and makes great gifts!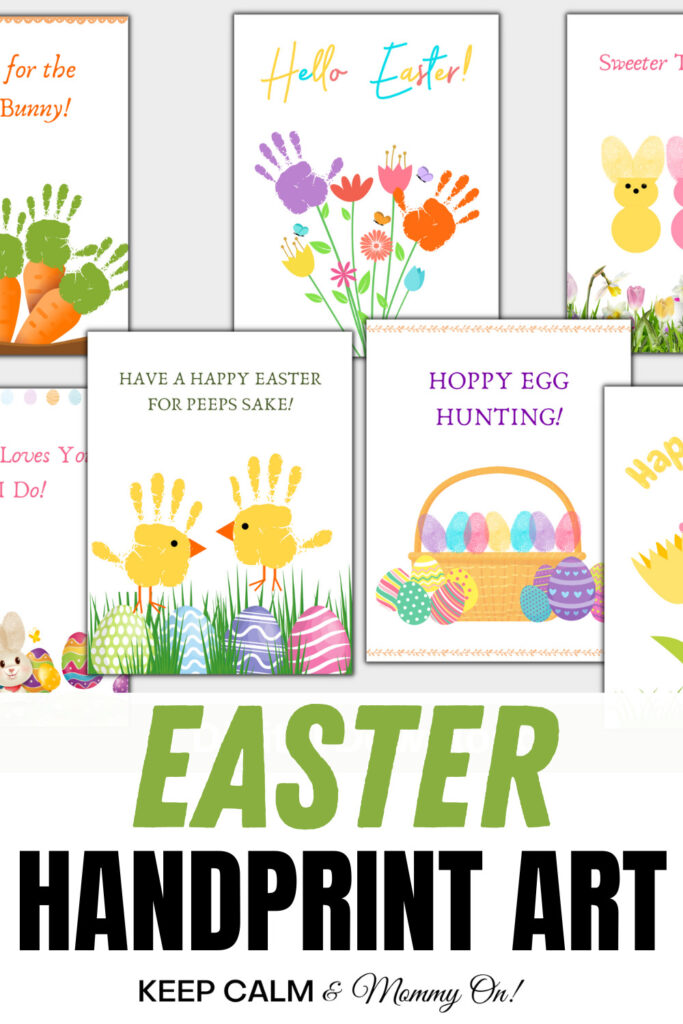 This site contains affiliate links. If you make a purchase using one of these links, I may earn a commission. Please visit my disclaimer page for more information about cookies collected and our privacy policy.
Easter Handprint Art Bundle for Toddlers!
Handprint crafts are a great activity for kids. It's easy to do, and it's lots of fun!
You can either make up your own designs as you go, or you can print ready made templates so that all your child has to do is place their cute little hands in washable paint and then put the handprint or thumbprint in the right spot on the paper.
The ready made templates are really nice to have if you are planning on giving your handprint art as gifts or framing them in a picture frame and hanging them on the wall.
If you would like to try some templates get our Easter Handprint Art Bundle Printables here!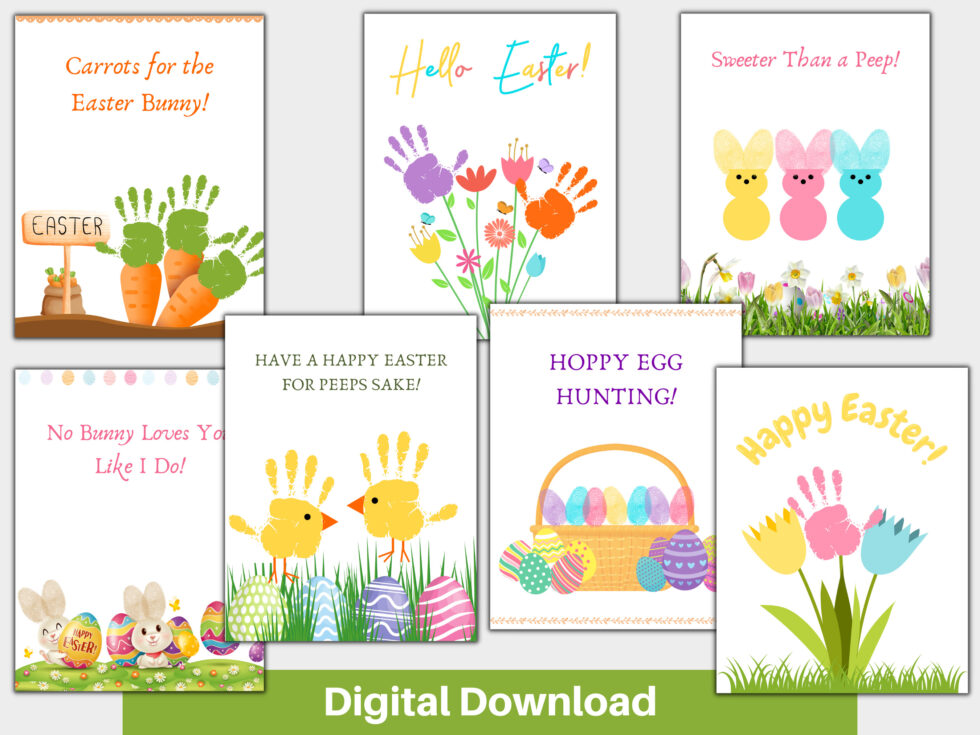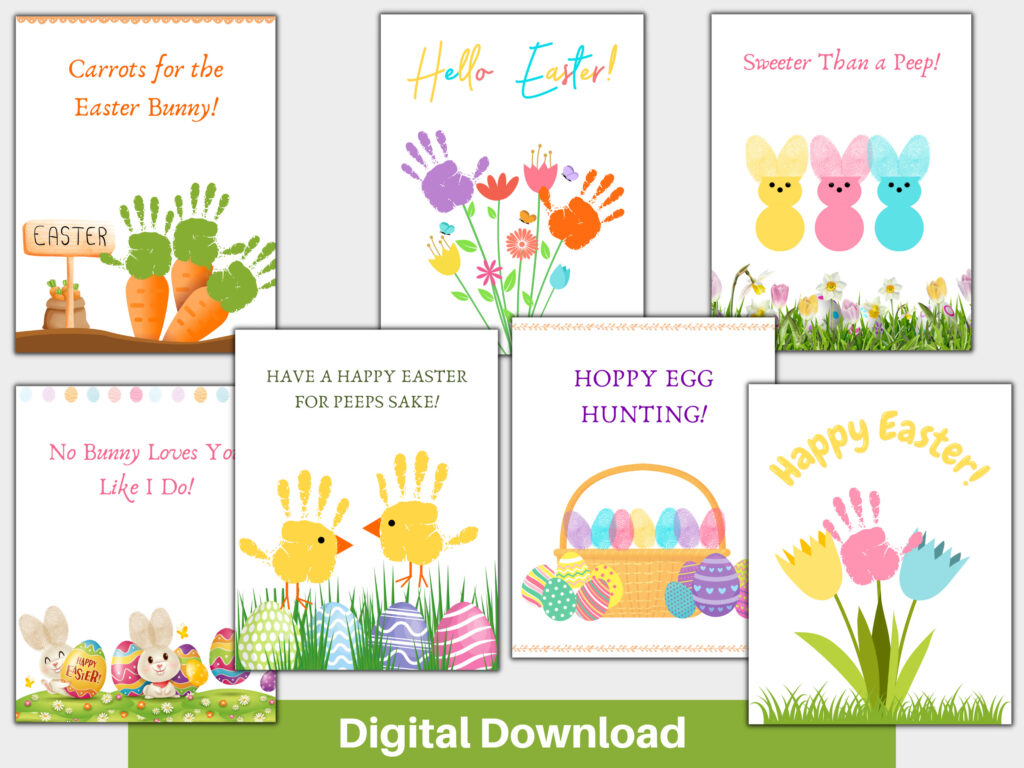 They are super cute and make for the perfect craft!
Fine Motor Skills
Fine motor skills are the small movements that we use daily without even realizing it.
Everything from buttoning a shirt to tying shoes requires fine motor skills.
In school children are expected to complete tasks that require fine motor skills as well. Whether its holding a pencil, using scissors, or handling small items, fine motor skills are important!
These handprint craft ideas are excellent for fine motor skill development!
If you would like to find more fine motor skills activities then be sure to check out 35+ Fine Motor Activities.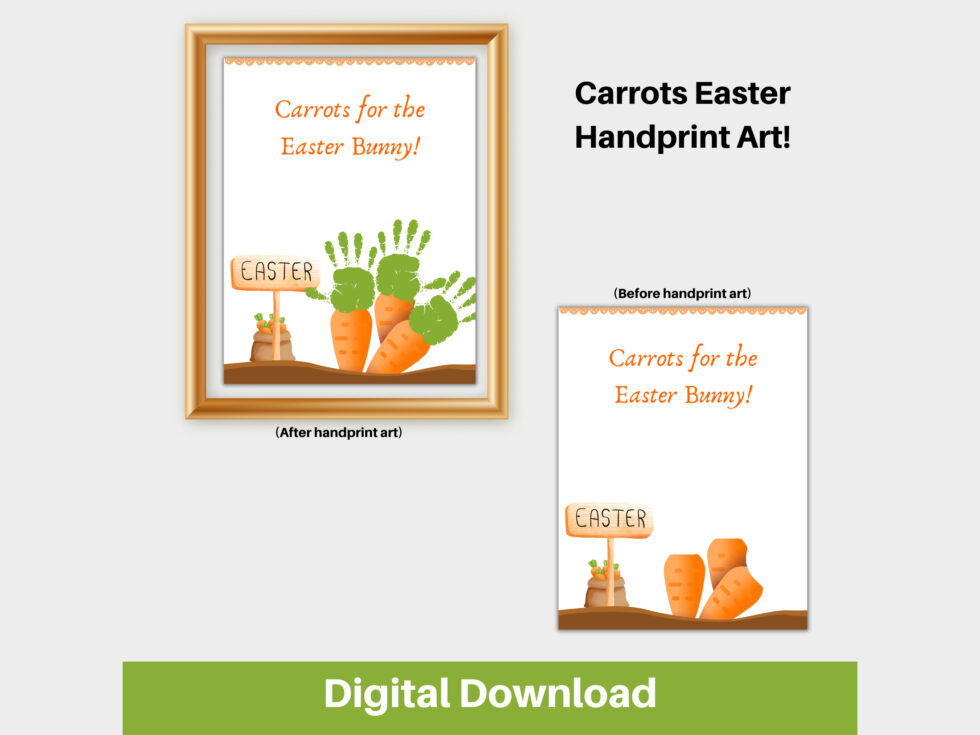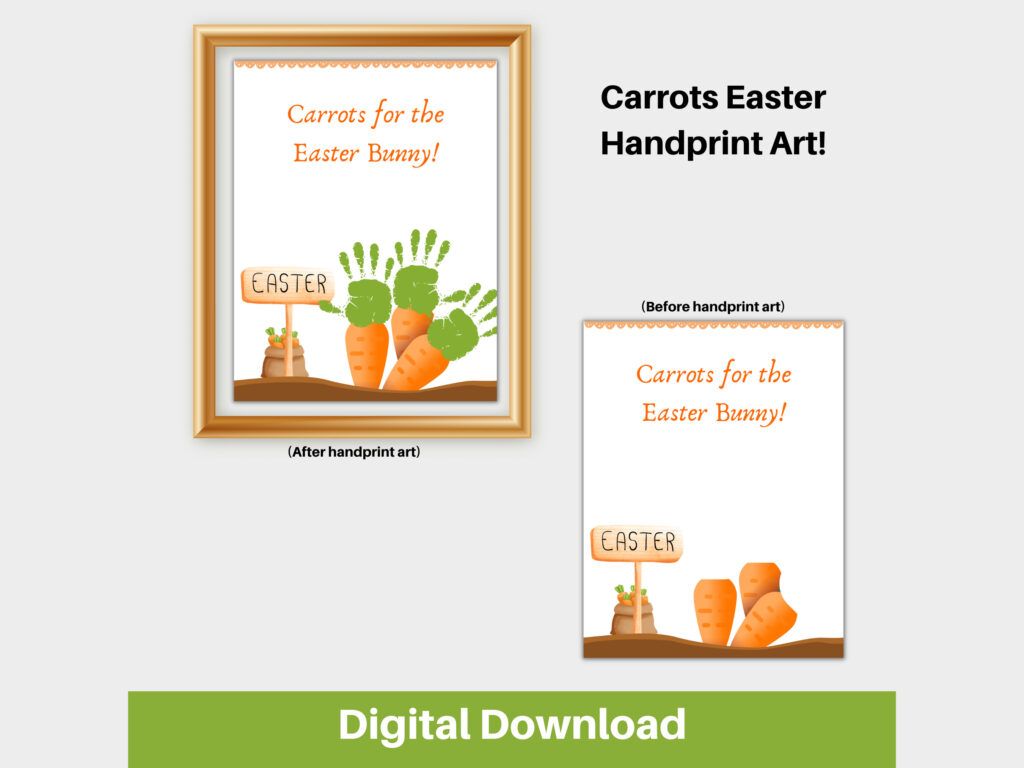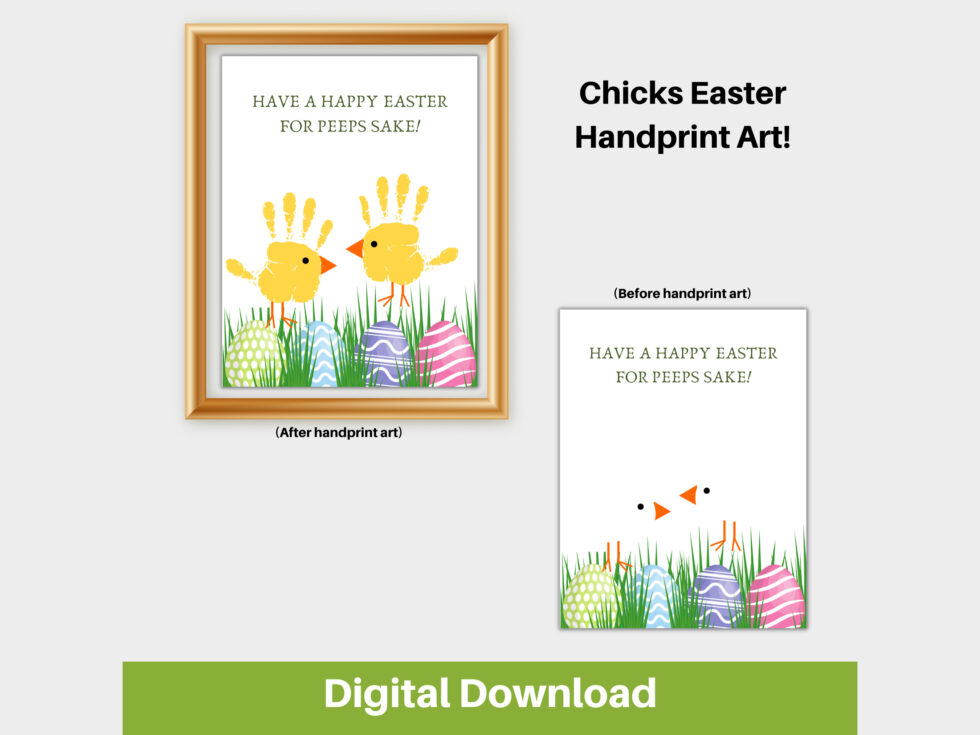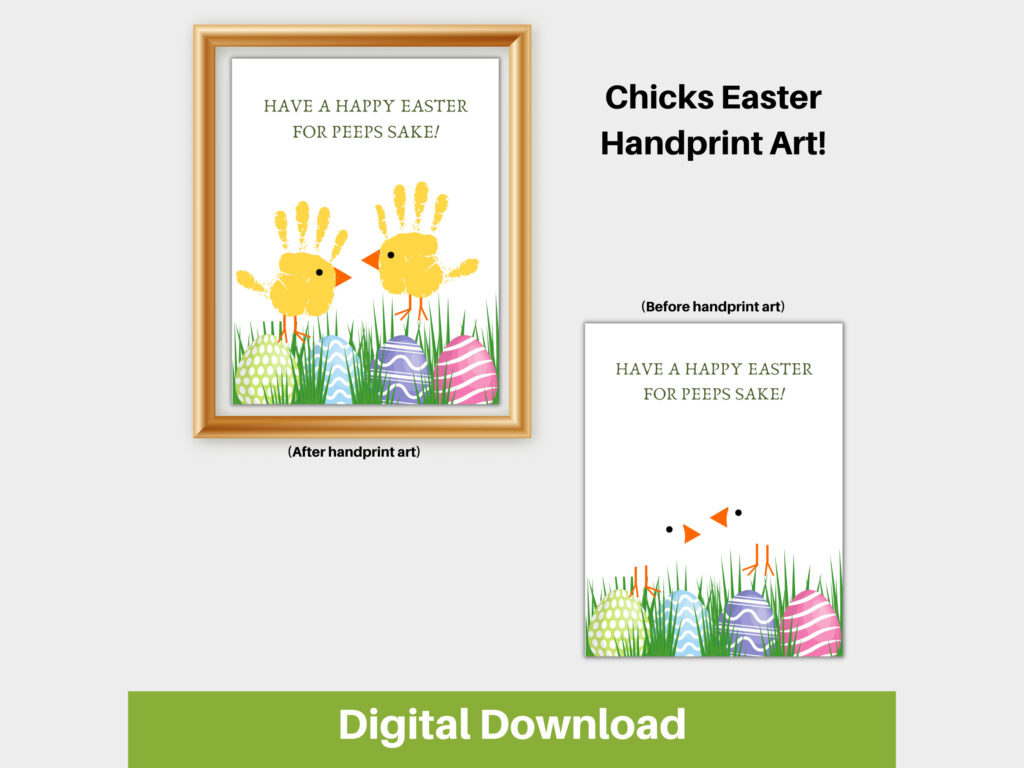 Sensory Experience
Sensory stimulation is also an important aspect of child development.
These handprint Easter crafts help to stimulate the sense of touch. Finger paints and making hand and finger prints are great for this!
Another great way to develop the senses is through sensory bin play!
Sensory bins are not only a wonderful way to entertain your child, but a great way to incorporate sensory stimulation!
Sensory bins engage at least one, if not several, of the five senses: sight, sound, touch, smell or taste.
You can find a great Easter sensory bin idea here!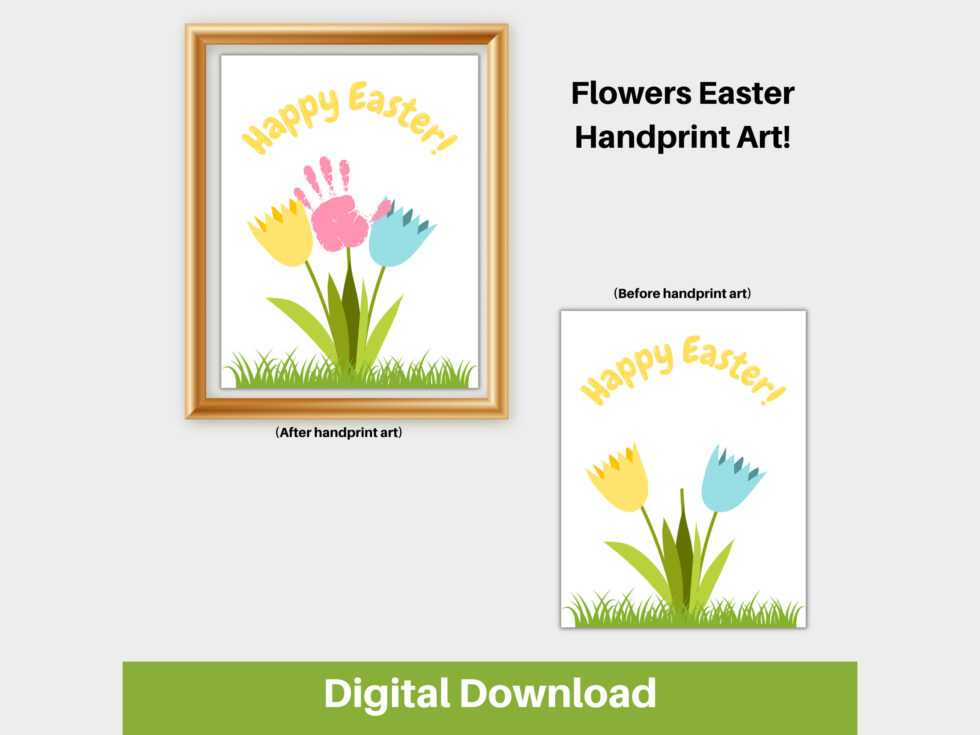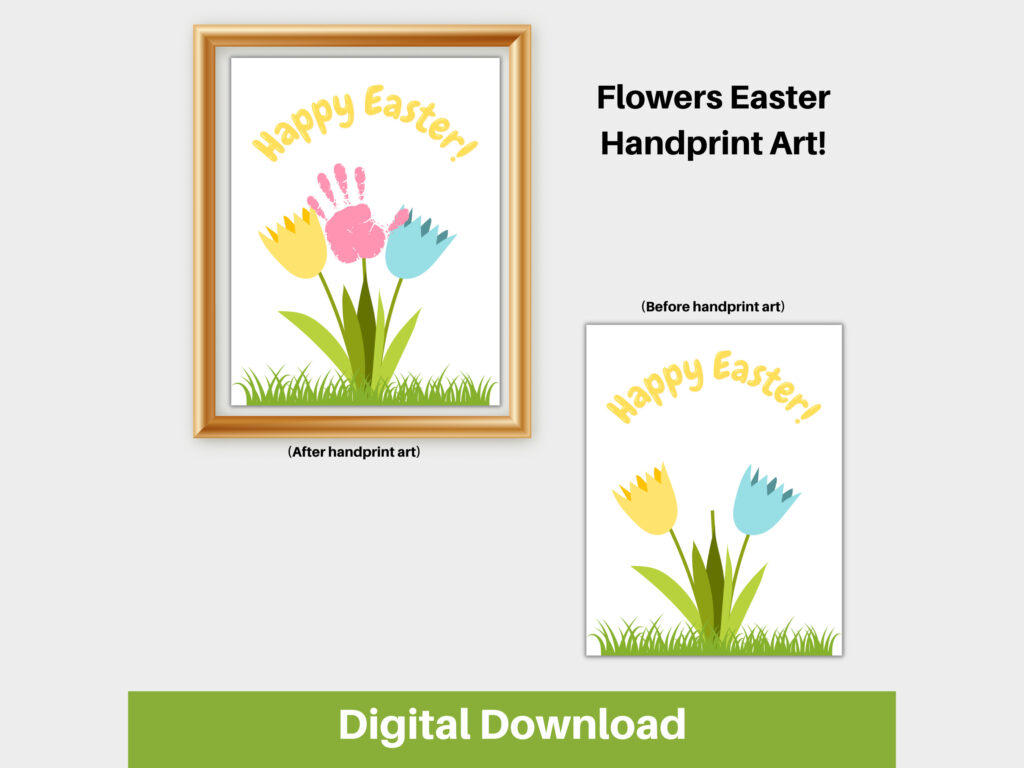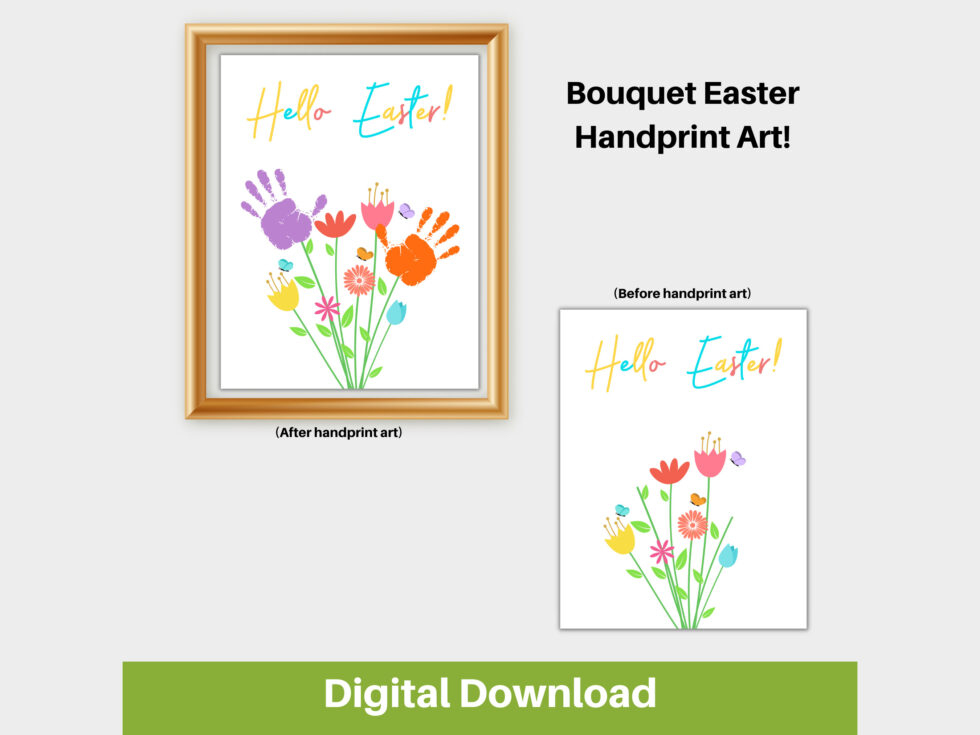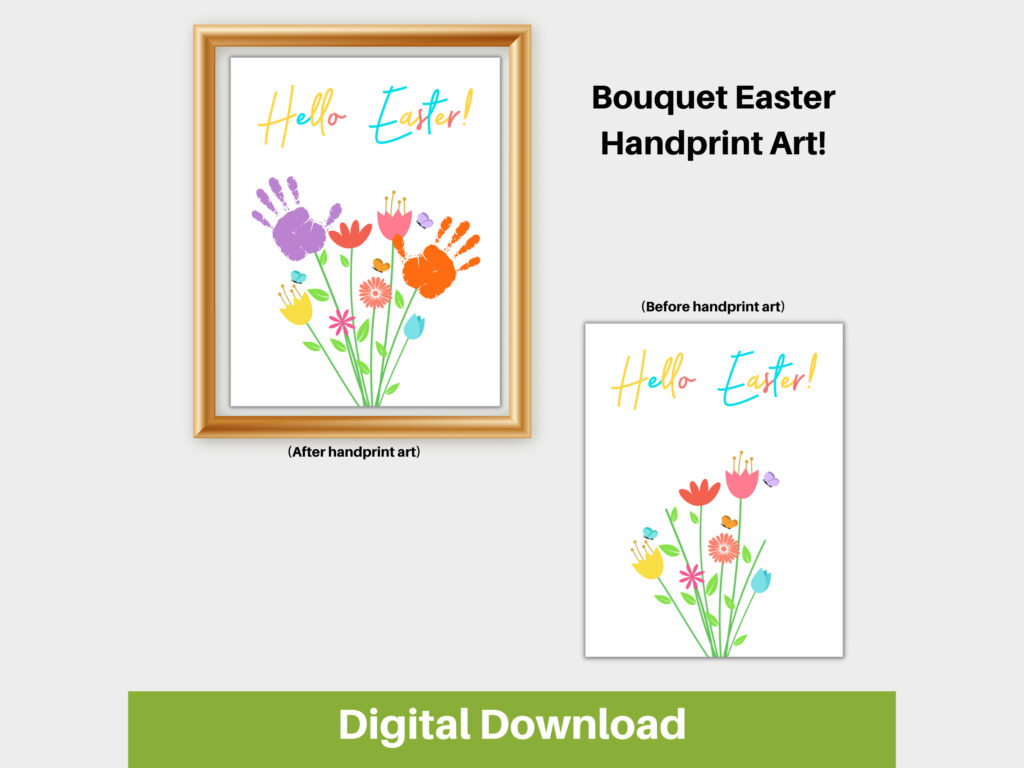 Easter Crafts
The bundle of Easter Handprint Art printables include 7 different pages of everything from flowers and carrots to bunnies and Easter eggs!
They are sure to be lots of fun for little kids as well as the perfect gift!
These adorable Easter handprint crafts can either be printed on a regular piece of paper or on card stock. We recommend card stock as it is thicker and makes your handprint art more sturdy.
It also makes your cute crafts look more professional and will work better in picture frames.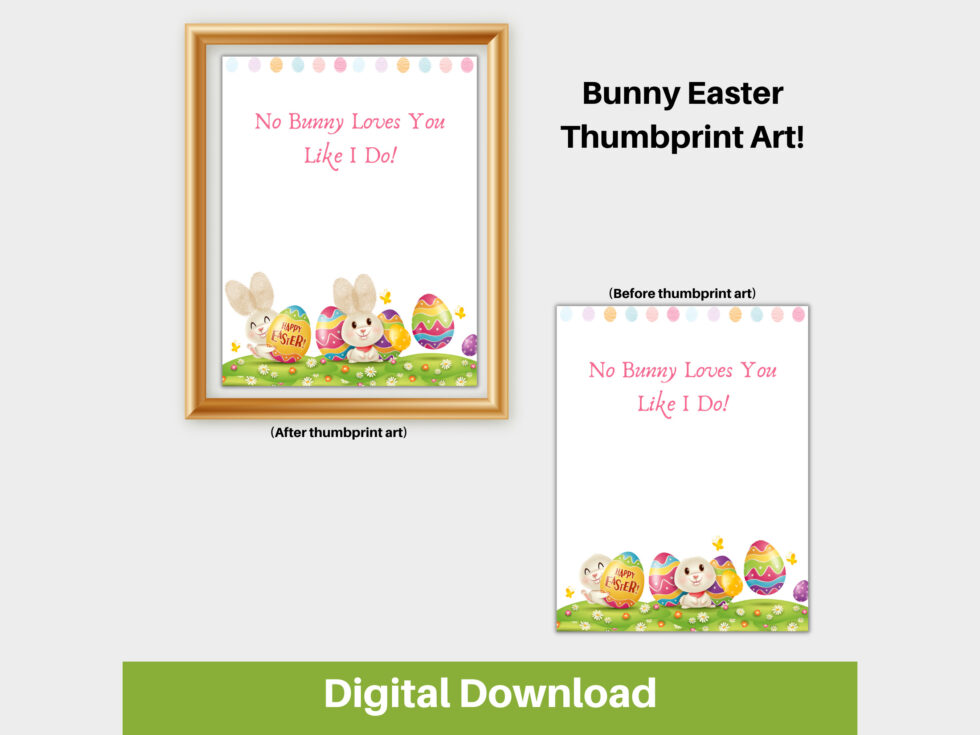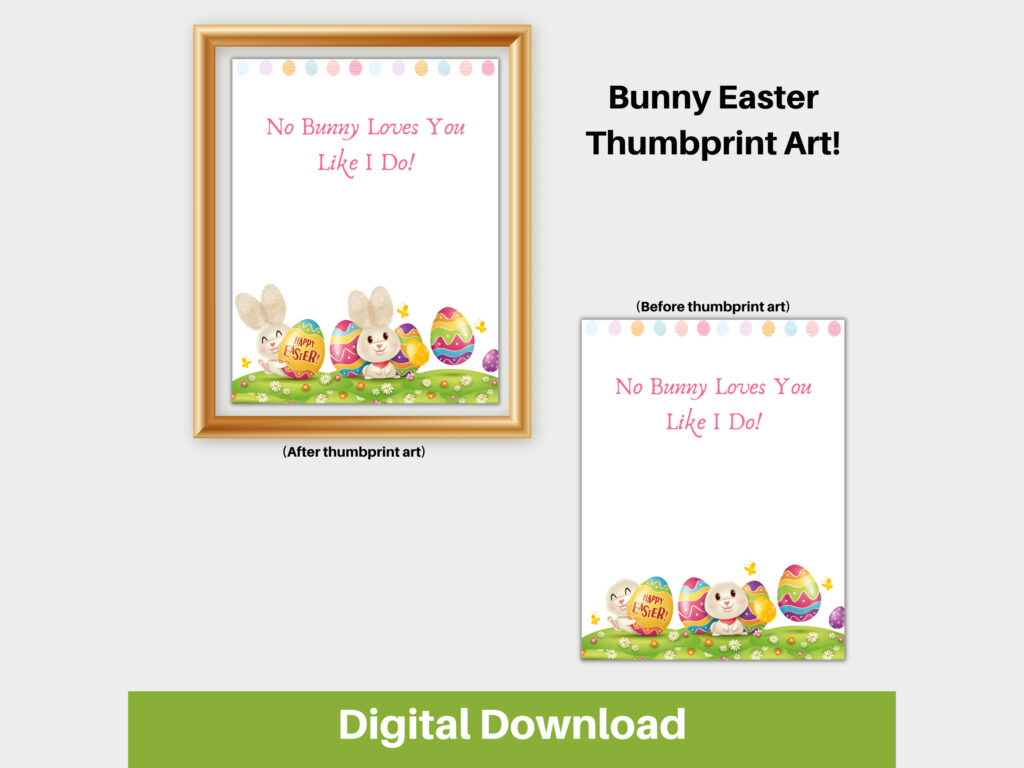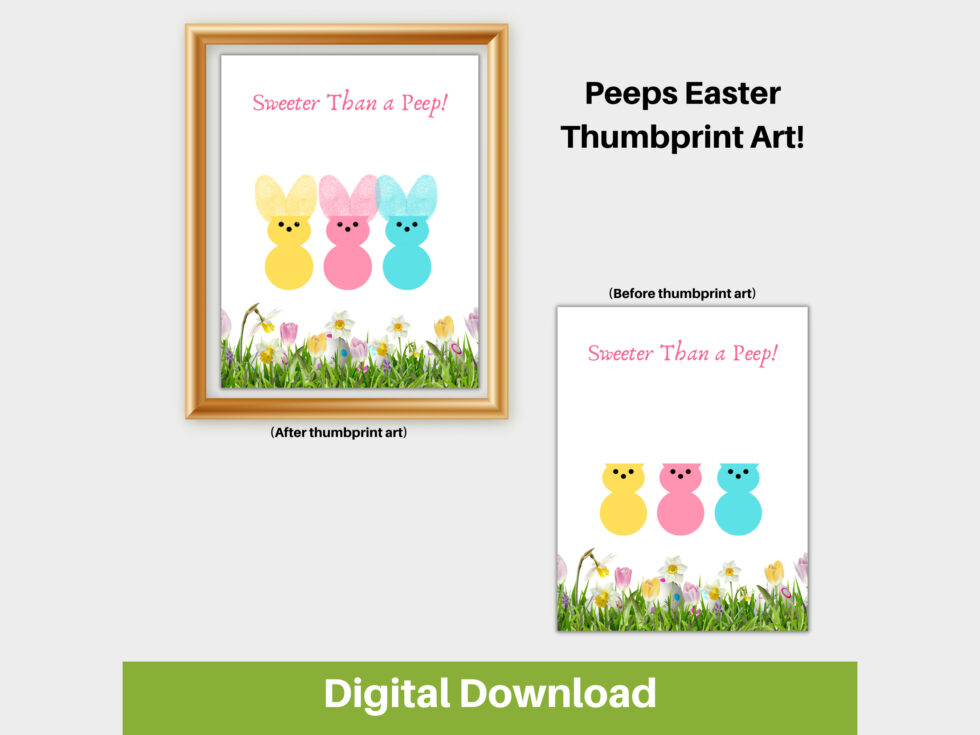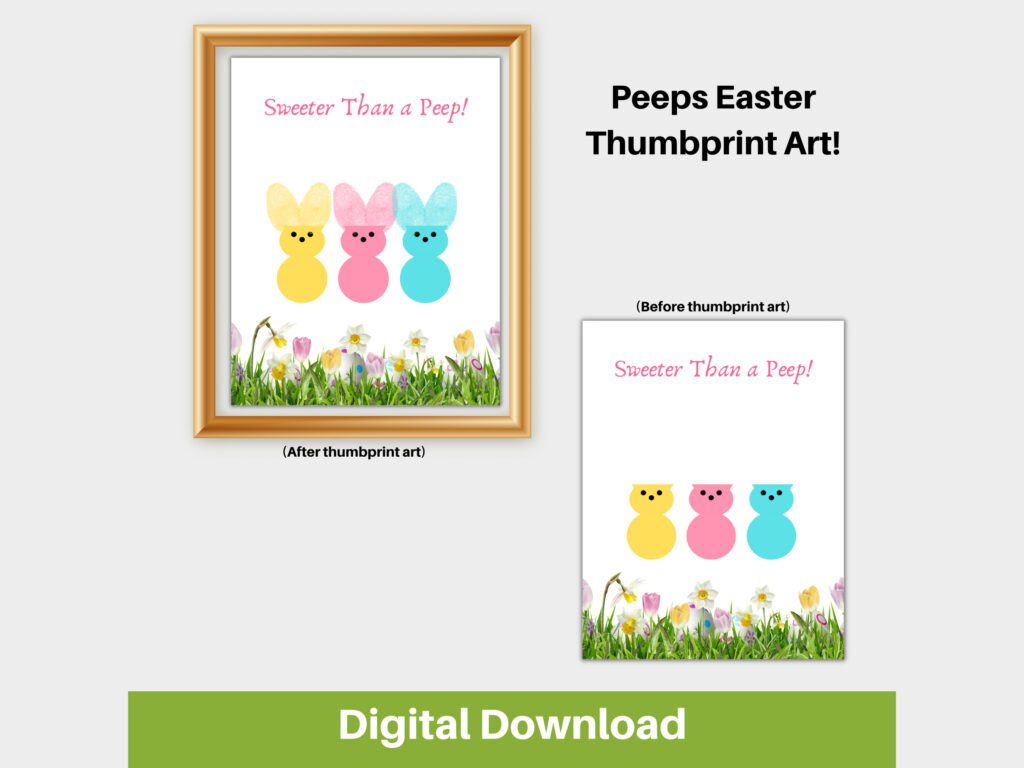 Easter Gifts
Also, as we mentioned above, these fun Easter crafts also make great Easter gifts! Especially for grandparents:)
The whole family will enjoy making these together and your friends and relatives will love receiving them:)
You can have your little ones sign their name on their sweet gift, making it a cute keepsake that you will treasure for years to come!
We hope you have a great time making these special DIY Easter printables and that you and the recipients enjoy the finished product!
They are easy Easter crafts that look adorable!
Happy Easter!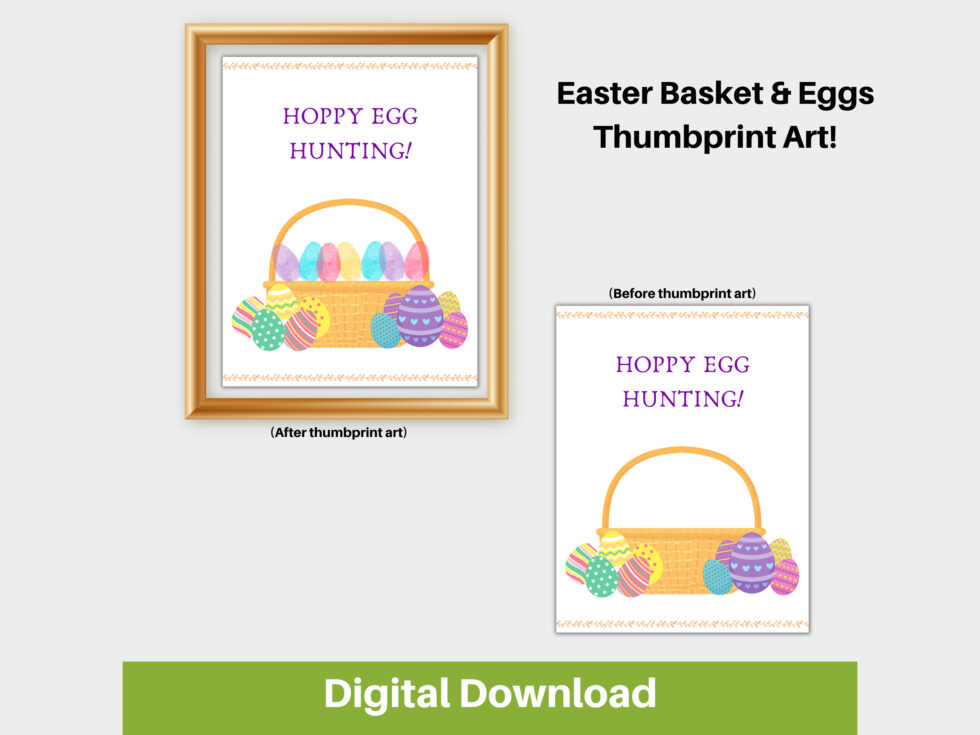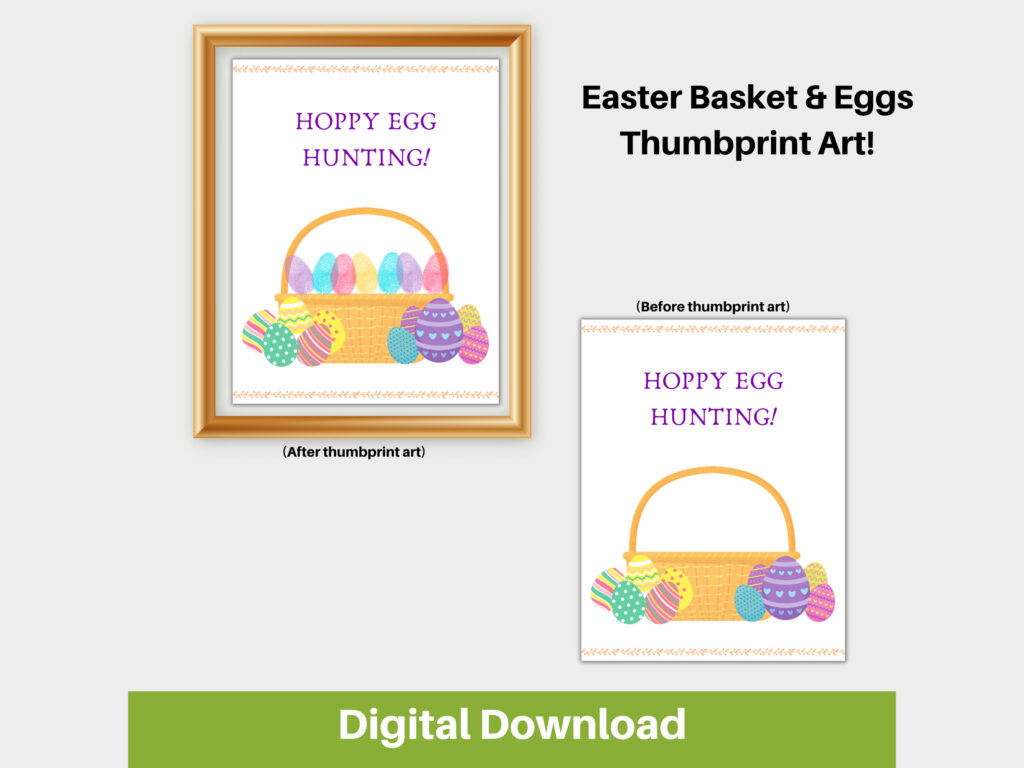 Easter Egg Decorating Ideas
As we get closer to Easter you are also probably starting to think about decorating Easter eggs!
You can find some great creative Easter egg decorating ideas here.
And don't forget to check out these tasty Easter treats for your Easter gathering:
Easter Bunny Letters
And to make your child's Easter basket even more special this year include a personalized letter from the Easter Bunny!