Are you looking for creative ways to decorate Easter eggs? Are you wanting to learn how to blow out an egg for Easter? Blown Easter eggs are easy to make and allow you to keep your Easter egg creations forever!
This site contains affiliate links. If you make a purchase using one of these links, I may earn a commission. Please visit my disclaimer page for more information about cookies collected and our privacy policy.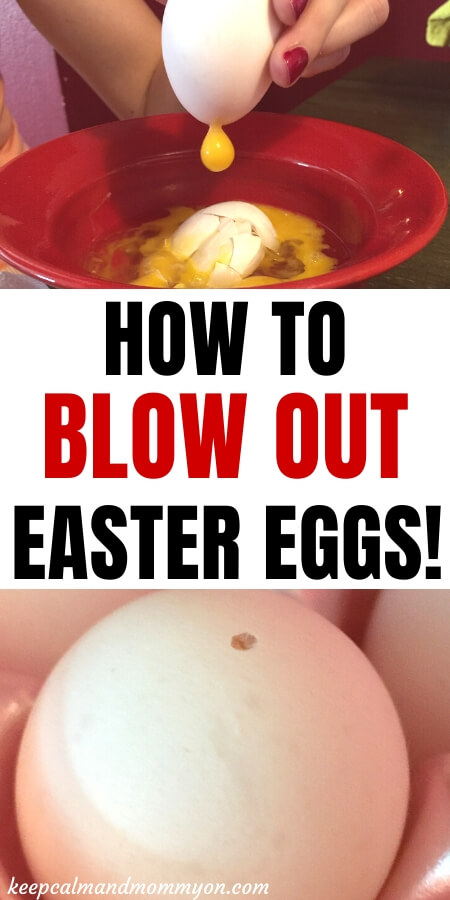 How to Blow Out an Egg
My kids love to get creative when decorating Easter Eggs!
We have made lots of fun and unique designs with our Easter eggs. We've made Ninja Turtle Easter Eggs, Ballerina Easter Eggs, Glitter Easter Eggs, Emoji Easter Eggs, and these blown Easter eggs!
The nice thing about the blown Easter eggs is that they can be used to make any design! We love to use blown eggs to make our special and creative eggs so that we can keep them!
How cool is it to be able to keep some of your kids Easter eggs to look back on later?!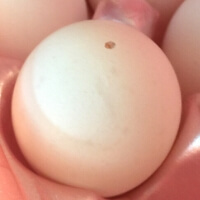 Blowing Out Eggs
So let's get started!
First you will need to gather some supplies. You will need:
Uncooked Whole Eggs
Soap & Water
Needle or Similar Sharp Object
A Bowl
Egg Blowing
Now that you have everything you need it's time to blow some eggs!
First, I recommend washing the outside of your eggs with soapy water. This isn't a crucial step, but considering that you are going to put your mouth against the eggs, I would wash them!
The thought of not washing them grosses me out!
Once your eggs are washed and dried, it's time to put holes in the eggs.
You only need two holes, one in each end of the egg.
Using the needle, puncture a small hole in the pointy end of the egg. Then puncture another hole on the other end. The second hole should be slightly bigger than the first. This is the end that the egg needs to come out of the shell.
You want to poke the holes over a bowl.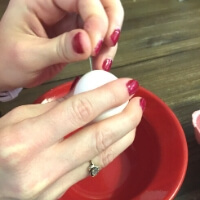 How to Blow Out Easter Eggs
Be very careful that you don't squeeze the egg while you are doing this! Otherwise you will end up with a big mess like this!
Once you have punctured two holes in the egg, swirl the needle around inside the egg to break up the yoke. This will hep the egg to come out easier.
The next step is to blow the egg out of the shell. Again, be careful not to squeeze the egg.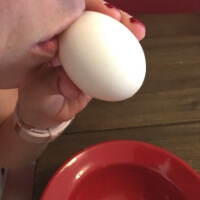 Place your mouth over the smaller hole and blow into the egg as you hold it over the bowl. Be careful not to inhale, you don't want to breathe in raw egg! The egg should start to blow out of the bottom hole and into the bowl.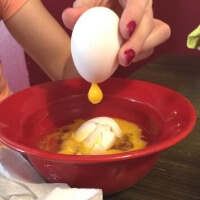 Keep blowing until all of the egg has come out.
Once all of the egg is out you can rinse the egg under running water to rinse out the inside.
To disinfect the egg I recommend placing it in a bowl of vinegar so that vinegar coats the inside of the egg shell. If you are going to dye your eggs using vinegar then this step is not necessary.
Once the eggs are empty and clean, set them aside to dry completely before decorating. Ideally you will blow the eggs the day before decorating to give them plenty of time to dry out, but this isn't crucial.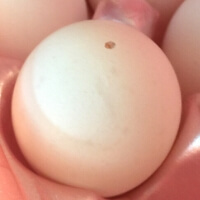 Decorating Blown Out Easter Eggs
Once they are completely dry it's time to decorate!
You can use one of the designs that I listed above, or get creative and make up your own!
However you choose to decorate your eggs, you will be able to keep them forever to look back on!
I hope you enjoy decorating your blown eggs as much as we do:) And be sure to come back and let us know how it goes! I would love to see your beautiful Easter eggs:)
If you would like to find more fun easter ideas be sure to check out:
How to Make Paper Mache Easter Eggs
Easter Perler Bead Patterns and Ideas
10 Must Try Easter Crafts for Kids
Easter Sensory Bin for Toddlers
How to Make Your Own Easter Egg Hunt Map
Happy Easter!