Are you looking for some great indoor fine motor skills activities for kids? These summer perler bead patterns are a great way to keep your kids busy while helping them to develop as well!
This site contains affiliate links. If you make a purchase using one of these links, I may earn a commission. Please visit my disclaimer page for more information about cookies collected and our privacy policy.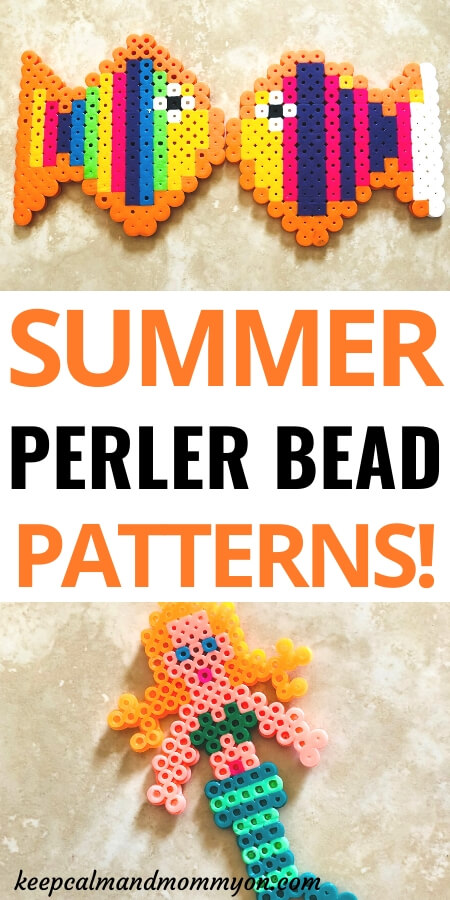 Summer Perler Bead Patterns
Summer is a great time to play outdoors. There are lots of fun outdoor activities that kids can do this time of year. One of my kids' favorites are outdoor obstacle courses.
However, not every summer day is a great day for the outdoors. In fact, were we live in south Florida, we get lots and lots of rain in the summer. And when it's not raining it is normally incredibly hot! I mean the surface of the sun hot!
Afternoons at my house during the summer are usually spent indoors due to afternoon rain storms and the intense heat.
But there are lots of fun things to do indoors!
Whether it's one of these fun Rainy Day Activities, Summer Sensory Bins, or Perler Beads, there is always something to do!
And why not use your summer afternoons to make summer themed perler beads!
Perler Beads
One of my favorite things about perler beads is that they are so good for developing fine motor skills! Having to pick up the small beads and place them in the right spots is an excellent way to have fun and to help your child develop all at the same time.
It's also a wonderful activity for helping to increase focus and concentration.
How to Make Perler Beads
If you've never made perler beads before you need to start by getting together everything you need.
You will need a peg board to design your perler beads on. And you will need the actual perler beads that are made specifically for this project.
Then use the perler bead pictures below to design your summer perler beads. You can see from the pics how many individual beads there are. Simply count the beads to know where to place them on the board.
Once you've placed all of your perler beads in place you need to iron them to fuse them together.
Perler beads can be made for any topic and any holiday! Some of the perler beads we have made are Ninja Turtle Perler Beads, Pokemon Perler Beads, Minecraft Perler Beads, Perler Bead Magnets, Halloween Perler Beads, Autumn Perler Beads, Christmas Perler Beads, and Easter Perler Beads!
Now that you have everything gathered together that you need, let's get started making some summer perler beads!
Perler Beads Summer Patterns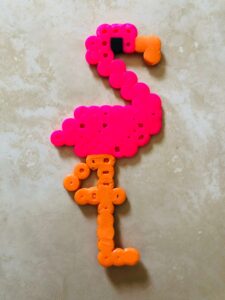 Flamingos are definitely something that I think of when I think of summer, don't you?
This giant flamingo is made using biggie beads instead of the traditional perler beads. These are great for younger children that are still working on developing their fine motor skills.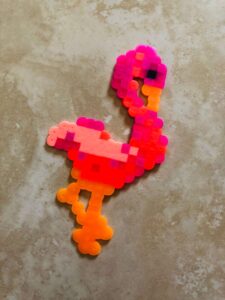 If you're looking for a flamingo to make using regular perler beads this is it!
Isn't it adorable? My kids love using these brightly colored perler beads to make wonderful summer creations!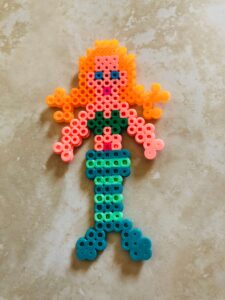 Can you think of anything more summer than finding a mermaid at the beach?!
I mean, what little girl doesn't love mermaids?!
This one is easy to make, yet super cute, making it a great addition to your summer perler beads!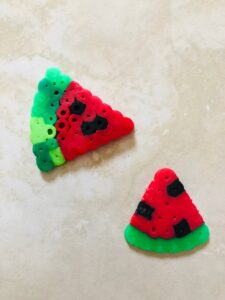 What is your favorite treat during the summer?
I'd say watermelon is definitely known as the ultimate summer snack!
These cute slices of watermelon are super easy to make and make great snacks for dolls and toys during the hot summer heat;)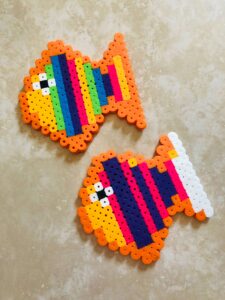 The last item on our list of summer perler beads are these adorable, brightly colored fish!
They remind me of the beach and go great with mermaids:)
These were also made using biggie beads, but you can definitely make the same pattern using regular perler beads.
Summer Perler Bead Ideas
And those are 5 summer perler beads that your little ones will love! I'm sure that we will be making more in the future, so I will add them here as we do;)
I hope you and your kids have as much fun creating them as we did! This is a great project to keep kids busy on rainy or extra hot summer days:)
Be sure to come back and leave me a comment letting me know which ones your kids decide to make!