Are you looking for some great perler bead sea animals ideas? These ocean perler bead patterns are lots of fun as well as great ways to help your child develop fine motor skills!
This site contains affiliate links. If you make a purchase using one of these links, I may earn a commission. Please visit my disclaimer page for more information about cookies collected and our privacy policy.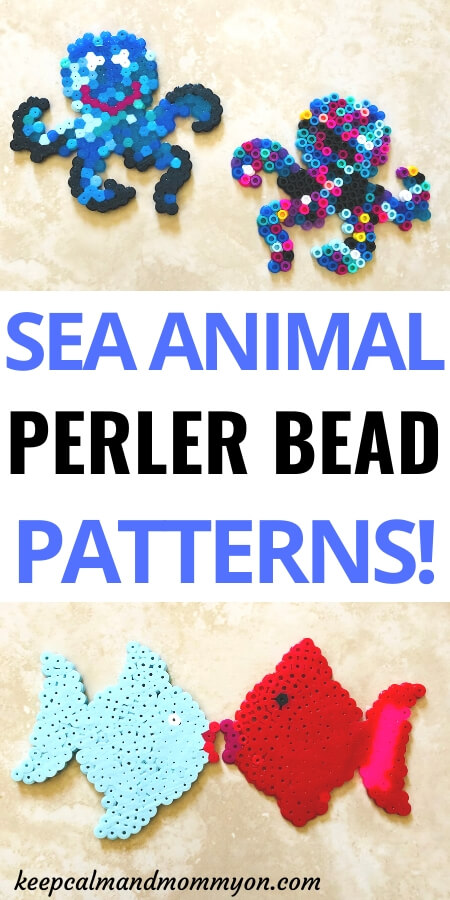 Perler Bead Sea Animals
My kids love to make perler bead animals! Especially sea creatures!
These perler bead designs are fun to make and are a great way for kids to be creative. My kids love to use different unique colors and to express themselves through their perler bead creations!
If you would like to find more fun ocean activities and crafts then be sure to check out Under the Sea Finger Painting as well as the Deep Sea Sensory Bin!
Perler Beads
One of my favorite things about perler beads is that they are so good for developing fine motor skills! Having to pick up the small beads and place them in the right spots is an excellent way to have fun and to help your child develop all at the same time.
It's also a wonderful activity for helping to increase focus and concentration.
How to Make Perler Beads
If you've never made perler beads before you need to start by getting together everything you need.
You will need a peg board to design your perler beads on. And you will need the actual perler beads that are made specifically for this project.
Then use the perler bead pictures below to design your sea animal perler beads. You can see from the pics how many individual beads there are. Simply count the beads to know where to place them on the board.
Once you've placed all of your perler beads in place you need to iron them to fuse them together.
Perler beads can be made for any topic and any holiday! Some of the perler beads we have made are Ninja Turtle Perler Beads, Pokemon Perler Beads, Minecraft Perler Beads, Perler Bead Magnets, Halloween Perler Beads, Autumn Perler Beads, Christmas Perler Beads, Easter Perler Beads, and Summer Perler Beads!
Now that you have everything gathered together that you need, let's get started making some sea animals perler beads!
Perler Bead Patterns Sea Animals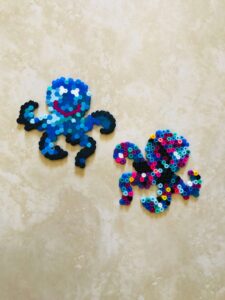 Octopus Perler Beads
How adorable are the octopus perler beads?!
As you can see the sky is the limit with the colors and designs you can use when creating your octopuses! My kids made a more natural looking octopus as well as a brightly colored one:)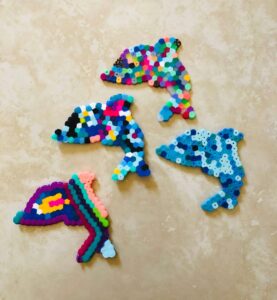 Perler Bead Dolphin
Who says that dolphins can't be pink and purple? 😉
As you can see my more logical son made a blue dolphin while the girls decided to design theirs to mimic the rainbow;)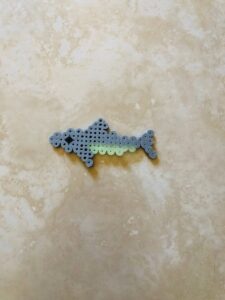 Perler Bead Shark
My boys could not make sea animal perler beads without making a shark!
This shark is easy to make and makes for great ocean play once he is done.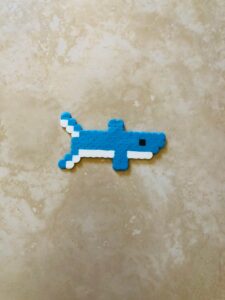 If you are looking for a slightly different shark pattern, then here is another option!
This shark is also very easy to make. You can't have too many perler bead sharks;)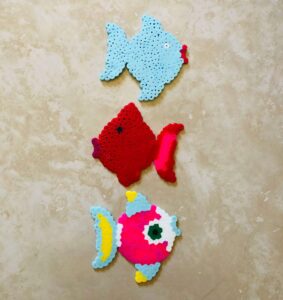 Perler Bead Fish Pattern
I absolutely love these fish!
They are adorable and the sky is the limit as far as designs and colors go. Create your fish to look any way that you would like.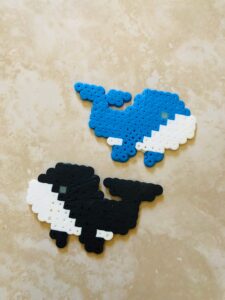 Perler Bead Whale
How cute are these whales?! I think they are my favorite perler bead sea animal, they are so adorable!
And they are easy to make!
Ocean Perler Bead Patterns
And those are 6 perler bead sea animals that your little ones will love! I'm sure that we will be making more in the future, so I will add them here as we do;)
I hope you and your kids have as much fun creating them as we did! This is a great project to keep kids busy on indoor days:)
Be sure to come back and leave me a comment letting me know which ones your kids decide to make!