Are you looking for a great sensory bag idea for toddlers? These slime sensory bags are lots of fun and a great way for little ones to experience slime in a safe way!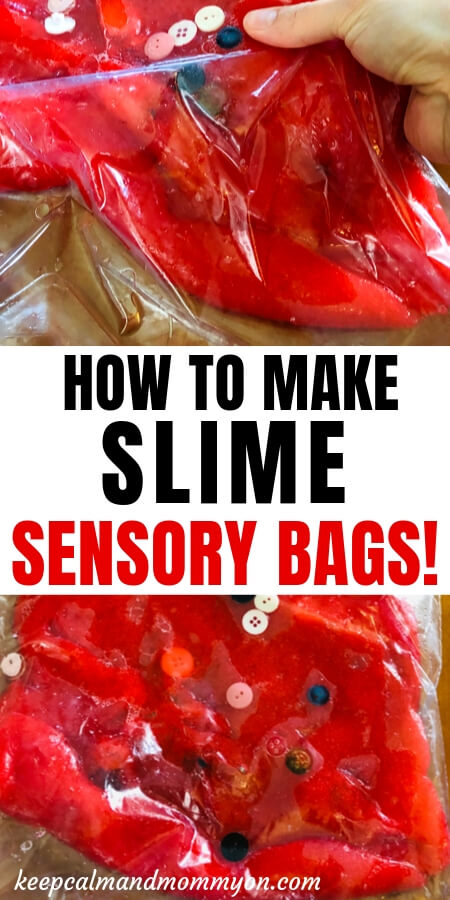 This site contains affiliate links. If you make a purchase using one of these links, I may earn a commission. Please visit my disclaimer page for more information about cookies collected and our privacy policy.
Sensory Bags
My kids love slime! It's squishy, gooey fun!
One of the things that I love most about slime is how great it is for sensory stimulation and fine motor skills! Everything from squishing and pulling, to cutting it out with cookie cutters is great for developing fine motor skills!
And the feel of the slime helps to stimulate the senses, making this a great activity for those with sensory processing disorder.
As you can see, slime is a great activity for kids!
Sensory Bags for Toddlers
But what about young kids? What about little ones that are prone to putting things in their mouths? How can they play with slime?
You can make edible slimes if you want, but they are perishable. If you want to be able to let them play with regular slime, then you have to come up with another solution.
The answer is slime sensory bags!
By making a slime sensory bag your little one can still enjoy the squishy, gooeyness of slime without the danger of ingesting it! They can still see it, feel it, and play with it all without you being worried about them sucking on it:)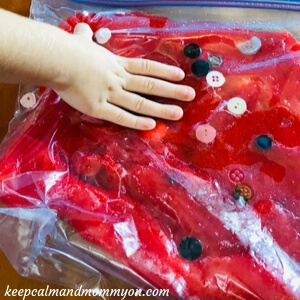 How to Make Sensory Bags
Making a slime sensory bag is really very easy! You need to start by making the slime.
There are many different recipes that you can choose from, but here are some of our favorites:
The Ultimate Slime Recipe List
Follow any of the above recipes to make your slime! They are each very easy recipes and can be mixed up within a few minutes.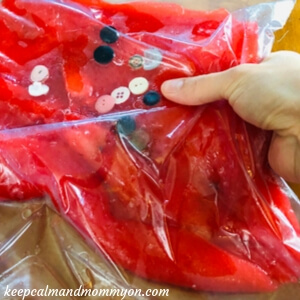 Sensory Bag Ideas
After you have made your slime you need to get a gallon size ziploc bag. Put the slime in the bag and seal it well, removing as much air from the bag as you can. If you are concerned about your child getting the bag open then you can seal the edges with packing or duct tape as well. This will keep your child out and all the ingredients in!
You can also add other things to your sensory bag as well! Here are 19 slime add ins that will make your slime even more awesome! As you can see from the pictures we added buttons to our sensory bag.
Once your bag is full of fun sensory stimulating slime and items and has been sealed, it's time to play! Yep, that's pretty much all there is to making a sensory bag!
I know that sounds incredibly easy, but that doesn't make it any less awesome! Actually easy makes it even more awesome;) I'm all about easy crafts and activities that help children to grow and develop and that will keep them entertained!
Sensory Slime Bags
Do you like to make sensory bags for your toddler or preschooler?
Have you ever made a slime sensory bag? Be sure to come back and share how much your child loved playing with their slime sensory bag!
If you would like to find other sensory stimulating items then be sure to check out:
Ninja Turtles Seek and Find Sensory Bottle
Shell and Glitter Sensory Bottle